By Caleb Stephen, CalebReport.com
Is this a coincidence or a highly accurate definition of who Democratic U.S. Presidential nominee Hillary Clinton really is?
Twitter user 'Spooky Halley' tweeted the jaw-dropping find…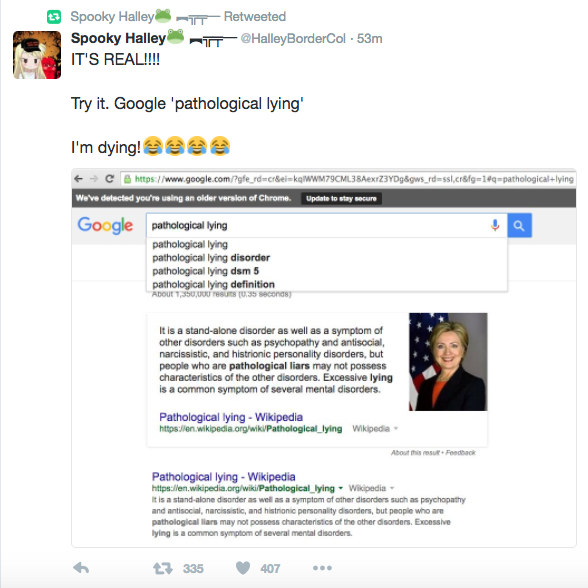 I decided to Google the term 'pathological lying' to see for myself and sure enough, there was the photo of none other than Hillary Rodham Clinton next to a pretty concise definition of 'pathological lying.' Honestly, I had to have a bit of a chuckle over this!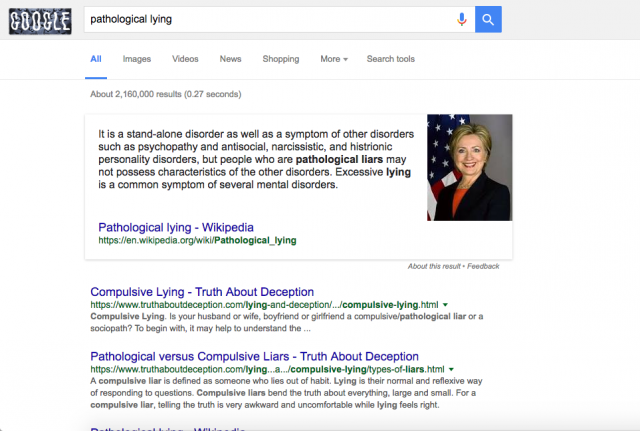 What's the definition of a pathological liar? According to Wikipedia it's "a stand-alone disorder as well as a symptom of other disorders such as psychopathy and antisocial, narcissistic, and histrionic personality disorders, but people who are pathological liars may not possess characteristics of the other disorders. Excessive lying is a common symptom of several mental disorders."
Yes, that's right. Hillary has a mental disorder… she's psychopathic, anti-social and narcissistic and every single one of those descriptors has been proven accurate on many an occasion.
In recent days as the globalist-elite-backed Clinton Campaign unravels, Google and social media platforms such as Twitter and Facebook have been desperately doing their utmost to censor anything negative about Hideous Hillary but it looks like Google's normally 'smart' algorithim might have missed this one!
#HillaryForPrison2016
We encourage you to Share our Reports, Analyses, Breaking News and Videos. Simply Click your Favorite Social Media Button and Share.