There are many online petitions asking for the Electoral College to be abolished, to override the voting results in favor of Hillary, etc. Most are virulently Anti-Trump.
A quick search on change.org using the keywords "Electoral College Trump" shows this:

Even scarier … click the first one listed in the search results to see this: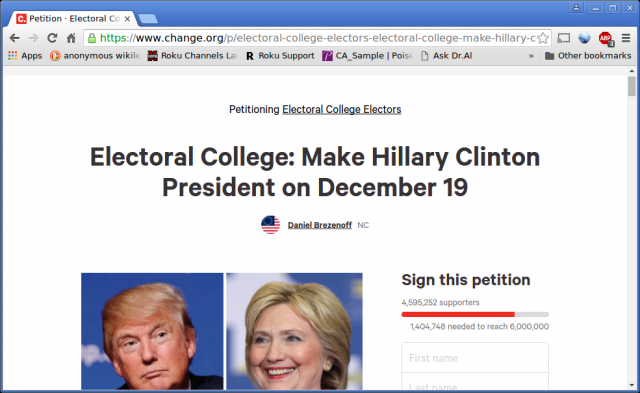 Which means that 1 out of these 5,173 petitions has 5,057,629 signatures or all but 462,377 of the total participants! And most support throwing away the legal election result to Hillary in one way or another! So let's try Google… same keywords…
Page 1 of 805,000 results (hard to find anything pro-Trump no matter how far down you go… trust me I tried!)
,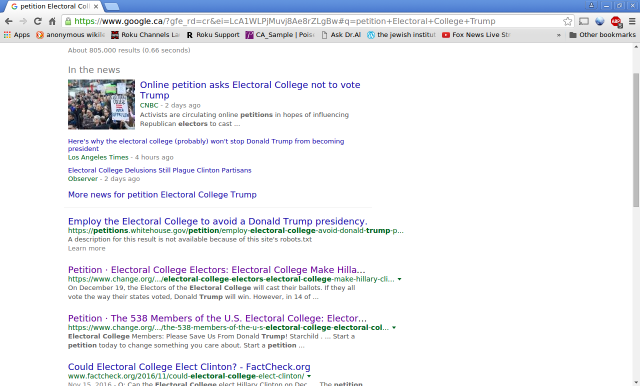 After much searching of my results back at change.org, I found a counter petition to support Trump here:
<div class="change-embed-petition" data-petition-id="8764031″></div>
<script src="https://static.change.org/product/embeds/v1/change-embeds.js" type="text/javascript"></script>
Another here:
<div class="change-embed-petition" data-petition-id="8787842″></div>
<script src="https://static.change.org/product/embeds/v1/change-embeds.js" type="text/javascript"></script>
Another here:
<div class="change-embed-petition" data-petition-id="8761760″></div>
<script src="https://static.change.org/product/embeds/v1/change-embeds.js" type="text/javascript"></script>
Did you notice the total signatures on each one? Yep.. you saw it correctly, one only has 156 signatures AND these are 3 out of these 5,173 petitions mentioned above (there may be more, but like a proverbial needle in a haystack to find) Altogether just a tiny fraction of the 462,377 of the total participants! How can this be?
I think I have an idea why…
I posted these pro-Trump petitions on my Twitter account and got this: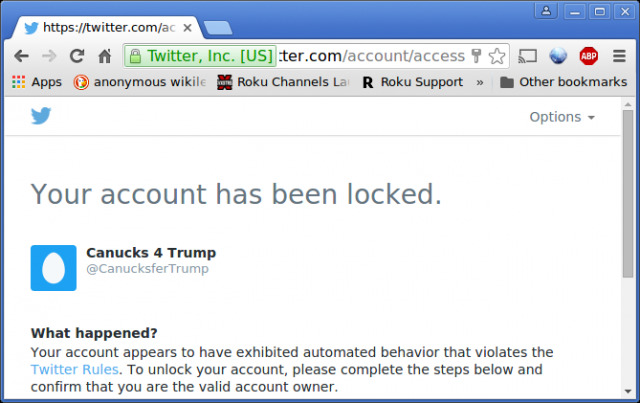 I don't have a Facebook account, but I have seen online reports from other Trump supporters stating their accounts have been disabled for rule violations too.
What burns me the most, is that I have contacted all the MSM, a lot of Trump-friendly YouTubers and many alt-media sites as well and NO ONE has shown any interest in looking into or doing anything about why Hillary supporters can post THEIR petitions on social media without penality, or being buried in search engines or even on change.org itself (well.. you CAN pay them to have you petition promoted better… the question is MUST you?)
I agree with Trump – IT'S A RIGGED SYSTEM!! C'mon TRUMPERS and others who believe in fairness and not changing the rules because you don't like the outcome.. Make one or ALL of them viral!!
And if like me you are using seen.life instead of Facebook now Come check out my newgroup TRUMP TALK and we can chat about this and other Trump related topics.
p.s. All this and I'm Canadian! I believe Trump can MAGA and the world too, and that Hillary would destroy all that is good in your country and mine as well as the world.
**All links in the above as per "fair use" laws and policies. No infringement intended**
We encourage you to Share our Reports, Analyses, Breaking News and Videos. Simply Click your Favorite Social Media Button and Share.