"Russian experts have claimed Malaysian Boeing MH17 was shot down by a Ukrainian warplane and not a ground to air missile. This follows the release of 'leaked' satellite images which show a missile streaking towards the passenger plane, produced tonight by Russia's main state broadcaster. The flight from Amsterdam to Kuala Lumpur was travelling over the conflict-hit region when it disappeared from radar. A total of 283 passengers, including 80 children, and 15 crew members were killed."
from UK Daily Mail article: "Is this the moment MH17 was shot down as it flew over Ukraine? Russian state broadcaster produces 'satellite images' showing alleged fighter jet attack"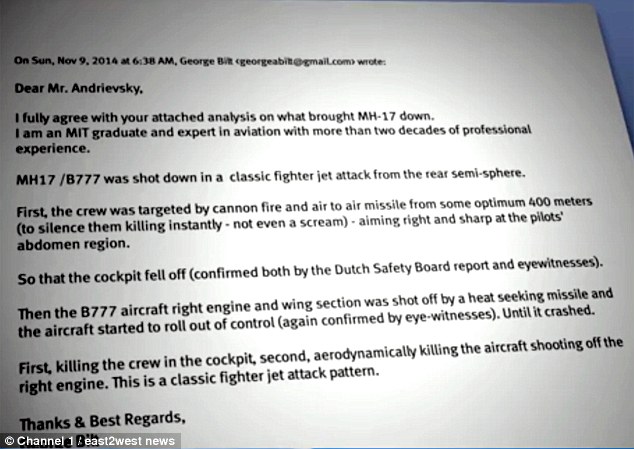 and from Russian Television: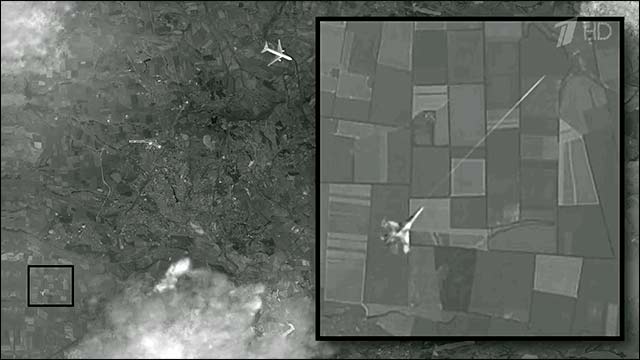 If this turns out to be legitimate – then did the Ukrainian government – or even the US backing them – order the downing of a Dutch airliner in order to blame it on the Russians and influence world opinion on the Crimea? Was it another backfired false flag? I suspect the Russians are not the bad guys in this situation. But then again, I think the Russians are going to be the good guys in the Apocalypse when America turns out to be Mystery Babylon from the Book of Revelation… So what do I know? I'll just keep writing prophecy books like
Antichrist 2016-2019
and keep on watching headlines play into fulfilling my timeline of events.
— by David Montaigne, November 14, 2014
.
We encourage you to Share our Reports, Analyses, Breaking News and Videos. Simply Click your Favorite Social Media Button and Share.