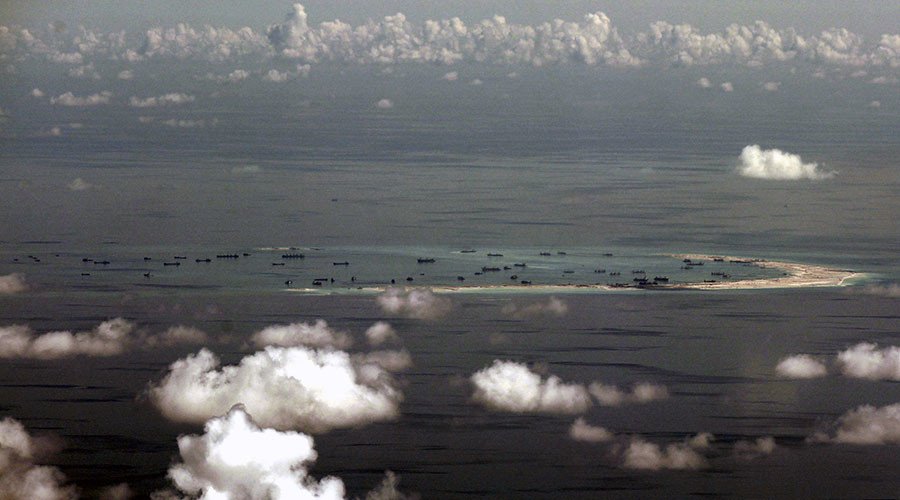 10-22-16
First Russia, Now China Warns Its Citizens To Prepare For War
ConspiracyTheory reports The idea of World War lll has long existed since the attacks of 9/11. It was believed that World War lll would enter into the world between many of the super powers against Iraq, Saudi Arabia and other countries that were believed to be supporting the terrorist activity that took place in 2001. Up to this point, there have not been any hints at a new war. However it has long been discussed that one major incident could easily start up possibly the most cataclysmic war to ever hit planet Earth. China has recently started to prepare as if this war may finally be erupting.
China has officially told their citizens to prepare for the start of World War 3. The call came from the Chinese minister of defense in Chang Wanquan. China has recently vowed to take actions against the 12th of July ruling from the Permanent Court of Arbitration and protect its sovereignty. According to a report after the Brexit deal, China and Russia are believed to become the world's super powers. World War 3 In The Makeing? China has begun to focus on their military as well as sovereignty. They have gone as far as challenging Australia by saying that if they step into South China's Sea waters, then this will activate an opportunity to warn and strike. Professors in China has also said that China will not back down and will never submit in situations regarding sovereignty.
Wanquan has indicated that the Chinese public should be educated on national defense because it is currently at risk and could be breached sooner rather than later. He has also warned about offshore security threats and the ability to acknowledge when security is being threatened in general. He has taken the military, police and citizens to prepare for mobilization to defend their sovereignty and territory. China also has a belief that the United States is purposely stirring up problems in an attempt to exploit the area in the Philippines for their personal benefit. A project has shown that drills are occurring in China that focus on both offense and defense. The war may begin with China and its neighbors, but the United States may soon get involved to back up their allies.
Putin warns US: 'If You Want A Confrontation, You'll Get One Everywhere'
ConspiracyTheory reports The United States and the Russian Federation have been trading insults about their respective military strategies in Syria over the past couple of months with intensifying bellicosity.
Russian officials suggest the country is gearing up for war The United States has recently accused Russia of war crimes in the war-torn Asian country which Russia have responded to with affront. According to experts, US-Russian relations have grown so poor that they are now comparable to the politics of the Cold War period. However, political analysts and experts within Russia believe that with Putin at the helm a potential Cold War scenario could heat up very quickly. It is considered deeply unlikely that Putin will ever back down in the face of American aggression.
Kremlin spokesperson Dmitry Peskov has responded directly to the remarks about Russia made by officials from the United States. He says that it is the Kremlin's that the United States are becoming aggressive and unpredictable towards the Russian Federation, and so it is essential that the Russians take measures to protect their interests and their country. This line mirrors that of Lieutenant General Yevgeny Buzhinsky who says that the western powers are entire to blame for the current political malaise. More disturbingly, he has also suggested that the United States will sorely regret tangling with Russia; "Of course there is a reaction. As far as Russia sees it, as Putin sees it, it is a full-scale confrontation on all fronts. If you want a confrontation, you'll get one, but it won't be a confrontation that doesn't harm the interests of the United States. You want a confrontation; you'll get one everywhere."
The remarks from these Russian officials seem to confirm the view of western 'Kremlin-watchers' that Russia is preparing for war and, on both sides, it appears that there are serious concerns about the use of nuclear weapons. In Russia, people have been advised to find out where their nearest fallout shelter in located and Pentagon chiefs have warned that Russia could easily level a devastating nuclear attack on a NATO country. Fyodor Lukyanov, Editor-in-Chief of Russia in Global Affairs has said that while neither side wants to be responsible for igniting a full-blown confrontation between Russia and the United States that it may be unavoidable if relations do not improve shortly. Russia has warned its people to "prepare for war" and urged every citizen to find out where their nearest fallout shelter is should there be a nuclear strike. Fyodor Lukyanov, Editor-in-Chief of Russia in Global Affairs, said: "Most likely no-one wants to launch a big collision between Russia and the United States.
But this is exactly the case when unintended consequences might emerge." Cold War deployments are being setup by the Russia military as nuclear bombers sweep the US border and plans are set in motion for new bases in Cuba. Pentagon chiefs warned Russia could be on the verge of launching a "terrible" nuclear attack on a NATO nation. Experts have warned Russia could invade "overnight" as the Kremlin has the power and might to launch an invasion "within hours".
Emergency Prepare Now! click here
#ww3 #gog #magog #prophecy #conspiracy #china #russia #usa #putin #obama #martialLaw #turkey
ARE YOU COMPLETELY PREPARED?
IT'S THE MOST IMPORTANT PREP YOU CAN DO!
The Bible tells us that every human has sinned and fallen short of the glory of God which is is a heart-penetrating truth. He has provided a way to cleanse us of our sins since we can never be "good enough" to cleanse ourselves. That avenue to God's grace, mercy and forgiveness (the cleansing of our sins) is through His only begotten Son, Jesus Christ of Nazareth Who is equally God.
Not one of us are guaranteed a "tomorrow". Has your time run out? Will you continue to ignore the promptings of God the Holy Spirit or have you awakened to the essential need for God, risking eternal damnation?
God the Holy Father, God the Holy Son and God the Holy Spirit are One God, the true, living, uncreated God Who is ever-present, all knowing, all powerful and all loving. He desires that every single person be forgiven, saved and to live eternally with Him. He is our only real protection and His love for you is unchanging. Accept Jesus Christ as your Savior, the true Messiah, today.
You can't take your salvation for a test drive. You're all-in or not.
Admit to Him that you are a sinner in need of forgiveness, that you are truly sorry for your sins. Acknowledge that He died for your sins, rose from the dead and lives forevermore. Invite Him into your life and to help you to turn from sin. Rejoice! You just became a Christian! Now trust in Him and get to know Him through the Bible which tells us everything we need to know and through prayer/talking to Him. He eagerly desires relationship with you.
We encourage you to Share our Reports, Analyses, Breaking News and Videos. Simply Click your Favorite Social Media Button and Share.