URGENT BREAKING NEWS UPDATE 30.October.2016.
Syria: Terrorists Use Chemical Weapons in Western Districts of Aleppo City
Jeish al-Fatah coalition of terrorist groups launched chemical attack on residential areas under the control of the government troops in Aleppo city, inflicting casualties on the civilian population in the region, medical sources reported. The Director of Forensic Medicine Dr. Hajjo: 35-38 were injured due to the terrorists' attack on Aleppo using chemical weapons "Chlorine"
Syrian Army, SDF Planning to Carry out Joint Anti-ISIL Offensive Northeast of Aleppo
Syrian Army troops and Kurdish-led Syrian Democratic Forces (SDF) are coordinating to launch a joint operation against the ISIL in a strategic region Southwest of the terrorist-held town of al-Bab, Kurdish sources disclosed on Sunday.
Aleppo: SAA & Allies Storm and advancing in Dahyiat Al-Assad area.
SAA and allies are advancing inside the town of Beniameen in west Aleppo Syria.
Kurdish Websites: Turkish Army brought more reinforcements 2 Jandiris on the Syrian-Turkish borders in northwestern countryside of Aleppo.
Syria: Over 1,500 Terrorists Killed, Wounded in Failed Attacks on Gov't Positions in Aleppo
Local media outlets revealed on Sunday that at least 500 militants of Jeish al-Fatah have been killed and 1,000 more wounded in the first phase of their large-scale offensives on government positions in Aleppo codenamed the Great Epic.
The losses of the terrorists during their offensive on #Aleppo (Abo Omar Saraqeb battle to Breach the Siege)
Iran, Iraq Keen to Expand Judicial Cooperation
Iran's Judiciary Chief Sadeq Amoli Larijani and Chairman of the Iraqi Supreme Judicial Council Medhat al-Mahmoud in a meeting in Baghdad on Sunday underlined the need for the expansion of mutual cooperation.
IRGC Commander: US Using Proxy Warfare Because of Inability to Launch Direct Confrontation
Lieutenant Commander of the Islamic Revolution Guards Corps (IRGC) Brigadier General Hossein Salami said the US has lost its power to fight in direct wars and resorted to using proxy warfare to attain its goals.
Intensified Shelling Attacks by Militants Kill 40 in Syria's Aleppo
At least 40 people were killed and 250 others wounded over the past 48 hours by intensified shelling attacks by militants on government-controlled areas in the country's Northern city of Aleppo.
Syrian Army Sends More Missile Units to Aleppo to Target Terrorists' Suicide Vehicles
The Syrian Army has dispatched a large number of missile launchpads to Aleppo city to destroy Jeish al-Fatah's bomb-laden suicide vehicles, military sources disclosed Sunday.
Turkey Shuts down Media, Fires Civil Servants in Southeast
Turkey closed down 15 media outlets and dismissed over 10,000 civil servants as the Ankara government widens its crackdown on opposition following the abortive July 15 military coup.
Iraq's Popular Forces Enter Kirkuk to Protect Residents following ISIL Attack
Over 200 popular forces entered Kirkuk to protect some neighborhoods following the recent ISIL attack on Oct. 20.
Iraqi Popular Mobilization Forces Liberate Seven Villages South, West of Mosul
Iraqi Popular Mobilization Forces managed to liberate seven villages in Southwest of Mosul city from the occupation of the ISIL militants, along with 35 km in the depth of the area, PMF website reported.
Leader's Top Aide: Iran Ready to Mediate between Turkey, Iraq
Iranian Supreme Leader's top aide Ali Akbar Velayati announced his country's preparedness to mediate between Turkey and Iraq to prevent ignition of a new war in the region.
Taliban Mortar Attack Kill 7 Family Members in Afghanistan's Baghlan Province
A mortar fired by the Taliban militants left at least 7 members of a family dead in Northern Baghlan province of Afghanistan, local officials said.
Iraq: Volunteer Forces March on 3 More Key Regions in Mosul City
Iraqi volunteer forces (Hashd al-Shaabi) continued their advances in regions Southwest of the city of Mosul and managed to pave their way into three more strategic regions.
Terrorists' Long Convoy Destroyed in Syrian Airstrikes in Hama
The Syrian Air Force targeted a long convoy of Jeish al-Fatah terrorists in Northern Hama, destroying at least 12 military vehicles.
Turkey Reinforces Troops near Iraqi Border amid Possible Offensive to Liberate Tal Afar
Turkish President Recep Tayyip Erdogan said the country will reinforce its troop deployments in the border town of Silopi amid a possible offensive by Iraqi popular forces to liberate Tal Afar, which has a sizeable ethnic Turkmen population
Terrorists Withdraw From More Key Positions in Northern Hama
Syrian Army troops and popular force continued to push the terrorists back from more territories in the Western side of the newly-liberated town of Souran and Eastern side of the militant-held town of Taybat al-Imam, military sources said
Senior Nusra Commander Killed in Roadside Bomb Blast in Dara'a
One of the notorious field commanders of Fatah al-Sham Front (formerly al-Nusra Front) was killed in a roadside bomb explosion in Eastern Dara'a.
Commander: Iraqi Forces Win Back 100 Villages Near Mosul in 12 Days
Spokesman of the Iraqi Volunteer Forces (Hashd al-Shaabi) Ahmad al-Assadi announced that the country's joint military forces have seized back tens of villages since the start of the Mosul liberation operation less than two weeks ago
Iran Blasts Riyadh's Membership in HRC as Politically-Tainted Move
Iranian Deputy Foreign Minister for Legal and International Affairs Seyed Abbas Araqchi blasted Riyadh for its crimes against the Yemeni people and the Saudi women, and said the country's membership in the Human Rights Council (HRC)
Jeish Al-Fatah Suffers Heavy Casualties in Clashes with Syrian Army in Aleppo City
The Jeish al-Fatah coalition of terrorist groups left scores of dead and wounded members behind at the end of the second day of their Great Epic Operation and retreated from battlefields in the Western districts of Aleppo city.
Iranian FM Underlines Unconditional Global Fight against Terrorism
Iranian Foreign Minister Mohammad Javad Zarif stressed that all the world states are required to contribute to international efforts to annihilate the terrorist groups without any precondition.
Syrian Army Continues to Advance against Terrorists in Eastern Damascus
Syrian military forces continued to beat Jeish al-Islam terrorists back from more positions in Eastern Ghouta, inflicting a heavy death toll on the militants.
Yemeni Forces Destroy Saudi Arabia's Operation Room in Sana'a, Advance in Western Ta'iz
A senior Yemeni commander announced that his country's forces have destroyed a Saudi-led military operations room in the capital city of Sana'a while their comrades have made considerable advances in the Western parts of Ta'iz
Dara'a: One More Command Center of Terrorists Destroyed in Syrian Army Attack
Syrian Army's missile units targeted Fatah al-Sham Front's command-and-control center of in the Southern city of Dara'a.
Iranian Parliament's Periodic Report Blasts US Non-Compliance with N. Deal
The Iranian parliament's National Security and Foreign Policy Commission in its latest six-month-period report on implementation of the last year nuclear deal between Tehran and the world powers lashed out at the US for non-commitment
ISIL Fails Again to Prevail over Gov't Positions in Energy-Rich Region in Homs
Syrian Army soldiers and National Defense Forces repelled an offensive by ISIL terrorists to break through government positions in al-Maher oil-field in Eastern Homs, inflicting major damage and casualties on the militants.
Iraqi Forces Foil ISIL's Plot to Attack Ramadi, Capture 11 Terrorists
Iraqi security forces captured nearly a dozen terrorists who were plotting to attack the city of al-Ramadi in Western Iraq.
Iranian Official Reveals Siamak Namazi's Sabotage Acts during Election
Head of Iran's Civil Defense Organization Brigadier General Gholam Reza Jalali disclosed that Siamak Namazi, an Iranian-American national who is in prison for espionage operations, has conducted sabotage acts by hacking important data
US-Backed Militants Kill over 16,000 Since Feb. 2016
More than 16,000 people were killed by Syrian militants from February to September 2016, the Russian Permanent Mission to the United Nations Office and other International Organizations in Geneva said in a statement.
Indian Army Destroys 4 Pakistani Posts, Inflicts 'Heavy Casualties'
Indian army said it destroyed four Pakistani posts in a "massive" assault across the Line of Control in North Kashmir's Kupwara district, ratcheting up hostilities between two countries over the contested region.
Senior Analyst Stresses Need for Unity of Iraqi, Syrian Armies in Anti-ISIL Fight
A senior Syrian analyst underlined the need for the alliance of Syrian and Iraqi armies in the ongoing fight against the ISIL terrorist group.
CBI Chief Blasts US for Disloyalty to JCPOA
Governor of the Central Bank of Iran (CBI) Valiollah Seif slammed Washington for not fulfilling its undertakings under the nuclear deal reached between Tehran and the six world powers (the US, Russia, China, France, Britain and Germany)
Yemeni Tribes Join Forces to Counter Saudi Aggression
Yemeni tribes in different provinces joined forces to counter the deadly Saudi aggression against their country, vowing revenge for the blood of the innocent.
Azerbaijan Republic Accuses Armenia of 39 Times Ceasefire Violation
The Azerbaijani Defense Ministry said on Sunday that Armenian armed forces have violated the ceasefire with Azerbaijan 39 times in various directions of the contact line in the last 24 hours.
ISIL Improvises Cruel Explosive Devices to Stall Mosul Attack
Local sources said ISIL has broadly planted bombs in toys and other attractive objects for children and civilians in areas they leave as Iraqi joint forces continue their advances in the military operations to liberate Mosul from the terror
Syrian Analyst: US Not Able to Enter Raqqa Battle
A prominent Syrian analyst underlined the country's army and popular forces' victories against the terrorists in Aleppo, and said the US can no more implement its plots in Raqqa with the help of terrorists.
Car Blast Kills Four in Central Benghazi, Libya
A car exploded in Libya's Eastern city of Benghazi killing four people and wounding at least 14, security and medical officials said.
Fatah Al-Sham Collaborating with Ankara-Affiliated Militants to Attack Eastern Tal Rafat
The Turkish-affiliated militants are preventing the Syrian Democratic Forces (SDF) from approaching the outskirts of Aleppo under the pretext of fight against terrorism, sources said, adding that the Fatah al-Sham (formerly known as al-Nusra)
At Least 45 Killed by Saudi-Led Coalition Airstrike at Yemeni Prison
At least 45 people, including inmates, were killed in a Saudi-led coalition airstrike on Yemeni port city of Hodeidah, several sources told media.
6.6 Magnitude Quake Destroys Buildings in Central Italy, Tremors Felt in Rome
An earthquake with a magnitude of 6.6 on the Richter scale hit Eastern and Southern Italy.
Iraq Denies US Claim of 'Pause' in Mosul Operations
Iraq denied a recent claim made by the US-led coalition supposedly targeting ISIL in the country that there was going to be a "pause" in Iraqi military operations to liberate the Northern city of Mosul.
Research Center for Energy Signs MoU with Italian Company
Niroo Research Institute (NRI) signed a Memorandum of Understanding (MoU) with Italian CESI Company on Saturday with the aim of attaining lab technology and transfer know-how to execute and carry out models in Iran's electricity ind
Terrorists in Aleppo Shell Corridors, Take $300 Bribe per Fleeing Civilian
Russia's Defense Ministry said terrorists in Aleppo show no sign of deescalating attacks on residential areas and humanitarian corridors and only 12 people managed to flee the militant-controlled area overnight only after paying a hefty
NIOC Not in Talks with Swiss Companies for Crude Pre-Sale
Director of the International Affairs Department at National Iranian Oil Company (NIOC) Mohsen Qamsari says the NIOC has not had any talks with Swiss companies for pre-sale of crude.
MP Hails Iran's Market Share Revival Success
MP from Tehran Ali-Reza Mahjoub says Iran wrestled to succeed in reviving its oil market share.
Exploring Evolution of Spider Venom to Improve Human Health
Researchers are studying these spiders' toxic venom to increase our understanding of the evolution of spider venom and contribute to the development of new medicines, anti-venoms and research tools.
Syrian Army Ready to Dispatch More Fresh Soldiers to Aleppo Battlefields
Military sources said on Sunday that the Syrian Army is ready to send more troops to Aleppo province to strengthen its forces' defense and combat capabilities in the war against Jeish al-Fatah terrorists.
Syria in Last 24 Hours: Terrorists Sustain Heavy Losses in Army Offensive in Homs Province
The Syrian army attacked the terrorists in Homs province, and inflicted heavy losses on the militants over the past 24 hours.
Damascus: Militants in Growing Number of Towns Ask for 'Surrender or Relocate Agreement' with Syrian Gov't
A growing number of militants in Western Ghouta are declaring intention to surrender or leave Damascus towns and cities for Idlib province under a peace plan after the Syrian Army and popular forces gained a momentum in their march on militant-held
Syrian Air Force, Ground Troops Pound Terrorists' Positions North of Suran in Hama Province
Syrian warplanes and army troops destroyed a number of tanks and vehicles and killed dozens of terrorists in their gathering centers and command posts in the towns of Tayebal-Imam and its surroundings as well as the Northern and Eastern
More People Run from ISIL Terrorists amid Iraq's Offensive to Retake Mosul
Iraqis from the village of Ayn Nasir, South of Mosul, gathered outside the village on October 29, 2016 as Iraqi forces prepare to enter the village to fight against ISIL terrorists as part of an operation to liberate the city of Mosul.
Syrian Army Takes Control of More Areas in, around Khan al-Sheih in Southwestern Damascus
Reports said on Saturday that the Syrian Army soldiers seized control over several key positions and roads in Western Ghouta and laid full siege on the trapped Fatah al-Sham Front (formerly al-Nusra Front) terrorists in Khan al-Sheih town
Over 20 Terrorists Killed in Failed Attack on Army Positions Southwest of Aleppo
Syrian government forces repelled Jeish al-Fatah's offensives on their strongholds in the districts and neighborhoods of Zahiyeh al-Assad, al-Rashedeen 4 and 5, Sowq a-Jebes, Housing Project 1070, al-Hikmeh School and Jam'iyat al-Sahafi'ein,
Syrian Military Forces Repel Terrorists' Attack on Suran North of Hama
The Syrian army repelled a major offensive by the terrorist groups on the town of Suran, North of Hama province.
Iraq's Joint Military Forces Moving towards Mosul
Iraqi army and the Hashed al-Shaabi (Popular Forces) deploy towards the village of Ayn Nasir, South of Mosul, on October 29, 2016, during the ongoing battle against ISIL terrorists to liberate the city of Mosul.
Iraqi Popular Forces Launch Anti-ISIL Offensive West of Mosul
Iraqi Popular Forces began their offensive against the ISIL terrorists just West of Mosul Saturday morning. Armoured vehicles and bulldozers could be seen moving towards the city of Tal Afar, some 78km (49m) West of Mosul. [VIDEO at Tube]
Yemeni Forces Launch Ballistic Missile Attack on Saudi Airbase in Jeddah
Yemeni army and popular forces launched a Borka 1 ballistic missile attack from Saada province to a Saudi Airbase in Jeddah. [VIDEO at Tube]
Bahrainis Express Solidarity with Sheikh Isa Qassim
Bahraini anti-regime protesters took to the streets to express solidarity with senior Shiite clerics Sheikh Issa Qassim and Ali Salman. Demonstrations were held in the villages of Diraz, Shakhoura and Abu Saiba on Friday.
Iraqi Volunteer Forces Join Battle on ISIL West of Mosul
All brigades of Iraqi volunteer forces joined the country's battle on ISIL and begun an offensive against the terrorists West of the Northern Iraqi city of Mosul to cut the militants' supply lines and movements between Mosul and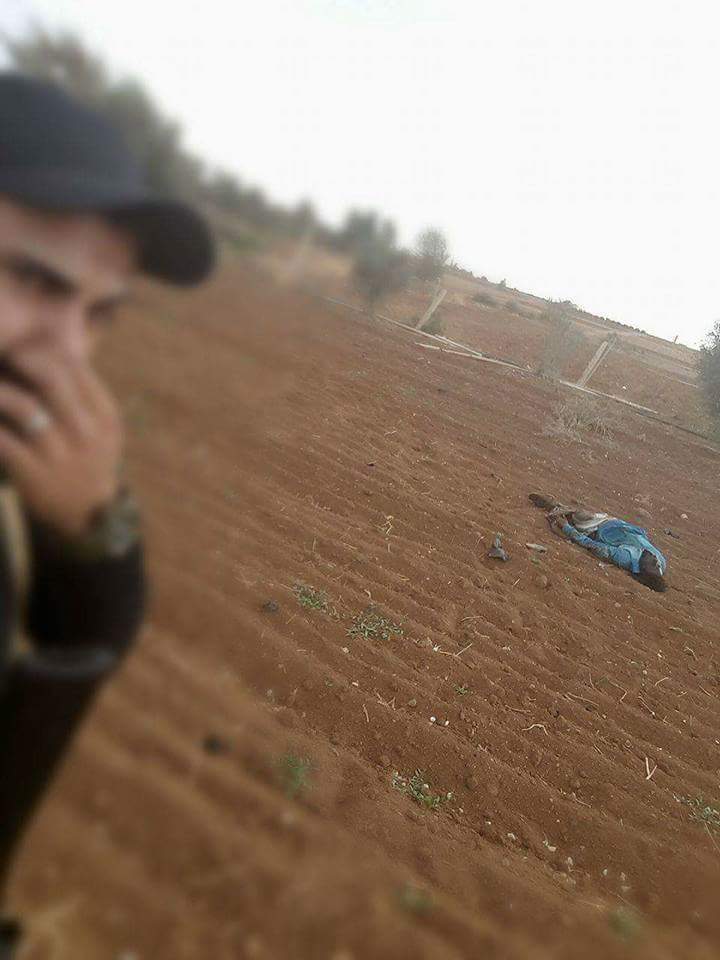 Syrian soldier covers his nose & mouth from the stench emitting from a dead jihadist at Khan Al Shih in Damascus countryside today.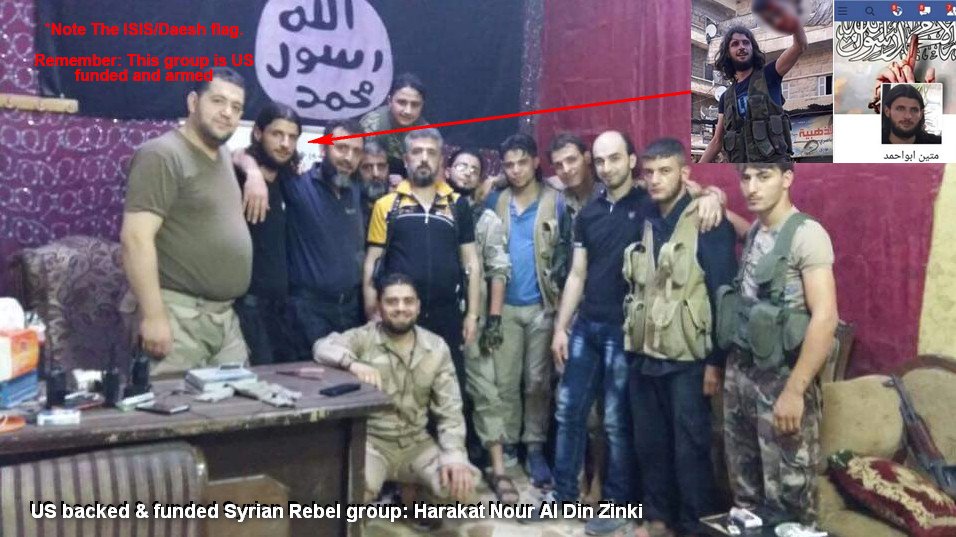 Fresh Alzinki Chooper emerges for Aleppo battle. Not in jail, obviously.

The Faculty of Economy in Damascus University few minutes ago. Damascus Syria.
https://pbs.twimg.com/media/CwASN_3XEAA-CuO.jpg
We encourage you to Share our Reports, Analyses, Breaking News and Videos. Simply Click your Favorite Social Media Button and Share.