Adan Salazar
Infowars.com
October 26, 2012
Hurricane Sandy is being described as the "worst storm in 100 years" and will possibly mutate to super-storm status once it combines with a polar air mass over the eastern United States enabling it to cause widespread damage and chaos, but how convenient is the timing of this "natural" event in regards to the election? Is it possible that the storm is a contrived event designed to throw the election for Obama?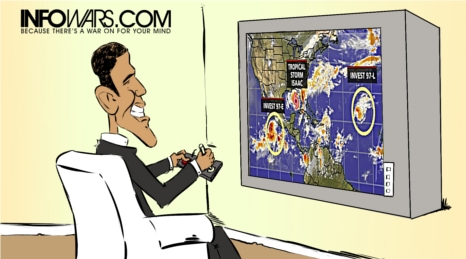 The reality of weather modification is no conspiracy theory.
Since before the 50′s, weather modification techniques have existed. In fact, the threat of "weather weapons" was so imminent that the United Nations felt it necessary to draft a treaty ensuring no nation would use this "new means of warfare" against one another. Why would the U.N. draft a treaty if weather modification was just a conspiracy theory?
The 1976 UN Weather Weapons Treaty defined "weather weapons" as follows: "[...] the term "environmental modification techniques" refers to any technique for changing – through the deliberate manipulation of natural processes–the dynamics, composition or structure of the Earth, including its biota, lithosphere, hydrosphere andatmosphere, or of outer space."
Article I of the treaty states that each State Party "undertakes not to engage in military or any other hostile use of environmental modification techniques having widespread, long-lasting or severe effects as the means of destruction, damage or injury to any other State Party." Article III, however, makes the provision that weather weapons can be used if their applications are deemed "for peaceful purposes."
We encourage you to Share our Reports, Analyses, Breaking News and Videos. Simply Click your Favorite Social Media Button and Share.