Polar Vortex of Freezing Cold to hit mid-North US by Wednesday December 7, 2016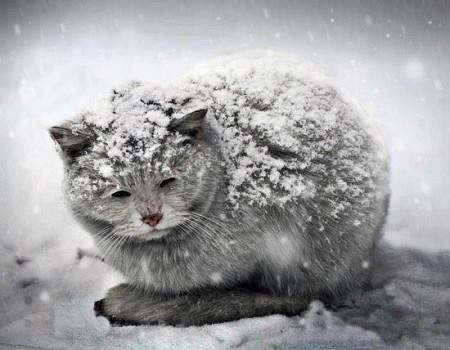 Polar Vortex is the name given to the sudden blast of Frigid Arctic Air descending on North America.
TEMPERATURE WARNING: FREEZING COLD AIR will descend to between Ten 10 Degrees Fahrenheit and -10 Degrees Fahrenheit. Updated Dec.7/16. Jet Stream fights back! Low temperatures Rise!
Low Pressure/jet stream are pushing vortex back North. Alert ends, advisory remains. Still COLD!


What a difference a day or two makes. Bone chilling Cold, but will warm slightly, for a short time.
Another Stronger Polar Vortex will then form and when it does, the Kitty-Kat Weather will be back!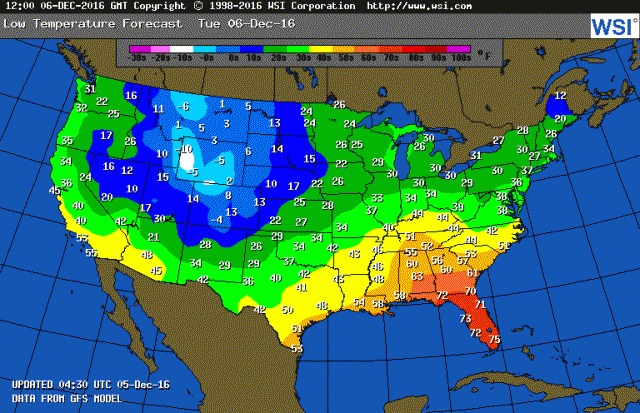 People should prepare for Cold, Wet Weather, including Strong Wind Gusts through December.
Ice, Freezing Rain, Heavy Snow, will be seen in places hovering around the freezing mark.
Temperatures in mid-north US will be BELOW NORMAL throughout much of December.
The Jet Stream is "lifting", bringing warmer southern air to the mid and lower US. Good News!
Many internet and TV sites did NOT even have this on their map to warn you.
(Go Figure. They are too busy making up FAKE NEWS. cnn could care less about you!)
We Care! Websites like BIN, salvationcanada.wordpress.com, Breitbart, InfoWars.com, RT,
Drudge Report, rsbn.tv, and others, report honestly, report facts, report the Real News!
Below are previous days maps and timeline fyi. Glad we dodged that Polar Vortex! (For now)
There is still the Correct Forecast of Low Temperatures in Mid-North US. Old man Winter is Here!
Below is OLD Map showing pull of Arctic Air from Cold Canada. Arriving Tuesday December 6, 2016 in Northern Mid-West are some CHILLING temperatures. Wind too!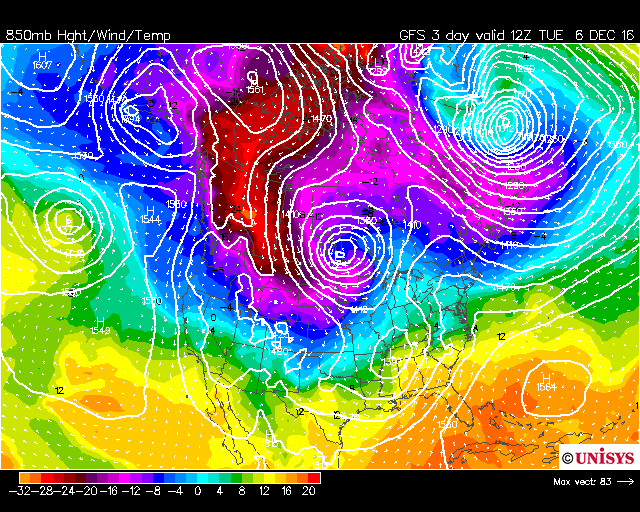 Air Mass: Purple, Light Blue/Aqua Color Area may see Freezing Rain, Heavy Snow, Icy Roads.
Getting Closer, this Advisory has re-established its' Cold, Wet, and Wind ALERT. Tell others.
North-Eastern US will get Stung by Cold and Wind by the weekend.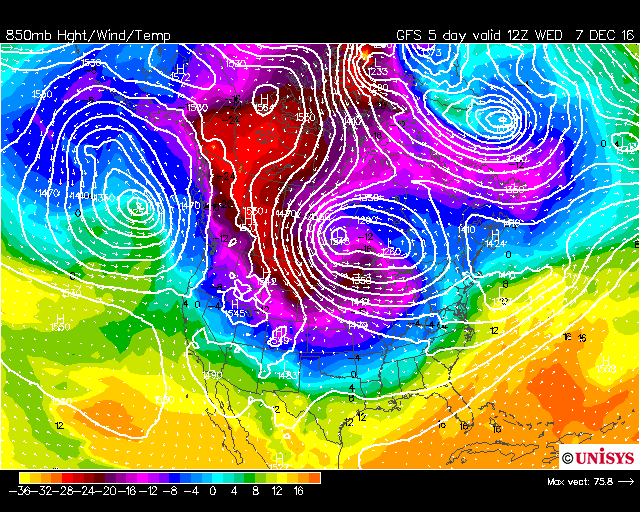 This Map reveals significant lessening of strength and lower temperatures. This is GOOD!
Note the "Face" staring at you. Hahaha! Ugly nose too. With green snot. LOL! Anyway, the reason
the storm is dying down are the two "eyes" which are Strong Low Pressures defeating the Red High
Pressure and Arctic Air Mass. It is still strong enough to take on Half the USA, and bring down
Low temperatures to the Northern Mid-West, but Canada will have to do the most suffering, again.


A Polar Vortex is not a "cold snap". This Polar Vortex is like something out of a Hollywood Movie.
It is a sudden, very sudden, quick drop in temperature of about 40 degrees Fahrenheit!
Records could "SNAP", and Shatter, like the icicles hanging from your roof.
People can get Hypothermia. People can die. Pets too. Keep your pets warm. Livestock too.
This is Your Notice to Prepare for this ICY Polar Vortex. The first Polar Vortex this Winter.
There shall be more Polar Vortexes to come. With even colder temperatures. Prepare NOW!
(Update: Low Pressure zones and jet stream have "pushed" Arctic Air back North. Alert ends.)
Some good information can be found on these sites:
https://salvationcanada.wordpress.com/polar-vortex/
https://salvationcanada.wordpress.com/emergency/
Stores will sell out of EMERGENCY products quickly, so be wise and be the first to be prepared.
Get something for your neighbors too, and be a good Samaritan.
Map of Jet Stream screaming by at about an icy 300 Miles per Hour.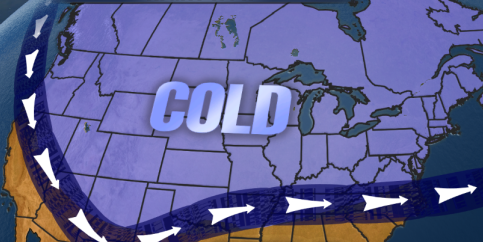 The Jet Stream is moving very FAST due to pressure zones, down the West Coast
of the United States. It then cuts across the entire USA before exiting the East Coast.
Very unusual. Very Powerful! Very Deadly! The Jet Stream P.U.L.L.S. the FRIGID
ICY ARCTIC COLD AIR straight down to TEXAS. LOOK OUT TEXAS, Alex Jones!
The entire USA could be turned into a FREEZER by this Polar Vortex.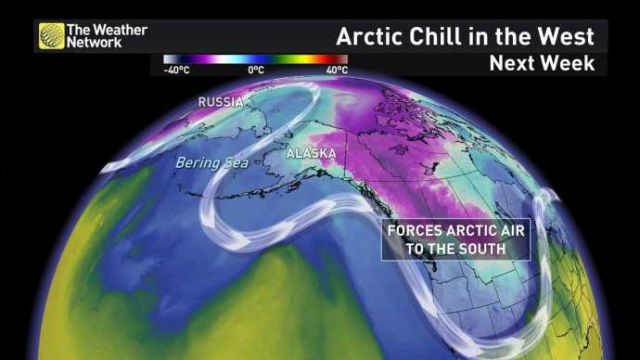 Arctic Chill Indeed! Should we Blame Russia for this? LOOK at the Jet Stream! Russia did it! (lol)
Finally The Weather Network picks up on this very important Weather Warning. The Polar Vortex is losing some of it's strength as it begins to spread out further. That is good news as it means that the "Low" Temperatures may not be as bad. Still to far away to tell, and there are many disturbances affecting the Polar Vortex. More updates as they come in. Thanks for visiting BIN. If you enjoyed this Story, then please click the "recommend" button, top of page. Other great sites are: RT, rsbn.tv, Drudge Report, salvationcanada.wordpress.com, InfoWars.com, Breitbart, BIN. Thank you for Supporting these websites.
Three weather models are too large to download here.
They are on salvationcanada.wordpress.com and /polar vortex.
Weather is not always predictable. Some models say "below normal"
Wednesday December 7, 2016
and some say the entire USA is going to get blasted with ARCTIC FRIGID COLD AIR!
(This has lessened in latest maps)
Either way, it is best to be prepared.
This is supposed to be a RECORD COLD WINTER for North America.
What can you do about this Extreme Weather Event? First, You can Go Buy
New Winter Clothing, Gear, Supplies, Storage Food and Water, and more.
A One Week Supply of food/bottled water is a Minimum. One Month is Better.
Preparing and Stocking up is a WISE thing to do. Your Body will Thank You.
Read more on all this at SalvationCanada.wordpress.com

More updates to follow…..
As of Sunday December 05, 2016, the Arctic Air is now being drawn in from a secondary pattern in Ontario, Canada. This means the cold front is back on, crosses into the US this next week.
Not all of the US will be hit by Colder Temperatures, but north will, then running East.
Frigid weather will last from a few days, to weeks. Ontario, Canada will be freezing rain/snow/cold.
Keep that BOB handy, WINTER IS HERE!
end of Kitty-Kat weather, until another Polar Vortex…..
We encourage you to Share our Reports, Analyses, Breaking News and Videos. Simply Click your Favorite Social Media Button and Share.