Please support this steemit article HERE!
Author: Joseph Monte
Yes, it can happen, and one is expected to form later this week.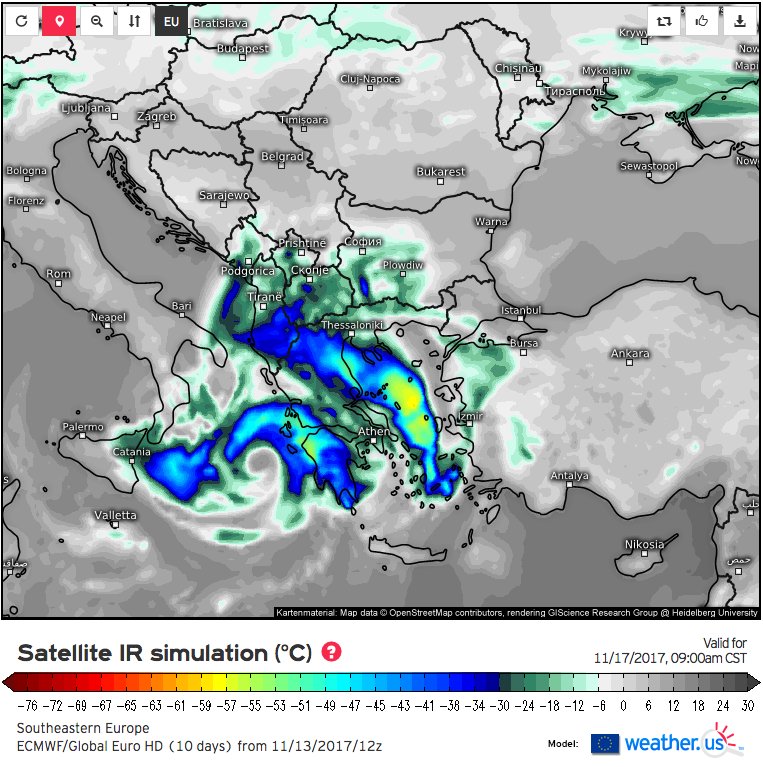 Source
Europe has been no stranger to wild weather this year. 2017 brought some of the worst heat ever witnessed in the Mediterranean Basin, and wrapping up a year of extremes, is the potential for a cyclone to develop and impact Greece in the coming days.
A 'medicane' is the cleverly dubbed label for a warm-core cyclone with tropical characteristics, but it forms in the Mediterranean Sea. They are generally thought to be quite rare, considering the number of factors in the region which usually inhibit tropical cyclone development; wind shear, shallow water, and large amounts jagged land masses scattered everywhere.
However, every autumn we watch for the potential for development from late season cold fronts which leave behind showers and thunderstorms after their passing. These areas of convection can quickly become organized if they find a warm pocket of water to feed from for a long enough time period.
Already we have witnessed the impacts of this bubbling cyclone, which is named Numa by the Free University of Berlin. Heavy rainfall and deadly flooding have caused major issues, and the storm is still expected to strengthen just south of Italy before moving over Greece.
Devastating flash #floods in Mandra, Attica, #Greece this morning, Nov 15! Video: Nikos Dioletis pic.twitter.com/Q2j6zA0EDp

— severe-weather.EU (@severeweatherEU) November 15, 2017
Source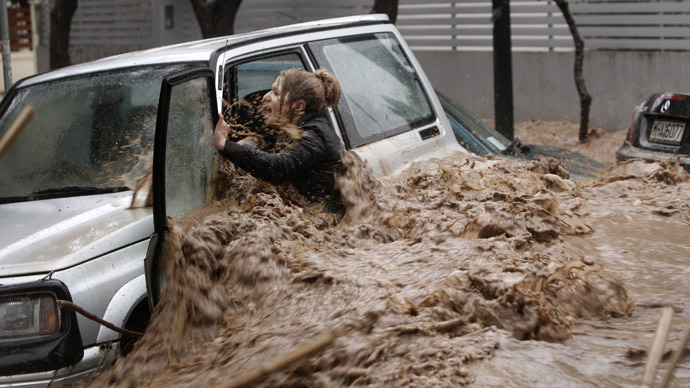 Source
The system has even brought waterspouts to Italy and Malta.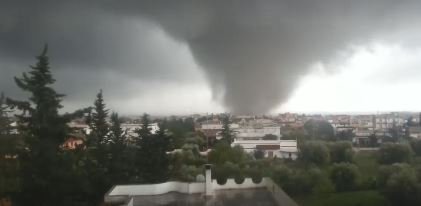 Source
This has happened before
Just last year, on October 31, 2016, Tropical Storm 90m formed, and in November 2014, Malta recorded a gust of 95 mph from one of these rare breeds.
While most generally remain relatively weak and short-lived, they can become quite strong, with a prime example set back in 1982 where on satellite imagery you can clearly see the distinct 'eye' of a hurricane. You would think image was captured over the Caribbean, or perhaps near the Philippines, but not at all! This was a medicane.
Also, this storm spawned in January 1995, and once again, you can clearly see the 'eye' feature of a well-developed tropical cyclone.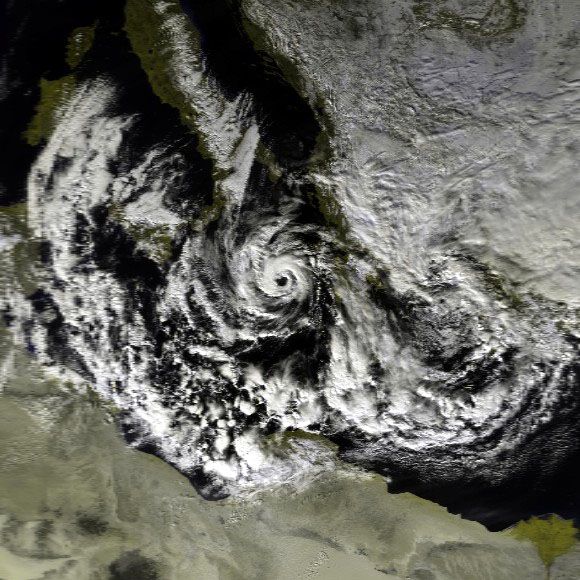 Although it may seem surprising, it can happen, and it has happened. Numa will certainly be an interesting feature to watch, but people all along the Greek Peninsula will be bracing for the worst of it, which is still to come.
You can read more on Numa and other storms like it at the following websites:
The Weather Channel
Mashable
Wikipedia
God bless everyone, in Christ RayEl's name, AMEN!
For more Information CLICK HERE!
We encourage you to Share our Reports, Analyses, Breaking News and Videos. Simply Click your Favorite Social Media Button and Share.