Lorie Kramer
Here's Kelli Stewart's report on court today in the FEDERAL GOVERNMENT vs. We The People, aka Bundy et all, in Portland, OR. The other report from Portland today is from John Lamb, which I have already placed here on Before It's News, link below.
This is a detailed report, so I'll just let Kelli fill in from the earlier report just mentioned.
Something of which to take note is the continuing actions of Judge Anna Brown as described by Kelli. Some of the things that "official" woman does are truly hard to believe. The short time I observed her I thought I was watching some fictional event play out. How can a Judge create and sustain her own objections?
Many thanks to Kelli for her continued full and factual reporting on her courtroom observations. We all know Maxine Bernstein and Colin Powell sure don't seem to be able to handle it, and they're "professionals."
Matthew Deatherage's petition to impeach Judge Anna Brown is currently at 1758 signatures. If you didn't get the link earlier in the week, here it is again http://https://www.change.org/p/u-s-house-of-representatives-impeach-judge-anna-j-brown
Malheur 7 – The Corruption Continues! By Shari Dovale http://redoubtnews.com/2016/10/13/malheur-7-corruption-continues/
Bundy Trial – Sheriff Mack, Shawna Cox's Phone Video of LaVoy's Killing Shown to Jury and More
http://beforeitsnews.com/alternative/2016/10/bundy-trial-sheriff-mack-shawna-coxs-phone-video-of-lavoys-killing-shown-to-jury-and-more-3424953.html
BTW, Anna Brown has been limiting the number of witnesses the Defense may call. She actually said this in court on Oct. 13th as the Defense team was presenting potential witnesses, and getting shot down at least half the time.
"I can't even find the right adjective to describe the amount of evidence already presented by the defense showing that they did not conspire to impede Federal officials." Really, she said that. Here's her reasoning….there are too many people giving the court evidence that these "presumed inocent" people are NOT GUILTY. There's TOO MANY of them for the court to deal with to deal with. But, the 50 witnesses the Feds called was NOT too many? How is that?
Well, I don't have an adjective for Arrogant Anna, but I do have a noun. Preponderance. Is this not then a preponderance of the evidence?? She says it is repetative and using up too much of the jury's precious time. WHAAAAAT?? Seriously, this woman!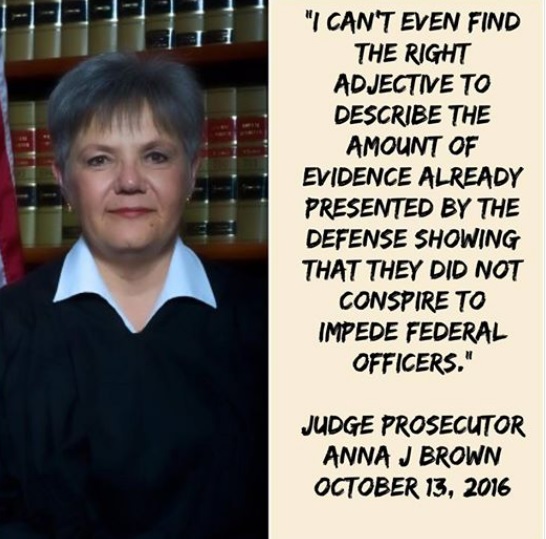 Live streams of the Friday night rally, 7 – 10 pm Pacific are usually available from
John Lamb https://www.facebook.com/john.lamb.16121
and Dory Dae https://www.facebook.com/dory.borck
Check it out, it's a good thing.
We encourage you to Share our Reports, Analyses, Breaking News and Videos. Simply Click your Favorite Social Media Button and Share.