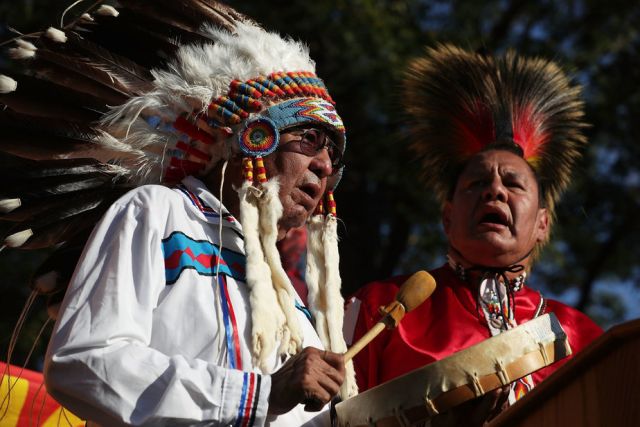 The United States Army has taken actions to protect Americans by defending their human survival rights in the historic American battle at Standing Rock over the Dakota Access Pipeline and the United Nations has condemned newly elected President Trump-linked Energy Transfer Partners security forces' "cruel and inhumane" treatment of protesters. This news follows Tuesday's historic global protests against the pipeline. Energy Transfer CEO contributed to Trump's campaign and Trump is an investor in Energy Transfer.
Trump had called for Americans to revolt to right the "great and disgusting injustice" and "disaster for a democracy" related to such corporations' New World Order corporate rule while, unbeknown to supporters, he was in bed with the NWO. He is expected to approve the controversial pipeline when in office, fueling potential violence as most Americans, the Army Corps, the UN, and increasingly more police and sheriffs stand with the people and law and order – and against the pipeline, its corporate rule and criminality.
Army, Rape, Mass Graves, Pipeline Poison
Obama administration's Army Corps of Engineers refused the final permit for the Dakota Access Pipeline's Missouri River crossing, answering Tuesday's global demand to defend Standing Rock tribe's call to protect its drinking water and that of some four million people downstream.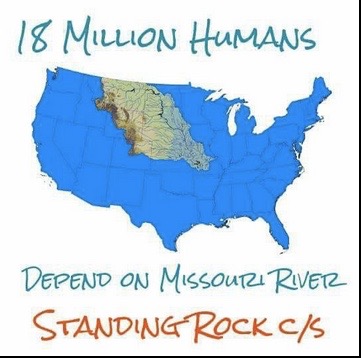 The Obama administration gave the Standing Rock Sioux tribe a partial victory on Monday, by declining to grant a final easement for a disputed section of the the Dakota Access pipeline that would skirt its ancestral land. It called, instead, for "additional discussion and analysis."
Under sharp pressure from tribal and environmental activists, the U.S. Army Corps of Engineers and the Department of the Interior said
further consultation
is "warranted in light of the history of the Great Sioux Nation's dispossessions of lands, the importance of Lake Oahe to the Tribe, our government-to-government relationship, and the statute governing easements through government property."
Standing Rock Sioux tribe has led a months-long protest against the poisonous crude oil pipeline that would cross the Missouri river at Lake Oahe, half-mile upstream of Standing Rock reservation in North Dakota. The effort has triggered a worldwide protest movement fought on environmental justice, indigenous rights, environmental and climate change grounds.
Drilling beneath the river is now on hold after the latest Army Corps decision as the easement's fate is decided. The tribe has repeatedly, however, called for a comprehensive environmental impact statement of the entire pipeline. The administration did not address this.
"Not all of our prayers were answered, but this time, they were heard," Standing Rock chairman David Archambault II said in a statement.
The 1,172-mile pipeline would carry roughly a half-million barrels of crude oil per day from the Bakken oil fields of North Dakota to Illinois. Most of it is already built because the Army Corps had permitted construction under the Missouri river in July, when it completed a basic environmental assessment, claiming to find the pipeline would have no significant impact on the river or adjacent federal land. It did not, however, grant the final easement required for the river crossing. That decision was expected earlier this fall. In a surprise move on Sept. 9, the
Obama administration called for an internal review of its environmental assessment
. Monday's announcement was the result of that review.
On another international front regarding the pipeline, one that possibly impacted the latest decision to halt the permit now drawing global attention, the United Nations condemned the Energy Transfer Partners' security forces' "inhumane and cruel treatment" of protesters.
President-elect Donald Trump is an investor in Energy Transfer Partners, parent company of Dakota Access LLC. Despite poisoning millions of people downstream of Standing Rock in four states, Trump is
expected to approve the project
when he takes office. He won the election not based on popular vote, but instead, on what
Rolling Stones on Wednesday said was a rigged Electoral College vote
. Despite vote rigging, experts expect the final vote counting to prove Clinton has some two million more votes than Trump. Rolling Stones stated in its article Wednesday:
"Interestingly, Trump himself recognized the unfairness of the Electoral College in a
series of tweets in 2012
. He called the system 'a disaster for a democracy,' 'a total sham and a travesty,' and a 'laughing stock.' Of course, he tweeted this commentary when he mistakenly believed that Barack Obama had lost the popular vote against Mitt Romney.
"Trump also said, before learning Obama had in fact won both the popular and electoral votes, that there should be a 'revolution in this country,' that we should 'fight like hell and stop this great and disgusting injustice' and that we 'can't let this happen' and 'should march on Washington.'"
Feature photo credit; Getty Images
Appreciated this article? Click "Recommend" above.
What do you think? Comment below.
BIN NOTE: If by now you haven't figured out that Facebook and Google are in cahoots with the corrupt government, then I feel for you, but for those well aware of the issues, it's high time you switch to Seen.life. It is a website similar to Facebook but without the censorship
We encourage you to Share our Reports, Analyses, Breaking News and Videos. Simply Click your Favorite Social Media Button and Share.