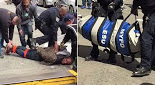 A video of New York Police shoving a live man into a body bag, a portable full-body-including-head straight jacket that police have begun using, was embedded in today's article, "Living Body Bag Torturous Martial Law Accessory Deployed", by Deborah Dupre, was scrubbed from the internet soon after she published the article on Thursday, September 8. A replacement video has been posted and is below on this page.
Presumably, Google deleted the video. Its YouTube message reads: "This video has been removed for violating YouTube's Terms of Service," as seen in the article here.
"A U.S. court has ruled that citizens have "no constitutional" rights to record police officers on their cellphones, regardless of whether cops are acting unlawfully," according to YourNewsWire. That has been interpreted differently, as seen below in the video in this article. Some states have different requirements.
Someone else, under the user name Falls N Pranks re-uploaded the same video. It is available here below as of 8.9.2016, 6:00pm PST.
READ: Living Body Bag Torturous Martial Law Accessory Deployed
The court has ruled citizens cannot film police — without following certain rules. Judge Mark Kearney in Philadelphia said that citizens must explicitly explain to cops that they are recording them for the purpose of criticizing police – otherwise face arrest. (Court Rules It Is Illegal To Film Police Officers On Cellphones)
"We find there is no First Amendment right under our governing law to observe and record police officers absent some other expressive conduct," Kearney said in reference to two cases involving Philadelphia police.
Mcall.com reports that [s]tanding silently with a phone or camera doesn't cut it… His opinion conflicts with federal court opinions elsewhere in the country and has been appealed. The ruling hasn't prompted police in the Lehigh Valley and elsewhere in Pennsylvania to change policies and shouldn't deter people from recording because it's not illegal.
"Even if there were no constitutional rights to record the police, that still doesn't make it a crime to record the police," said Molly Tack-Hooper, an attorney with the American Civil Liberties Union in Philadelphia, who is working on the cases.
The Atlantic reports differently:
"As a basic principle, we can't tell you to stop recording," says Delroy Burton, chairman of D.C.'s metropolitan police union and a 21-year veteran on the force. "If you're standing across the street videotaping, and I'm in a public place, carrying out my public functions, [then] I'm subject to recording, and there's nothing legally the police officer can do to stop you from recording."
"What you don't have a right to do is interfere," he says. "Record from a distance, stay out of the scene, and the officer doesn't have the right to come over and take your camera, confiscate it."
Officers do have a right to tell you to stop interfering with their work, Burton told me, but they still aren't allowed to destroy film, according to the Atlantic.
Google's YouTube Terms of Service does not preclude loading videos of police. It does have a clause granting it the right to remove any content it decides is illegal.
We encourage you to Share our Reports, Analyses, Breaking News and Videos. Simply Click your Favorite Social Media Button and Share.