The IRS Is Coming For Your Bitcoin Profits!
Pete Santilli LIVE With Chris Kitze Episode #1143 – The Pete Santilli Show – Thursday – November 30, 2017
By Pete Santilli, The Pete Santilli Show
The Pete Santilli Show is a widely distributed social media broadcast that is hosted by Pete Santilli and Deb Jordan. The show has made groundbreaking strides in the field by outperforming Mainstream Media with the flow of information during breaking national news. The show can be seen Sunday thru Friday beginning @ 7:00 PM EST.
TONIGHT ON THE PETE SANTILLI SHOW
Have you been noticing the rise in worth of Bit-Coin and wondered what that's all about? World renowned entrepreneur Chris Kitze joins Pete to discuss the new currency frontier of creating wealth through crypto-currency.
Bitcoin's meteoric rise over the past year has people asking exactly what it is and if they should invest. Chris Kitze believes crypto-currency is the wave of the future in digital banking and together he and Pete discuss the upside, pitfalls, and the importance of getting educated.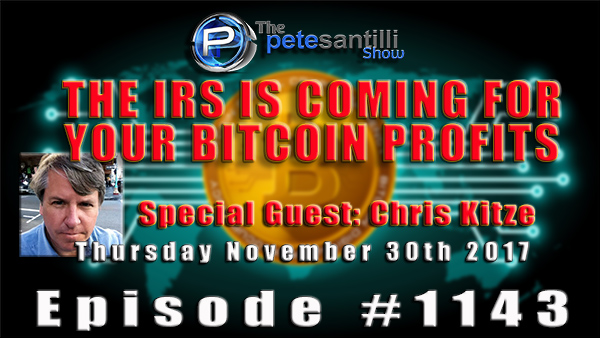 ---
JOIN US STREAMING LIVE STARTING @ 7:00 PM EASTERN:
YOUTUBE LIVE
YOUTUBE SHARE LINK URL: https://youtu.be/h9qQNIPNgdA
You can also catch us on Facebook Live each and every broadcast.
TONIGHT'S FEATURED GUEST Chris Kitze: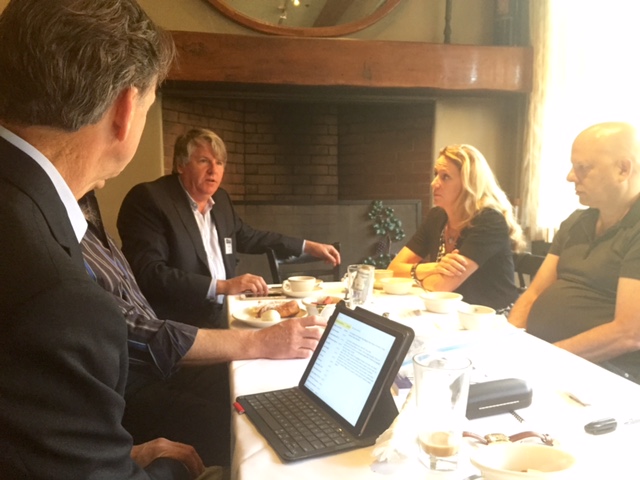 Chris Kitze calls himself a serial entrepreneur who has created companies with over $7 billion of market capitalization during a 25-year career.He was part of the Lycos' IPO team, was founder and CEO of Xoom.com (IPO: 1998), and was CEO of NBCi, formed by the merger of Xoom.com and Snap.com, in addition to other companies in digital media and payments, such as Wine.com and Unseen. Currently, he is working on several very interesting blockchain related projects, and helping the Alphabit Fund. Chris says in a recent article he published on LinkedIn -
There is one guaranteed winner in the cryptocoin field and his hands are in everyone's pockets. That winner is….the tax collector! Don't think for one second that because you are using Bitcoin, that you are a ghost and no one knows who you are, what you have, or how much money you are making trading cryptocoins.

https://www.linkedin.com/pulse/irs-coming-your-bitcoin-cryptocoin-profits-chris-kitze?articleId=6313874364160970752#comments-6313874364160970752&trk=prof-post 

To listen to the re-broadcast of The Pete Santilli Show 24/7, call the following number: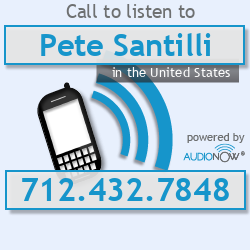 ---
Want to see more articles like this one? Please consider becoming a supporter of our work & check out the following links:




---
Important Disclaimer: Pete Santilli & Deb Jordan are radio talk show hosts who share and comment on trending political news and current events with a listening audience. The information is obtained by way of public domain and their opinions are merely shared or distributed as a service to subscribers and the general public. It is impossible to screen every listener and/or those who participate by subscribing, commenting in a chatroom, or calling into their live broadcasts. Some of the topics and language used may be steeped in controversial theory, and the opinion of the hosts may be deemed by some as offensive. However, they fully support a person's right to unsubscribe, not engage, or have an opposing view. While they may indulge in thought provoking conversation and agree or disagree with a guest or audience member who has been stimulated to an emotional response, it is not their intention to incite a person or group of people to any action that would be deemed illegal in the eyes of law enforcement.
Links to today's article: http://sbn.buzz/headlines
Visit Our Website: http://sbn.buzz
BeforeItsNews.com Articles: http://sbn.buzz/news
Important Links to Share: http://sbn.buzz/links
Daily News Headlines: http://sbn.buzz/headlines
Subscribe To Our Youtube Channel: http://sbn.buzz/youtube
Audio Download: http://sbn.buzz/podcast
Daily Live Show: http://sbn.buzz/live
Support The Pete Santilli Show: http://sbn.buzz/insider
Like Our Facebook Page: http://sbn.buzz/facebook
Follow Us on Twitter: http://sbn.buzz/twitter
We encourage you to Share our Reports, Analyses, Breaking News and Videos. Simply Click your Favorite Social Media Button and Share.