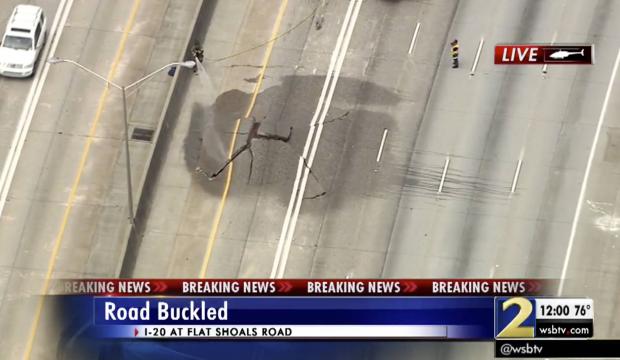 Another major highway in metro Atlanta has been closed, this one because an underground gas leak caused the fast lane to buckle. DeKalb County officials say the pavement on Interstate 20 buckled in the HOV lane Monday morning.
Is it something sinister or just further crumbling infrastructure that we are waiting for the current adminstration to make great again. This is the not the first time a highway has been shut down in the recent months because of similar situations.
Another major highway through Atlanta was partially shut down on Monday, this one because the pavement rose up and broke apart in an area where underground utility work was being done.
A motorcyclist hit the rising pavement in the carpool lane of Interstate 20, went airborne and was critically injured. Pieces of pavement rose to nearly the height of a full-grown man as the road buckled.
Witnesses said other motorists rushed to the motorcyclist's aid. DeKalb County spokesman Andrew Cauthen said he was hospitalized with multiple fractures.
The buckling was caused by a utility crew using machinery to bore a new natural gas pipeline under the highway, authorities said.
"Work was being performed in the area on behalf of Atlanta Gas Light," company spokeswoman Melissa Clontz said. "This incident was not caused by and did not involve the release of natural gas."
County spokeswoman Sarah Page said all westbound lanes were closed until further notice several miles southeast of downtown Atlanta. Westbound traffic is being diverted at Interstate 285, the city's perimeter highway.
This latest infrastructure problem will only snarl more traffic in the congested city, adding east-west complications to commutes already complicated by the collapse of an overpass on Interstate 85, a key north-south artery, due to a fire that police say was intentionally set.
Source Detroitnews.com
Check out more contributions by Jeffery Pritchett ranging from UFO to Bigfoot to Paranormal to Prophecy
~~~~~
Most people who use social media have figured out that Facebook and Google are in cahoots with the government. For those who are well aware of the issues, it's high time you switched over to Seen.life. It is a website that is similar to Facebook but without all the censorship.
Firearm friendly, you may buy sell or trade anything allowed by site TOS rules.
We encourage you to Share our Reports, Analyses, Breaking News and Videos. Simply Click your Favorite Social Media Button and Share.