Mysterious Green Comet Has Two Tails And One Tail Points Towards The Sun Not Away From It!! A Few Theories Stand Out...Oh God Help Us!!
Monday, February 6, 2023 14:48
% of readers think this story is Fact. Add your two cents.

Mysterious Green Comet Has Two Tails And One Tail Points Towards The Sun Not Away From It!! A Few Theories Stand Out…Oh God Help Us!!
Mysterious Green Comet Has Two Tails And One Tail Points Towards The Sun!! Two Theories To Shock You Out Of Your Skin!! - First of all… read what Zetatalk has to say about the green comets… use your focused discernment in what you are about to read. Green comets have been appearing since 2003 when Nibiru entered the inner Solar System, but now a Green Comet has been imaged with a third tail, pointing toward the Sun instead of away from the Sun. What could this mean? The scientific community is bumfuzzled and claims it can only be an optical illusion. But the Zetas, as usual, explain.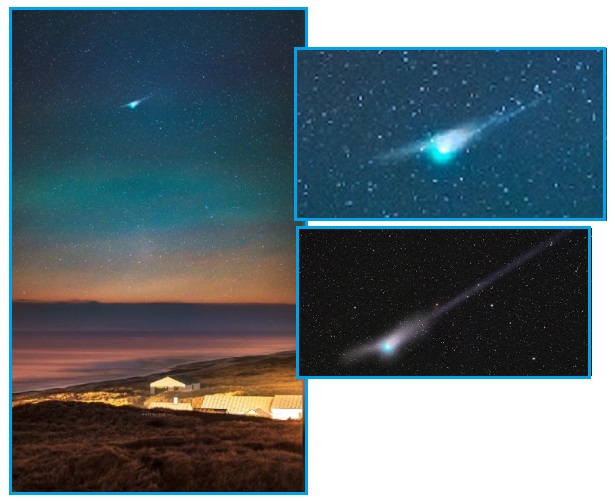 A Sneak Peek at the Green Comet! Image Shows a Glimpse of the Ice Ball set to Pass Earth Next Week – for the First Time since the Age of Neanderthals 50,000 Years Ago January 24, 2023 https://www.dailymail.co.uk/sciencetech/article-11668349/
A green comet not seen in 50,000 years is making a pass of Earth next week. Currently, E3 can only be seen with a telescope, but it will be visible to the naked eye when it reaches perigee – the point at which it is nearest to the earth – at the start of February, when it is 26 million miles away.
Optical illusion gives Rare Green Comet an 'Anti-Tail' that Seemingly Defies Physics January 27, 2023 https://www.space.com/green-comet-anti-tail-illusion
C/2022 E3 (ZTF), a rare green comet, which has been streaking across the night sky as it approaches Earth for the first time since the Stone Age, briefly grew a bizarre third tail. This "anti-tail" appeared to streak in the wrong direction, seemingly breaking the rules of physics. Normally, comets like this have two tails: One made from dust, which is blown off the comet by solar wind; and one made of gas from within the comet that sublimates, or transitions, directly from solid to gas. But on Jan. 21, several astrophotographers snapped pictures of the green comet with a third tail that was pointed towards the sun instead of away from it.
ZetaTalk Explanation 1/27/2023: We were asked at the start of the ZetaTalk saga why green comets had arrived. Unlike the normal comets – dirty snowballs formed from the water planets in the Asteroid Belt – these new comets would turn green when burning up in the atmosphere. These were claimed as space junk, thus the green color from their mineral content. But why would C/2022 E3 develop a third tail pointing toward the Sun when the Solar Wind blows the other way? The appearance of green meteors in 1997 was termed by ourselves as harbingers because they preceded the arrival of Nibiru in 2003. Unlike the dirty snowballs formed in the Asteroid Belt, this trash had been collected during Nibiru's long transit between its two foci – the Sun and its dark binary twin 18.74 Sun-Pluto distances away. Nibiru is a magnetic giant, and its vast tail composed of iron oxide dust is due to this. But the debris that follows Nibiru is attracted to Nibiru for more than this reason. There are many attraction/repulsion dances at play. Of course, Nibiru is between the Earth and Sun at present, but the establishment will not allow this factor into the green comet equation because of their intense Nibiru cover-up. But their claim that green comets are space junk does not explain the "anti-tail" appearance. C/2022 E3 is reaching for Nibiru, like a lover arriving late to a tryst. Plot the direction of this third tail and it will point to where Nibiru is riding at present – at the orbit of Venus and postured just to the right, coming toward Earth in a retrograde orbit. Green meteors with a third tail are not the only puzzle in the skies, as in Turkey a dramatic orange cloud appeared, standing alone in an almost cloudless sky. This is not Nibiru, but a Petrol Mass. Photos of Nibiru may be shrouded in red dust, but the appearance is distinctly different as this photo from April shows. Nibiru is also at a distance, nowhere near the Earth at present, and this Turkey cloud was just above the ground. But an Alabama photographer did capture Nibiru crossing the Sun, and no, this was not a sunspot as claimed which likewise has a different appearance. https://www.zetatalk.com/newsletr/issue854.htm IITM: My apologies for lack of paragraphs, but Windows 11 seems to have taken my 'enter' button… rats… but we carry on… and this is a very important subject. Some theories on what is going on: `1. It is as Zetalk suggests… that Nibiru is coming in retrograde and one of the tails is pointing towards Nibiru, which is said to be between sun and earth. (This one has me scratching my head, because wouldn't the second tail point away from Nibiru, or maybe because Nibiru is highly magnetic, that magnetic dust is attracted towards it?) 2. Let's just get it out of the way… this could be a hologram in the sky. (This is a reasonable possibility.) 3. Nibiru in the area is also confirmed by the 'slowing of the earth's core' news… because our core has lots iron in it. 4. These green meteors… most of them are actually spaceships cloaked as meteors… could it be a spaceship this time, and it's using the second tail to say… 'hey earthlings, something is very unusual here, look over here!' So out of the theories… real comet… hologram… or spaceship, or even, an optical illusion??? Take the poll and check out the results by clicking on the image… let's see where the public is at on this issue.
And now let's finish with a prayer… OH GOD HELP US!! DEAR GOD, PLEASE ASSIST US, YOUR CHILDREN WITH WHAT IS HAPPENING ON EARTH! PLEASE HELP HUMANITY WAKE UP SO THAT WE CAN DEAL WITH WHAT IS UPON US. WE REALIZE THERE IS NO MORE TIME FOR IGNORANCE AND DISTRACTION, PLEASE HELP US TO ACTIVATE OURSELVES TO BE PURER VERSIONS OF OURSELVES, AND THAT WE ARE POWERFUL AND CAN HANDLE ANY SITUATION THAT WE MAY FACE. HELP US COMPREHEND THE LAW OF CAUSE AND EFFECT, SO THAT WE CAN CREATE OUR OWN SOLUTIONS, AND CAN RISE ABOVE ALL ENERGIES THAT ARE WORKING AGAINST US. GOD… SHOW US WAYS THROUGH THE STORM, AND GUIDE US TO MORE RIGHTFUL WAYS OF LIVING IN HARMONY WITH ALL OF CREATION! GOD… THANK YOU FOR CLEANSING HUMANITY OF ALL ENERGY WHICH NO LONGER SERVES IT… AND THAT YOUR GREAT SOLAR FLASH COMING TO EARTH, WILL DO WHAT IT IS DESIGNED TO DO… MAY ALL BE BLESSED AND MAY ALL HAVE FAITH IN GOD AND IN THE DIVINE PLAN.
Before It's News®
is a community of individuals who report on what's going on around them, from all around the world.
Anyone can
join
.
Anyone can contribute.
Anyone can become informed about their world.
"United We Stand" Click Here To Create Your Personal Citizen Journalist Account Today, Be Sure To Invite Your Friends.