At Least 1 Billion Dead or Disabled from CV19 Bioweapon — Dr. Betsy Eads — USAWatchdog (2/4/2023) — How to Detox
Saturday, February 4, 2023 22:21
% of readers think this story is Fact. Add your two cents.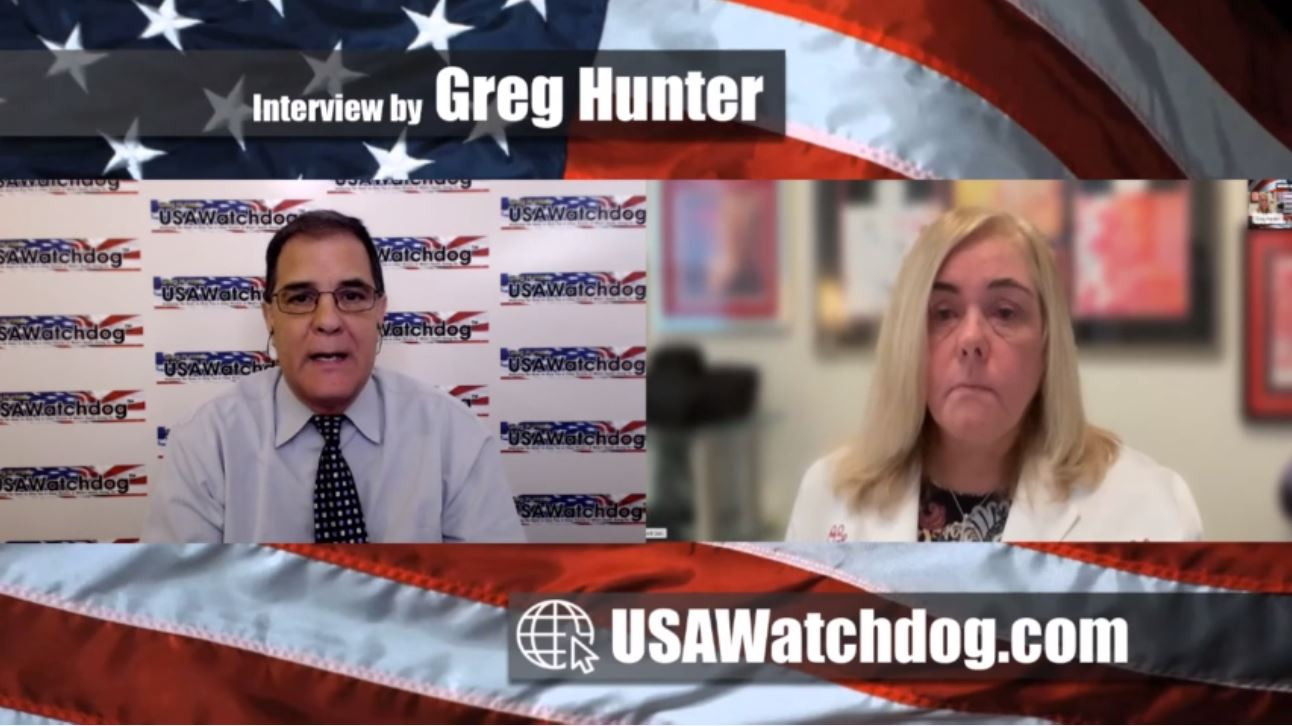 At Least 1 Billion Dead or Disabled from CV19 Bioweapon — Dr. Betsy Eads — USAWatchdog (2/4/2023) — How to Detox
By Greg Hunter's USAWatchdog.com (Saturday Night Post, 2/4/2023)
CV19 bioweapon vax truth warrior Dr. Betsy Eads has been warning of a "Tsunami of 'vaccine' deaths coming in the next two years." The number of people dying and getting permanent disabilities is increasing. That is no surprise with 600 million CV19 injections being administered in America alone. There have been about 13 billion CV19 injections given worldwide. The estimation of dead and permanently disabled is stunning and criminal. Dr. Eads explains, "In my personal opinion that a billion people will either die or be permanently disabled. A new "Expose" article shows 5,162% increase in deaths (in Australia) from this bioweapon shot since 2020. . . . Those are just stunning numbers, and we are seeing it all over the world.
From the UK that is on shot number 6, to Israel that is on shot 7 with complete medical chipping. . . . The entire country of Israel is now medically chipped with portable medical records and vaccine records. . . . We are seeing death and permanent disability in huge numbers. It is causing huge increases in all-cause mortality. Just look at Ed Dowd's numbers. They are as high as 40% (increase of all-cause mortality) in that young working category. We have never seen this many death and disability numbers. There are over 7,000 a day, in America, with death and disability – a day. This is incredible. The CV19 injections are a true bioweapon. . . . this was never a vaccine, it has always been a bioweapon."
Another ominous fact is the vaxed can shed some of the CV19 bioweapon poison onto people who are unvaxed. This is called "shedding" or "transmission." Eads explains, "It's really not shedding. It's really transmission, or transfection of spike proteins. The spike protein is made up of virus inside it. It has HIV and the Glyco-spike protein . . . .It can be shed from the nose or the mouth . . . and by skin on skin contact, and that's been well documented by Dr. Ryan Cole and Dr. Peter McCullough. . . It is documented that there is no end point right now to stop the creation of the spike protein (in the vaxed)."
In other words, spike protein cannot be turned off, and this poison can be transmitted from the vaxed to the unvaxed. People suffering from the effects of shedding can suffer some of the same illnesses as the vaccinated.
Here's the good news. Dr. Eads and other top doctors have developed treatments that can remove the spike proteins and dramatically lessen the effects of the CV19 bioweapon. There is no cure, but the top three treatments Dr. Eads recommends are Ivermectin (IVM), Hydroxychloroquine (HCQ) and Chlorine Dioxide (CD). Eads and other doctors have several other very helpful treatments, as well, with more being developed all the time. Dr. Eads talks about them in this 1-hour and 2-minute in-depth interview.
Dr. Eads says, "Absolutely, there is hope. These products are working. We are coming out with new products, and we are studying and coming out with new products every day. . . . God made your body so it can heal. Pray for forgiveness to God for taking the jab, and you need to be getting on these products to give your body a chance to heal."
Join Greg Hunter as he talks to 25-year veteran Dr. Elizabeth Eads, DO, as she continues to highlight the unstoppable deaths and permanent injuries and offers hope and treatments to for the CV19 bioweapon vax. [Source]
And the light of a candle shall shine no more at all in thee; and the voice of the bridegroom and of the bride shall be heard no more at all in thee: for thy merchants were the great men of the earth; for by thy sorceries [pharmakeia]were all nations deceived. (Rev 18:23)
Dr. Betsy Eads Detox CV19 Bioweapon therapies:
HCQ/IVM- Ivermectin.com
To order Chlorine Dioxide "A" and "B" click here.
To find out about Chlorine Dioxide and its inventor click here.
Interferon spray- rupharma.com
NAC/Glutathione
Clean Slate- therootsbrand.com
Ener DMG
IV chelation therapy
Zeolite- www.life-enthusiast.com/
CBJmarketplace.com
Ozone cream
Suramin
Aspirin/natto kinase
Turn off 5G/block – bodyalign.com
Clean water, no GMO
Dr. Eads also recommends FLCCC.net and the "I-RECOVER: post vaccine treatment."
[Source]
Only One Way Out. Broad Way "Sinner's Prayers" Do Not Save. Download a Most-Helpful Guide to the Narrow Way, Written by a Man Who Walked it to the END (Just as Jesus Commanded All of Us): CLICK HERE
---
For More Information on the Narrow Way and Authentic Salvation, Follow these Two Blogs:

LightgateBlogger.com

and

WayfaringGal.com
Before It's News®
is a community of individuals who report on what's going on around them, from all around the world.
Anyone can
join
.
Anyone can contribute.
Anyone can become informed about their world.
"United We Stand" Click Here To Create Your Personal Citizen Journalist Account Today, Be Sure To Invite Your Friends.