Story Views

Now:
Last Hour:
Last 24 Hours:
Total:
Apple Music Launches Top 100 Charts & CitySide Records Lauched Top 25 Music Charts
Sunday, September 16, 2018 22:07
% of readers think this story is Fact. Add your two cents.

Apple Music Rewleases Top 100 & Christian Cartel News Magazine Releases CitySide Top 25 Music Charts.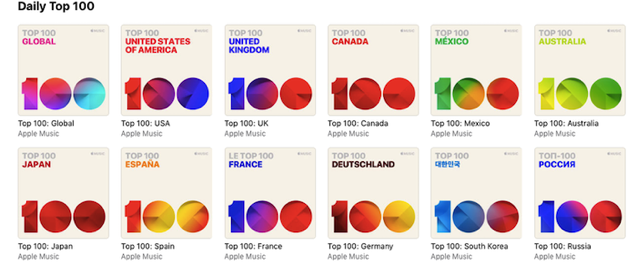 Well if for the last week you haven't been paying Apple Music any attention well know this…That the company have launched a chart that competes with Billboard and it's competitor Spotify.
The heat is on in the kitchen so many streaming companies shouldn't enter but in reality it looks as Apple Music has taken a chapter out of Spotify's book. If you are a subscriber of Spotifythen you'll know that their charts are really a playlist. And if you look above you'll see their chart sample. They are giving you different continents or countries top 100. This is a Facebook move as it kepps you in house. Kind of like the news and music along with video. Creating a atmosphere or community where everything is in one place is a succesful way to keep a dollar flowing through a pipe system. Well Apple Music is doing it but so is Spotify. This is a business model that many businesses are starting now.
Some are late but here comes a record company that is doing it CitySide Records. A Christian/Gospel label that has a large music catalog and have launched their own muaic chart for their new online-offline news mag.zine.
The chart is a compiled list taken from Apple Music and Spotify. Giving listeners the top played songs by the CitySide Rewcord label. The chart can be heard above. If you have Spotify then you can listen to the entire Top 25 Chart but if not you can hit play and the 30 second sample will play of each song. king Stevian tells sources that the monthly chart was created because his ministry has a music catalog of close to 1000 songs and all are playing musical chairs in the labels top 100.
WHAT DOES king Stevian SAY ABOUT THIS 🤔?
Well as a musician in the spiritual lane we first got to know that we as musicians are business men and women. And what this means is we have to think smart when we release music. So being different is a plus according to God's word. READ ABOUT IT HERE!
But to be the first artist to launch a music chart for your artist is a great business move. And even more that the music is to better the listeners. The word of God tells us whatever gift we have we should use it to serve others. READ THE FULL SCRIPTURE HERE!
But having a chart is another way not to keep them in the atmosphere or pipe line but get them in and remain in the blood. What blood READ HERE ABOUT THE BLOOD OF CHRIST.
The word of God tells us the if we seek the kingdom of God 1st and his righteousness all things shall be added.
READ IT HERE!
So when you get this wisdom don't be like the people Satan spoke of to God when he reported back to Him. READ WHAT THE DEVIL SAID TO GOD ABOUT YOU! Book of Jasher 22:46 And the day arrived when the sons of God came and placed themselves before the Lord, and Satan also came with the sons of God before the Lord. 47 And the Lord said unto Satan, Whence comest thou? and Satan answered the Lord and said, From going to and fro in the earth, and from walking up and down in it. 48 And the Lord said to Satan, What is thy word to me concerning all the children of the earth? and Satan answered the Lord and said, I have seen all the children of the earth who serve thee and remember thee when they require anything from thee. 49 And when thou givest them the thing which they require from thee, they sit at their ease, and forsake thee and they remember thee no more.
So in ending all that you do , do it for the purpose of glorifying God.