Story Views

Now:
Last Hour:
Last 24 Hours:
Total:
Foiled! Islamist Terror Plot to Kill British Prime Minister Theresa May: 2 Arrested (Videos)
Wednesday, December 6, 2017 9:05
% of readers think this story is Fact. Add your two cents.

12-6-17
British counter-terrorism police have arrested two men over an alleged plot to attack Downing Street and assassinate Prime Minister Theresa May, British media report. It was not immediately known whether they were acting on behalf of a terrorist group.
---
2 Arrested Over Terror Plot to Kill British Prime Minister Theresa May
James Valles reports. (BNO News)
Sourcre BNO News
Islamist Suicide Plot to Assassinate UK Prime Minister Theresa May Foiled
Soiurce Jim Yackel
---
Islamist suicide plot to assassinate Prime Minister Theresa May foiled
Two men will appear in court today to face charges related to an alleged explosive plot on Downing Street.
A terror plot to assassinate Prime Minister Theresa May has been foiled, Sky sources have confirmed.
Sky's Crime Correspondent Martin Brunt said: "It's the latest in a number of terror plots that police and MI5 believe they've foiled this year.
"I understand that the head of MI5, Andrew Parker, briefed Cabinet ministers today (Tuesday), such is the seriousness of what they believed they have uncovered.
"It is in essence an extreme Islamist suicide plot against Downing Street. Essentially police believe that the plan was to launch some sort of improvised explosive device at Downing Street and in the ensuing chaos attack and kill Theresa May.
"This is something which has been pursued over several weeks at least by Scotland Yard, MI5 and West Midlands Police.
"It came to a head last week with the arrest of two men, by armed police, who were charged with preparing acts of terrorism."
Naa'imur Zakariyah Rahman, 20, from north London, and Mohammed Aqib Imran, 21, from southeast Birmingham, are due to appear at Westminster Magistrates' Court on terror charges on Wednesday morning.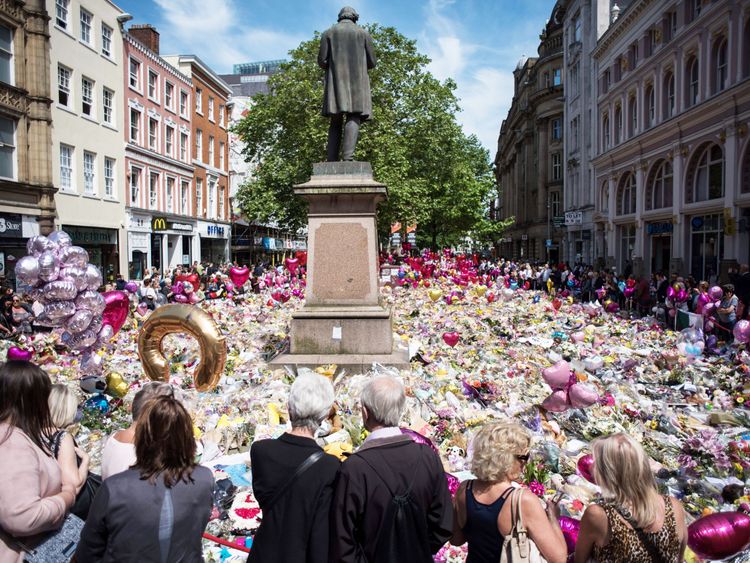 Image:The Manchester Arena bombing is 2017′s deadliest UK attack
On Tuesday, MI5 revealed that it had prevented nine terror attacks in the UK in the past year, but several attackers have still got through.
In March, Khalid Masood drove a car at pedestrians on Westminster Bridge and stabbed a policeman guarding Parliament. Five people died in the attack.
In May, 22 people died when suicide bomber Salman Ramadan Abed targeted concert-goers at Manchester Arena. An official report into the attack released on Tuesday found opportunities to thwart it had been missed.
Eleven people died when terrorists used vehicles and knives to attack people at London Bridge in June.
A man died in a terrorist incident at Finsbury Park mosque in north London in the same month – and, in September, an attempt to bomb a Tube train at Parsons Green station failed.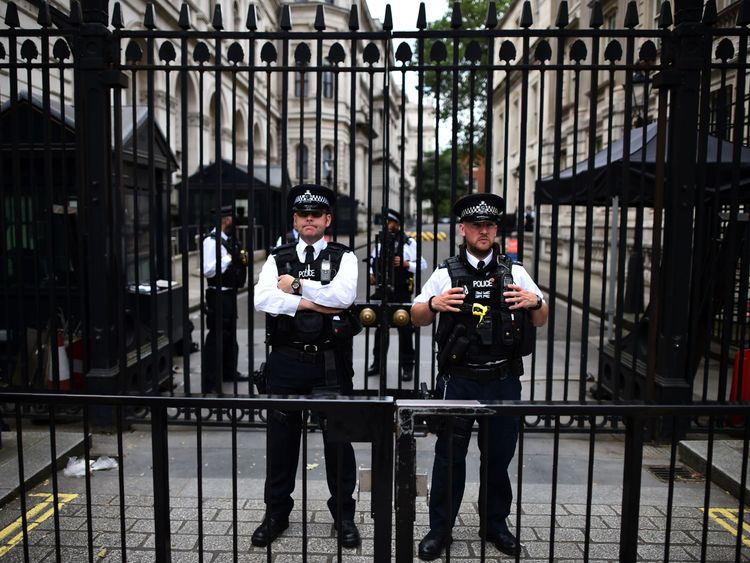 Image:Downing Street's security was upped in the 1980s in response to the threat from republican terror groups
Prime ministers have long been terrorist targets, though Downing Street is now well protected by fortified gates and armed police officers.
Security measures were introduced in the 1970s but were increased in the 1980s as the threat from Irish republican groups grew.
In 1991 the IRA launched a home-made mortar bomb attack on Number 10. The device landed in the back garden. The then prime minister, John Major, was inside but was not hurt.
Source
---
#isis #islam #theresaMay #assassination
====================================================================================
DISCLAIMER: Ads seen on this page or on this site
are NOT endorsed by NOR are they placed by Due Diligence
THIS ARTICLE ENDS HERE
===========================================================================