Story Views

Now:
Last Hour:
Last 24 Hours:
Total:
Mueller and Comey Exposed! All the Dots Are Now Connected - A Must Read!
Friday, August 10, 2018 6:44
% of readers think this story is Fact. Add your two cents.

A very interesting development reported by TruePundit.com this week adds quite a bit of intrique to Hal Turner's excellent expose on the Deep State and Team Mueller. A Justice Department jet has flown in and out of Little Rock Arkansas twice this week… is this why President Trump is saying 'stay tuned'?
?.
MYSTERY DEEPENS as DOJ & FBI 757 Jet Makes SECOND FLIGHT to Clinton's Hometown Little Rock; TWO Round TRIPS in 48 Hours Loaded With Boxes & Docs
Posted on August 10, 2018 by admin
This is getting very interesting. A stealth DOJ flight into Little Rock and then back to Virginia has gone down TWICE this week, according to flight intel and sources … or would have been stealth if it were up to the mainstream media.
The DOJ/FBI 757 made an additional flights on Thursday as well as a previous flights this week detailed below. The plane left Virginia at 11:56 am and arrived in Little Rock at 1:31 p.m., according to FAA records. The flight returned to Virginia on Thursday as well at approximately 5 p.m.
Jumbo jet too.
It was reported its first flight this week was Apparently loaded with evidence.
"Yesterday 8/8/18 The @TheJusticeDept had a Boeing 757-223 tail number N119NA in Little Rock, AR. A local radio station reported #DOJ employees were loading boxes of documents into the plane. Important to note @ClintonFdn located there…
---
This is very interesting. A stealth DOJ flight into Little Rock and then back to Virginia … or would have been stealth if it were up to the mainstream media.
Jumbo jet too.
Apparently loaded with evidence.
"Yesterday 8/8/18 The @TheJusticeDept had a Boeing 757-223 tail number N119NA in Little Rock, AR. A local radio station reported #DOJ employees were loading boxes of documents into the plane. Important to note @ClintonFdn located there…
Thoughts?" — Basham
Hal Turner Commentary
ALL DOTS CONNECTED…Clintons, Mueller, Rosenstein, Comey, Lerner, plus secret guests … Lets PLAY FOLLOW THE TRAIL…
Here's what it looks like when all the pieces are sewn together. It smells like conspiracy and treason. Everyone needs to read this. Slowly, and patiently, because it's very important……
From 2001 to 2005 there was an ongoing investigation into the Clinton Foundation. A Grand Jury had been empanelled.
Governments from around the world had donated to the "Charity". Yet, from 2001 to 2003 none of those "Donations" to the Clinton Foundation were declared.
Hmmm, now you would think that an honest investigator would be able to figure this out.
Guess who took over this investigation in 2002?
Bet you can't guess.
None other than James Comey. Now, that's interesting, isn't it?
Guess who was transferred in to the Internal Revenue Service to run the Tax Exemption Branch of the IRS?
Your friend and mine, Lois "Be on The Look Out" (BOLO) Lerner. Now, that's interesting, isn't it?
It gets better, well not really, but this is all just a series of strange coincidences, right?
Guess who ran the Tax Division inside the Department of Injustice from 2001 to 2005?
No other than the Assistant Attorney General of the United States, Rod Rosenstein.
Now, that's interesting, isn't it?
Guess who was the Director of the Federal Bureau of Investigation during this time frame?
I know, it's a miracle, just a coincidence, just an anomaly in statistics and chances, but it was Robert Mueller.
What do all four casting characters have in common?
They all were briefed and/or were front line investigators into the Clinton Foundation Investigation.
Now that's just a coincidence, right?
Ok, lets chalk the last one up to mere chance. Let's fast forward to 2009……
James Comey leaves the Justice Department to go and cash-in at Lockheed Martin.
Hillary Clinton is running the State Department, on her own personal email server by the way.
The Uranium One "issue" comes to the attention of the Hillary.
Like all good public servants do, you know looking out for America's best interest, she decides to support the decision and approve the sale of 20% of US Uranium to none other than, the Russians.
Now you would think that this is a fairly straight up deal, except it wasn't, the People of America got absolutely nothing out of it.
However, prior to the sale approval, none other than Bill Clinton goes to Moscow, gets paid $500K for a one hour speech then meets with Vladimir Putin at his home for a few hours.
Ok, no big deal right?
Well, not so fast, the FBI had a mole inside one of the companies in the UraniumOne deal who was informing them on vast money laundering and bribery taking place to get the UraniumOne deal approved.
Guess who was the FBI Director during this time frame? Yep, Robert Mueller. He even delivered a Uranium Sample to Moscow in 2009.
Guess who was handling that case within the Justice Department out of the US Attorney's Office in Maryland?
None other than, Rod Rosenstein.
Guess what happened to the informant?
The Department of Justice placed a GAG order on him and threatened to lock him up if he spoke out about it.
How does 20% of the most strategic asset of the United States of America (Uranium) end up in Russian hands when the FBI has an informant, a mole, providing inside information to the FBI on the criminal enterprise?
Guess what happened soon after the sale was approved? ~145 million dollars in "donations" made their way into the Clinton Foundation from entities directly connected to the Uranium One deal.
Guess who was still at the Internal Revenue Service working the Charitable Division? None other than, Lois Lerner.
Ok, that's all just another series of coincidences, nothing to see here, right?
Let's fast forward to 2015.
Due to a series of tragic events in Benghazi and after the 9 "investigations" the House, Senate and at State Department, Trey Gowdy who was running the 10th investigation as Chairman of the Select Committee on Benghazi discovers that the Hillary ran the State Department on an unclassified, unauthorized, outlaw personal email server.
He also discovered that none of those emails had been turned over when she departed her "Public Service" as Secretary of State which was required by law.
He also discovered that there was Top Secret information contained within her personally archived email.
Sparing you the State Departments cover up, the nostrums they floated, the delay tactics that were employed and the outright lies that were spewed forth from the necks of the Kerry State Department, we shall leave it with this…… they did everything humanly possible to cover for Hillary.
Now, this is amazing, guess who became FBI Director in 2013?
Guess who secured 17 no bid contracts for his employer (Lockheed Martin) with the State Department and was rewarded with a six million dollar thank you present when he departed his employer?
None other than James Comey.
Amazing how all those no-bids just went right through at State, huh?
Now he is the FBI Director in charge of the "Clinton Email Investigation" after, of course, his FBI Investigates the Lois Lerner "Matter" at the Internal Revenue Service and exonerates her.
Nope…. couldn't find any crimes there. Can you guess what happened next?
In April 2016, James Comey drafts an exoneration letter of Hillary Rodham Clinton, meanwhile the DOJ is handing out immunity deals like candy.
They didn't even convene a Grand Jury.
Like a lightning bolt of statistical impossibility, like a miracle from God himself, like the true "Gangsta" Homey he is, James steps out into the cameras of an awaiting press conference on July the 8th of 2016, and exonerates the Hillary from any wrongdoing.
Can you see the pattern? It goes on and on, Rosenstein becomes Asst. Attorney General, Comey gets fired based upon a letter by Rosenstein, Comey leaks government information to the press, Mueller is assigned to the Russian Investigation sham by Rosenstein to provide cover for decades of malfeasance within the FBI and DOJ and the story continues.
FISA Abuse, political espionage….. pick a crime, any crime, chances are…… this group and a few others did it.
All the same players.
All compromised and conflicted.
All working fervently to NOT go to jail themselves.
All connected in one way or another to the Clintons.
They are like battery acid, they corrode and corrupt everything they touch. How many lives have these two destroyed?
As of this writing, the Clinton Foundation, in its 20+ years of operation of being the largest International Charity Fraud in the history of mankind, has never been audited by the Internal Revenue Service.
Let us not forget that Comey's brother works for DLA Piper, the law firm that does the Clinton Foundation's taxes.
And, See the person that is the common denominator to all the crimes above and still doing her evil escape legal maneuvers at the top of the 3 Letter USA Agencies? Yep, that would be Hillary R. Clinton.
WHO IS LISA BARSOOMIAN?
Let's learn a little about Mrs. Lisa H. Barsoomian's background.
Lisa H. Barsoomian, a US Attorney that graduated from Georgetown Law, is a protege of James Comey and Robert Mueller.
Barsoomian, with her boss R. Craig Lawrence, represented Bill Clinton in 1998.
Lawrence also represented:
Robert Mueller three times;
James Comey five times;
Barack Obama 45 times;
Kathleen Sebelius 56 times;
Bill Clinton 40 times; and
Hillary Clinton 17 times.
Between 1998 and 2017, Barsoomian herself represented the FBI at least five times. You may be saying to yourself, OK, who cares? Who cares about the work history of this Barsoomian woman?
Apparently someone does, because someone out there cares so much that they've "purged" all Barsoomian court documents for her Clinton representation in Hamburg vs. Clinton in 1998 and its appeal in 1999 from the DC District and Appeals Court dockets (?).
Someone out there cares so much that the internet has been "purged" of all information pertaining to Barsoomian.
Historically, this indicates that the individual is a protected CIA operative. Additionally, Lisa Barsoomian has specialized in opposing Freedom of Information Act requests on behalf of the intelligence community. And, although Barsoomian has been involved in hundreds of cases representing the DC Office of the US Attorney, her email address is Lisa Barsoomian at NIH gov. The NIH stands for National Institutes of Health.
This is a tactic routinely used by the CIA to protect an operative by using another government organization to shield their activities. It's a cover, so big deal right? I mean what does one more attorney with ties to the US intelligence community really matter?
It deals with Trump and his recent tariffs on Chinese steel and aluminum imports, the border wall, DACA, everything coming out of California, the Uni-party unrelenting opposition to President Trump, the Clapper leaks, the Comey leaks, Attorney General Jeff Sessions recusal and subsequent 14 month nap with occasional forays into the marijuana legalization mix …. and last but not least Mueller's never-ending investigation into collusion between the Trump team and the Russians.
Why does Barsoomian, CIA operative, merit any mention?
BECAUSE…. She is Assistant Attorney General Rod Rosenstein's WIFE….That's why!!
GET THIS INFORMATION OUT TO EVERYONE YOU CAN.
Jaw dropping, shocking and extremely sad that this info has never been exposed- DO YOUR PART IN PLASTERING THIS INFORMATION EVERYWHERE …. it's bullet proof and cannot be blown off by leftists … and will convince many not paying attention that we have a soft coup happening now..
An Extraordinary Prophecy From Julie Whedbee
(This is from 2015. The sudden change is obviously now imminent! Will you be alive tomorrow?)
A Special Letter From Jesus Christ For The Hard To Reach
My most precious child, if you are receiving this letter, it is because someone loves you very much. He or She may not have been able to talk to you about this in the past, or perhaps they have talked to you about Me, but you were not ready to listen.
The most important thing I want to tell you is that I LOVE YOU. I love you more than anyone in this world could ever love you. I want you to read this now and learn of Me because you are running out of time to learn the truth. Life as you know it now will suddenly and radically change in an instant and I want you to be ready.
My Name is Jesus Christ the Messiah, I have come to you to give you eternal life. I have come in the flesh and given you the most ultimate sacrifice anyone could give in that I died for you, shedding My blood to atone for your sins; not only those sins you have committed in the past, but for every sin you will ever commit.
The price for your sins has been paid. I was the sacrificial lamb, slain for you. Your debt is paid. I did this so that you could have access to the Kingdom of Heaven with Me and Our Father forever. You were beautifully and wonderfully made, intricately designed, and purposed for so much more than this life. You have known all along that there was more, that your heart yearned for something greater, something that would fill the emptiness, fill that space inside and 'complete' you.
It is My greatest desire that you know that what you have been looking for is Me! I am the One who has created you for a special purpose and whose love for you will never die! My gift is a free gift, no conditions, all you need to do is accept this most precious gift from Me and you will then have all My promises.
You must know that you could never do anything on your own to earn My love, or earn your way into Heaven. Your acceptance of Me and My sacrifice is all that is required. My blood covers all, and ensures you will live with Me always.
I have given you a book- The Holy Bible – that tells you all about who I am. It is your instruction manual in this life, and it tells you not only what has happened in the past, but it also tells you what is about to happen to this earth.
I love all of My creation so much that I always let you know what I am about to do. This is why you are receiving this letter. I am about to make Myself known in a very powerful way. Because so many have chosen not to accept Me for who I am and follow My commandments for your lives, I will shake the very foundations of all you know to be your security. This is how I will get the attention of My creation.
I do not want you to be in fear, and I do not want you to miss the most important reason that you were born to be here. This reason is to have an intimate relationship with Me. To not choose Me is to choose a life in darkness eternally.
I am the Way, the Truth, and the Life. I offer you this gift and this decision because of the free will I have given you. I would never force you to love Me, but you must know that to ignore My desires for your love means eternity without light, love, peace and joy. It is a life wasted and cast away.
Don't waste another moment believing the lies of My enemy, the devil. Don't believe that life will go on continually the way it always has been. Time as you know it is over and I am coming to make all things new.
The signs of the times in which you live are all around you. Life as you know it has become unsustainable. Everything that can be shaken, will be shaken, and you will be forced to make a choice for your very survival. You will choose to trust Me, the One who created you, or you will trust in a system that will fail. My Word speaks truth and all else that is not of Me will collapse. Please, come to Me now. Come as you are. I love you no matter what you have done.
My blood washes away all your sins and makes you white as snow. I will keep you and protect you, I will provide for you and when it is your time, I will take you home with Me.
I will only have so many warnings, and then the sudden-lies will be upon you. Will you be ready? The choice has always been yours. If you accept this free gift and desire to know Me intimately, and want to spend eternity with Me in complete peace and love, please say this prayer (out loud)
Father, please forgive me for all of my sins. I accept your gift. I believe that you sent your Son Jesus to die for me, and that He is your only Son. I believe that His blood has paid the price for all the sins I have ever committed, and all those I will commit. I trust in you as My Creator and in all of your promises. I surrender my life to you and ask that only your will be done. I invite your Holy Spirit to come into my heart and change me, and make me more like you. I want to be obedient, and I need your help. Please come into my heart this moment Jesus and make me a new creation in you.
In Jesus' name I pray, AMEN
Your loving Father, Jesus Christ, the Messiah (Yahushua ha Mashiach)
TURN TO ME OH MAN AND BE SAVED
I have come to bring light to the world, but your hearts have become dull and cold. You have allowed the enemy to lull you into a deep sleep. So many things consume your time and your energy. Do you even ask yourself each day, 'Is this in the Fathers' Will'? You do not. You go about in vain, operating in your own selfish desires and ambitions, all of which have nothing to do with My Kingdom.
When will you learn My stubborn people. Wake up! The Day of The Lord approaches so quickly now, and will sadly catch many unaware. Turn to me while there is yet still a moment left. Repent of your sins, and worship Me, the Light of the world.
My love for you has not gone cold. Turn to Me! I call you each by name. I have sent My comforter to help you, to strengthen you and guide you. Leave all to Me. Only truly believe, with all of your heart, and you will be saved.
Bondage Or Freedom, You Choose
How much more time will you choose to spend in bondage to the things of this world? How much more time will you waste on things that do not bear fruit?
I have offered you a way of life that frees you from all burden, and guides you purposefully through this mission I have created for each of you individually. Are you truly joyful and peaceful in your soul?
Do you have true rest at the end of each day, or do you find that you lie down to sleep feeling frustrated, still empty, still lacking, and inadequate in what you have set out to do for that day? What do you continue, day after day, to chase after? Money? More and more because what you have is never enough? Material things? Do you fill your days with so much work that you could never hear My voice even if I was screaming at you? Maybe you are running from past hurts and fears, thinking if you stay busy those deep wounds in your heart will someday fade away, filling your time with anything and everything, as long as you keep moving to distract yourself from facing your pain.
Have you actually become obsessed with things of this earth? Technology? Media? Computers and phones, alcohol, drugs, sex, food, the list goes on and on. I have only ever asked one thing of any of you, and that is a relationship with you. I don't want or need your money, your hard work, your accomplishments, or your things. I want to spend time with you. It's that simple.
There was a time when I walked and talked with man in the Garden, and there will come a time again when we will do so. But you may still find Me close today. I am as close as your next breath. I have never left you or forsaken you, so why have you separated yourself from Me?
You know by now that this world offers nothing that can truly satisfy the longing in your souls. I am the only Way, the Truth, and the Life. I make this request yet again. Please, come to Me, and I will bring rest to your souls and give you a peace that will astonish you.
Give Me a chance! You won't regret it! Let ME fill all the empty spaces you need filled.
THE GREAT TRIBULATION, MARTYRS AND PLACES OF REFUGE – Julie Whedbee
Tuesday, February 27, 2018
Message received Feb. 25, 2018 (Video to come soon)
Daughter, in My great mercy, I wish to offer understanding and insight and further instructions to My children. I speak directly now to those who are not My Bride, but are My invited guests. Please share My heart with them and express My great love for them.
There is coming an appointed time in which My first-fruits remnant, (those walking closest now with Me) will be completely transformed by My Spirit and then assist Me in many great exploits around the world, before I bring them home with Me and before My wrath pours out across this earth. This time is approaching quickly, therefore I want you who are lukewarm but are not born again, and you who will come to Me after this happens to understand that all will not be lost.
My Word teaches about a set apart group, My priests for this time, who were fore-ordained for just this season that I'm speaking about, and who I have cloistered and hidden from the world until I call them forth. This intimate group has been fed by Me, nourished and directly taught by Me, and walked in obedience and the full assurance of faith that is required to become over-comers. Some in this group have prepared for a life-time for the season you are now in, some for many years, but all are eager to serve and are awaiting My call in order that many may be saved as the judgments continue to fall. Know that you are indeed in the time of judgment and tribulation.
To you who are not infused by My Spirit and will find yourselves left to endure the great tribulation and the fulfillment of all that is spoken of in My Word, I wish for you to know that I love you as well with all My heart, and even in the midst of judgment, I am always faithful to you who call upon Me and you who will wake up and seek Me with all your hearts.
I am powerfully working in My Bride at this time, instructing them to leave tools of instruction for you, provisions as I lead, and resources so you may develop a closer intimacy with Me. Your journey will be extremely difficult, but I am with you, and My glorified Bride and angelic host will assist you for a time to give you hope and encouragement in the darker days ahead.
Some of you who will be left will suddenly be displaced and find yourselves on the run, having lost everything, including your loved ones. I have positioned places of refuge with resources for you, and if you repent and seek Me with all your hearts, I will supernaturally lead you to these places of safety, if this is My will for you. Some of you will be moving from one place to another, under My protection, while others of you will remain in places of safety for the remaining time of judgment until My Second Coming. I have lit your paths, however, and you will not travel alone. Pray for the faith you will need to follow My instructions.
There will be those of you who will survive the judgments but will find yourselves taken against your wills to places designed to shelter people in large numbers and enforce the beast system that I have warned you about for so long now. At this point, you will be told you cannot leave, and you will not eat if you do not comply.
You will face the most difficult choice then of your entire lives. To comply with the Mark of the Beast, means eternal death and eternal separation from Me, so I urge you now, while you are being given the opportunity to read this before it occurs. You must NOT accept this fate to secure your temporal flesh. However, if you do not comply with their system, you will be martyred for your faith in Me. Please know this now. I will be there with you as well, even in the moment of your physical death, to bring you home to My Kingdom. Your reward will then be great, and you will share eternal life with Me and your loved ones from this life.
For those sheltered in these places designed to protect you during the time of terror and the anti-christ rule, materials and resources are actively being gathered for you so that you may learn of Me. You will witness many, many miracles in these places, as I will provide for you supernaturally and protect you from all evil forces. Your travel to these locations will go unnoticed, as you will be invisible to the enemy, and these places of refuge themselves are covered under My dome of glory and are invisible to the enemy as well.
This daughter of Mine that speaks these words to you from Me began her ministry with Me many, many years ago by being shown all that I am speaking to you now. This is how much I love all of you, that I have prepared a remnant that has walked in obedience in their lives so that you would have the opportunity to be sheltered and protected during these terrible times, until I come for you at My Second Coming.
Let the readers hear what I am saying and take this deeply to your hearts. I am presenting this information and instruction to you now, because after this great event takes place in the United States, and after My hand of judgment moves against those nations like the United States that have not repented wholeheartedly and turned to Me, in many areas, these words will no longer be available to you.
Please hear Me My children. These are very, very serious and important words. Share them with all you know, for you know not at what moment I will make this decisive and final cut, severing My spotless and pure Bride away from this polluted world, and give them full power and authority in their infused bodily forms to complete the work they have been sent here to do.
After I transform My Bride, you will remain and be taken by force, being martyred if you do not deny Me, or remain and endure to the end.
Right now at this moment, you STILL have a choice.
Tomorrow you may not have this choice..
Believe these, My words through My daughter, My faithful servant, for I tell you all things are possible to him who believes.
A great and mighty shift is imminently upon you.
REPENT! PREPARE! REPENT!
Seek Me now and you will find Me… My love for you will never die, this is why I urgently beseech you with these words. Come to Me My children, My heart is open to receive you!
YAHUSHUA
Julie daughter of the King at Tuesday, February 27, 2018
End of messages received by Julie Whedbee.
The True Story Of Revelation 12
Home The Antichrist Prophecies The Marriage Supper Invitation The Woman Of Revelation 12
Biblical Signs Appear! The Five Wise Virgins And Two Witnesses Prophecies!
Over Australia May 27, 2012 Over California May 31, 2012
Australia Close Up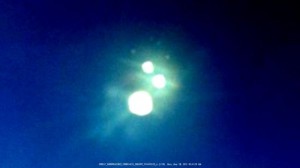 From The Mountain Prophecies
The Five Wise Virgins
Part One
"My Blessed Child, I am your Father Yahweh, yea Jehovah, Most High God. You come to Me today; and you ask Me if I have a word. Yes, My Little One, I have not one word, but two words. These two words are: 'sorrow,' and 'joy.'
For, to you righteous ones, I shall give you 'joy,' even in your times of despair and trouble! But, for the unrighteous, you shall reap, even as you have sown. To you, shall come a time of sorrow as few could ever imagine.
All of the gold in the world will not save one soul! And, for those, who love money and all that it can buy, a time of despair as few could imagine, shall grip them.
For, many have found comfort in their stuff and in their things, but all of their confidence in money and things will not only suffocate them, but will bury them.
I am stripping bare My people. I am bringing you face-to-face with who you really are and what you really are.
But, all, who truly love Me, and who love Me above all, will float in their joy and in their love for Me. And, when the calamities come, and when death and destruction looks them in their eyes, they will neither despair, nor faint. For, My strong arm is their support. My peace is their ever-present gift.
Their eyes are not fixed on this world and its luxuries, but their eyes are fixed on Me! They love Me above all and will not be moved from their faith. And, though the oceans shall rage and though the rivers shall rise, they will neither falter, nor stumble. For, these are Mine! I have fed them and I have raised them up for such a time as this!
But, I tell you now that the foundations of the earth shall be shaken! The earth shall rock! It shall be moved exceedingly. The heavens shall be moved! Back and forth, they will go! The deeps of the earth and the deeps of the oceans shall sigh! They shall move! The stars will be moved! Yes, moved exceedingly!
And, eyes, which can see, will see My hand in all things! For, in the heavens come lights and bodies, which did not previously exist! A dread is upon the planets; for there comes a great upsurge in My power, a great tearing, a great splitting in the heavens! In the cosmos, bitter signs! Two suns! Now, three lights!
All foreboding of a terrible upheaval in the earth! A splitting and a cracking! Terrible cracking in the earth! Waves so high! Terrible waves, with some thinking that the waves are as high as the sky!
Oh, so dreadful are the days, which are upon the whole earth; and My hand is outstretched still. What is your choice, oh you wayward ones? Will you love money until death? Will you love the world and what is in it until your death?
Will you remain a slave to the flesh? Will you continue to worship the flesh and all of its earthly pleasures?
I tell you that there comes a snap, a very great snap, like a lightening snap and this snap of light will beat the earth! It will burn the earth! It will burn it and will cut deeply into the earth.
A fury! Yes, a fury in the earth! And, the power will blink and fail! Oh, what a tale to tell! A blinking! A dread! So terrible, indeed; for those in the world would not heed My word! They would not listen! They would not obey Me! And, in the dark, they will ponder their choices!
Oh, so great shall be the calamities and the lawlessness, and the violence and the gang warfare! Every man for himself! Every wicked deed, no longer in secret, but open and revealed!"
"Oh, Lord, Your words are so urgent! Your warnings are so grave, so serious! Father, what do You mean by all of this?"
"My Little One, from the sun comes great trouble, more trouble than anyone could ever imagine! For, there is not one sun, but two! And, now, not only two suns, but see! Three more!
"Oh, Lord, what is all of this? Wht does this mean?"
"My Little One, people think that they know Me! They believe that they understand Me, but they understand little of Me and they know little of Me and My power. But, know one thing: 3 + 1 = 4 and four shall soon go forth in great power. They shall begin to draw this power from the divine manifestations of who they are."
"Lord, this is a very deep word."
"Yes, a very deep word, indeed! And, the foolish will be confounded; but the wise ones will not be confounded. 3 + 1 = 4 lights in the sky; and these bright lights relate to the heavenly return of these four and who they really are."
"But, My Lord, are there not really five?"
"Yes, My Blessed Child, five you will see, but one is small and so not as tall."
"My Lord, are these five not the Five Wise Virgins?"
"Five, indeed, who are among those, who have the holy seed."
"So, My Lord, the glory of these five somehow, and/or the glory of the manchild in them is being seen in the heavens. And, regarding the Five Wise Virgins, according to Your words in Pistis Sophia are some of them not also considered as saviours?"
"But, they are separated from their glory."
"But, Blessed Saviour, many are erroneously labeling these bright disks as Nibiru."
"Yes, mistakenly! For, remember that Nibiru is also called the Red Dragon, so its light is within the red range. So, what they see is not Niburu, but they are witnessing the heavenly manifestations of the Five Wise Virgins."
"My Lord, how will this be? Will it be soon that you take these Five?"
"My Little One, you will firstly come into your power, but only part of your power. And, these others must greatly grow in their power! For, this is a very great power. What is seen (in the heavens) is the glory of these few! See? By degrees, they will be united with their rightful glory.
Now, My Blessed Child, this is very deep. For, few can grasp the facts, that the righteous will become as the stars in heaven. And, these "fires" are very great fires. This power is very great, and it is this fire and this power, which is heating up the earth and which is causing all manner of earthquakes! For, this is also My judgment.
Yet in this way, I am also bringing forth My kingdom. For, in the sky will also be seen the glory of these five wise virgins, which is the manchild power in all of them. Now is the beginning of My Kingdom; and it will be manifest with many signs in the heavens."
"Praises to You, Father! Blessed is Your Holy Name!"
"So, My Child, My great and holy fire is in the heavens and so is My great judgement.
Blessed is the one, who can receive and believe this word, that I now give to you. For, these five are all kings in My kingdom; and the holy son, who is within these five, shall rule this world in a very great way. My kingdom is now being set up in this solar system. Who will now mock Me and My words?
But, of a truth, My Blessed Child, firstly you will come into your great power. Firstly, you will receive your wings.
I am your Father, Yahweh, yea Jehovah, Most High God."
As witnessed, dictated and recorded this 31st day of May, 2012,
Linda Newkirk
"And, they that be wise shall shine as the brightness of the firmament; and they that turn many to righteousness, as the stars forever and ever." Daniel 12; 3
The Five Wise Virgins
Our Saviour's Message Continued
May 31, 2012
My Blessed Child, I am your Father Yahweh, yea Jehovah, Most High God; and I come back to you; for I know that your heart is overflowing with excitement and great joy about what is and what is to come.
For, you could not have imagined such a thing, that the glory of the manchild, who is to be within some of you, should appear in the sky as heavenly bodies. And, yes! This is one very great mystery! But it should not be a mystery; for I have told you that you shall shine as the stars of heaven!
But, behold the signs in the heavens! Signs of My kingdom come and My will be done in the earth as it is in heaven! Signs of My very first firstfruits! For, even as the sun is also called the virgin of light, these are also called virgins of light; for they are five, wise virgins. And, their light shall be as the light of the sun; and their fire shall be as the fire of the sun. And, their presence opposes evil of every sort.
And, their presence means that this power and this glory will also grow within these five, wise virgins. And, as this power and this presence grows within these wise ones, who are all now in the earth, so great will be the upheavals in the earth. So great will be My great judgments against the wickedness in this earth.
Hear Me now, My Blessed Child; for among these five, you shall be birthed firstly into your power and into your freedom. For, you are firstly the spiritual mother of My people all over the world. Secondly, you are the earth mother of My Holy Son, the manchild of Revelation Twelve; and thirdly, you are one of the two witnesses.
And, the fire and the power and the glory that I have given you through My Holy Son, who is within you, shall be known about all over the earth. And, the mockers will either repent, or be destroyed in their evils; for they have called what is good, bad; and what is holy, they have profaned!
Yes, the signs of My kingdom are in the earth and these signs will not leave, or be moved, not now, and not for many years. For, these are My righteous ones, and I shall rule the earth through My Son, who is within these wise ones. For, I shall give these powers above all others."
I am your Father, Yahweh, yea Jehovah, Most High God.
As witnessed, dictated and recorded this 31st day of May, 2012 Linda Newkirk
The Five Wise Virgins
Part III
June 03, 2012
My Blessed Child, I am your Father Yahweh, yea Jehovah, Most High God; and I come back to you to tell you a little more about the Five Wise Virgins. Firstly, The Five Wise Virgins are among those, who sat at My feet, while I was in the earth.
And, more specifically, these five are you and four others, who have stood beside you through your many tests and trials of your spiritual journey. But, most importantly they have stood beside you through the works of Revelation Twelve, My kingdom works, which have been on-going through you for more than eight years. It is true, that some of them have been with you longer than others, but even so, they have been faithful. For, I called them and appointed them long ago.
And, these five shall all walk in great power in My kingdom in the earth, and beyond. For, they are greatly beloved to Me!
Their glories, as I have told you, the glories of these five, can now be seen in the heavens from time to time. And, as these become more pure in all things, they will all draw from their great glories. But, this is a journey still for all!
However, for you, My Blessed Child, for you, as you are the firstborn, you will soon see My face. And, to you, blessed woman of Revelation Twelve, will soon be given two wings of a great eagle, that you might fly back into your wilderness place.
From within these four, there shall arise the second witness of the two witnesses. For, you are the first of the two witnesses, who will come into your great power. The second witness will trail behind you, but at his appointed time, he will also receive his wings. For, he is your brother! He is one of the four; and in due season, I will raise him up. For, he has been a part of these earthly works, having been called by Me, even from the beginning of these works in South Africa.
Why are these two called the two witnesses? They are so-called, for the two ofthem have firstly been witnesses to the establishment of My kingdom in the earth, through the works of Revelation Twelve. (Read much more from our Saviour about the Two Witnesses here!)
So, as I described above, you now know of the five wise ones! For, they have been given great wisdom to know, to receive, and to understand the truths of these works of Revelation Twelve.
However, when these works began, these four were all beat down and lost in all manner of things. They were greatly burdened, some with issues of alcohol, some with sicknesses, and some with false doctrines. They were all were lost in and burdened down with the burdens of the world. But, I sent you to each of them, that I might touch them through your prayers and through My presence in you, that they might be awakened and stirred up to the knowledge of who they are.
So, now you know more about the five wise virgins; for I have given them My wisdom about the truths of these works.
But, of the five, two have witnessed more about these divine works of Revelation Twelve, than the others! And, of these two, there is you and your brother, who lives across the waters in that cold and spiritually barren land. You know him well; for you have been together in various capacities down through the ages. And, the two of you often working together, have done a very great work for My people.
And, in due season, you two will walk again in great authority and power as the two witnesses; for you were together at another time when I showed My great power in the earth.
"At the mouth of two witnesses, or three witnesses…" shall a thing be established. Deuteronomy 17:6
I am your Father, Yahweh, yea Jehovah, Most High God.
As witnessed, dictated and recorded this 3rd day of June, 2012, Linda Newkirk
Part II
June 03, 2012
"The New Jerusalem"
"My Blessed Child, I am your Father Yahweh, yea Jehovah, Most High God. Listen to Me, My Blessed Child; and I will tell you about the Mountain of the Lord.
On My website: prophecies.org there is one mountain, and beneath it are My words in Isaiah. "And, it shall come to pass in the last days, that the mountain of the Lord's house shall be established in the top of the mountains, and shall be exalted above the hills; and all nations shall flow into it." Isaiah 2.2
My Little One, back in 1997, I began to guide you in the preparation of this website. I guided you in the Spirit to put such important spiritual information on My website. Yes, important information about My holy mountain, which would come into the earth! For, in the Latter Days, this shall be! My house shall be established at the top of the mountains. This is My mountain, the Mountain of the Lord.
And, when I gave you these truths, you had no idea that I would move you to a mountain top. You had no idea that I would make a way for you and Dennis to buy this land on this mountain. But, in the end, he would choose another way; and then I would make a way for all of this land to come to you.
For, this is My land; and My kingdom in the earth is being established from this mountain; from this mountain in the state of ARKansas, USA. This is MY ARK. This is the ARK OF THE COVENANT. This is My Kingdom come and My will be done in the earth as it is in heaven. This is My holy hill. My Son has lived within you on this hill for more than six years. His holiness, which is My holiness, is on this land.
What will I do on this mountain? I have stated part of it! I have established My kingdom in the whole earth from this mountain in ARK, USA.
I will keep this land! I will preserve this land! I will have My place of holiness on this hill; and in due season, the nations shall flow into it. And, in due season, I will increase the amount of land. I will add to this land; for the nations shall flow into this holy land.
And, though the enemy has tunneled under it in an attempt to claim it, I will run them out. And, though the enemy shall encamp round about it, I shall overcome them with blindness and with disasters. And, though they have encircled you for more than nine years (with ships in the sky) they have not and will not stop My work on this holy hill. And, though unrighteous ones also live on this hill, there shall come a time when all unrighteous ones will either be changed into righteous ones, or be transported off this hill, in one way, or another.
For, in due season, the glory of My Son shall be so great on this hill, that his light will extend to the ocean. His light will illuminate the hills and valleys at night and all through the day, his light will heal the lands and the waters.
"But, My Lord, will a different thing take place in Jerusalem?"
"These are the same! For, at this time, My Kingdom is being set up on this hill and from this hill it will go out. It is not being set up in Jerusalem. Oh, how they would like to claim it, or make it so.
One in the whole world has paid the price for My Kingdom to come into the earth and to be planted in the earth; and you, My Child, Linda Newkirk, are that person. There is no other person; and the ground on which you stand is holy ground. It is My holy mountain.
Onto this hill, in due season, will come the New Jerusalem. Why is it called 'new?' It is called 'new,' because it is a new city and it is in a new place. This new place is not a place of death and carnage, like the old Jerusalem; but a place of birth and life. This is My holy hill; and all nations shall flow unto you.
I will not give glory to Judah, who has overwhelmingly rejected Me! I will not put this new wine in that old bottle, that old city of Jerusalem. I will set up a New Jerusalem. I will set up a new city, a holy city, and My light will shine from that city and will illuminate the hills, the valleys and the ocean. All nations will flow unto this holy hill.
My Little One, in that city, I will give you great power. You are laying the foundation for this great city. No one else has laid it and no one else has paid the price. This is a new work. Yes, a culmination of the old, but it is new! And, there shall come a New Jerusalem!
Hear Me in this; for many are confused in this thing! And, many flee to the country of Israel; but that country is Judah. The real Israel is the USA; for this is the land that I gave to you, My people. I scattered you and I gathered you together again; and I gave you this land!
But, you have done great wickedness! You have polluted your inheritance; and I shall severely punish you, oh nation of America. And, I shall severely break you up; but I will not do away with you. For, My Kingdom in the whole earth comes in through you, oh Nation of America. And, though you reject My servant, Linda Newkirk, and though you mock, ridicule and blaspheme her, you have not changed one iota the significance of My work in, of, and through her.
For, in spite of all that you do and even because of all that you do, I will glorify myself through My servant, Linda Newkirk, in a very great way. All in the whole earth shall know that she is Mine. For, My glory shall be very great in My servant, Linda Newkirk; and My radiance will illuminate a very great area through My son, who is within her.
Linda Newkirk is your spiritual mother, oh you decadent people of this nation and of this world. And, I shall sift and I shall sift, and I shall sift until I purge and I clean My house. And, the righteous seed will inherit the earth! For, through the fires of My testing, I will purge them all until they also shine, even as the stars, in their own right.
But, it is a New Jerusalem, not an old Jerusalem! It is a holy hill, My Holy Mountain and this is My Holy Mountain, even in Mayflower, Arkansas, a city, which was named after My Son, My holy manchild, even before he ever saw this world. For, he is the true 'Mayflower,' having been born into the body of My servant, Linda Newkirk, on May 10, 2006; and he is also the ARK of my covenant.
So, I tell you again that I will expand My work on this holy hill; and I shall increase My presence on this hill until all nations will know! Yes, they will say, "The Lord of the Universe in on that hill; for that is the Mountain of the Lord." And, the miracles will go out from this holy hill until they cover the whole earth!
I tell you now and hear Me well! The Jews will not claim honor for this very great work. The honor is here on this holy hill and the honor remains here. For, I do a new thing in the whole earth.
Yes, My Beloved Child, there comes a New Jerusalem; for I do a new thing in the whole earth. But, the great groundwork, the great work for the laying of the foundation of My Kingdom in the earth, has been done here, in your humble abode; and from here it goes out into the whole earth.
Be at peace, My Blessed Child; for I will bless this land. I will preserve and keep this land; and I will fulfill My promises to the whole world, here on this holy hill, in this place in ARK, USA.
I am your Father in Heaven, yea Yahweh, yea Jehovah, Most High God.
As witnessed, dictated and recorded this 3rd day of June, 2012, Linda Newkirk