Story Views

Now:
Last Hour:
Last 24 Hours:
Total:
Boy Scout Tried To Build a Nuclear Reactor in His Backyard - Life of David Hahn (Video)
Monday, December 3, 2018 18:44
% of readers think this story is Fact. Add your two cents.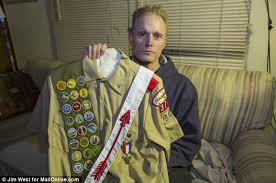 Hahn was a Boy Scout who was fascinated by chemistry and spent years conducting amateur chemistry experiments, which sometimes resulted in small explosions and other mishaps. He was inspired in part by reading The Golden Book of Chemistry Experiments, and tried to collect samples of every element in the periodic table, including the radioactive ones. He later received a merit badge in Atomic Energy and became fascinated with the idea of creating a breeder reactor in his home. Hahn diligently amassed this radioactive material by collecting small amounts from household products, such as americium from smoke detectors, thorium from camping lantern mantles, radium from clocks and tritium (a neutron moderator) from gunsights.
His "reactor" was a bored-out block of lead, and he used lithium from $1,000 worth of purchased batteries to purify the thorium ash using a Bunsen burner.[3][4] Hahn posed as an adult scientist or high school teacher to gain the trust of many professionals in letters, despite the presence of misspellings and obvious errors in his letters to them. Hahn ultimately hoped to create a breeder reactor, using low-level isotopes to transform samples of thorium and uranium into fissionable isotopes.[5] Although his homemade reactor never came anywhere near reaching critical mass, it ended up emitting dangerous levels of radiation, likely well over 1,000 times normal background radiation. Alarmed, Hahn began to dismantle his experiments, but a chance encounter with police led to the discovery of his activities, which triggered a Federal Radiological Emergency Response involving the FBI and the Nuclear Regulatory Commission.
On June 26, 1995 the United States Environmental Protection Agency, having designated Hahn's mother's property a Superfund hazardous materials cleanup site, dismantled the shed and its contents and buried them as low-level radioactive waste in Utah. However, his mother, fearful that she would lose her house if the full extent of the radiation were known, collected the majority of the radioactive material and threw it away in the conventional garbage, which officials did not know. Hahn refused medical evaluation for radiation exposure.
On August 1, 2007, Hahn was arrested in Clinton Township, Michigan, for larceny, in relation to a matter involving a number of smoke detectors, allegedly removed from the halls of his apartment building.[12][13][14] His intention was to obtain americium from them. In his mug shot, his face is covered with sores which investigators believe are from exposure to radioactive materials.[15] During a Circuit Court hearing, Hahn pleaded guilty to attempted larceny of a building. The court's online docket said prosecutors recommended that he be sentenced to time served and enter an inpatient treatment facility. Under terms of the plea, the original charge of larceny of a building would be dismissed at sentencing, scheduled for October 4.[16] He was sentenced to 90 days in jail for attempted larceny. Court records stated that his sentence would be delayed by six months while Hahn underwent medical treatment in the psychiatric unit of Macomb County Jail.[17][18] Hahn died on September 27, 2016, at the age of 39. At the time, he was a resident of Shelby Township, Michigan.
Boye
Such a shame. What a brilliant mind. From a boy who dreamed to get his atomic Boy Scouts badge, to building a nuclear reactor in his backyard, then wanting to become a nuclear engineer, and wanted to build great things for this world. But, his wonderful dream ended up getting shut down, was shunned by his headteacher, developed serious depression, and did other things elsewhere. His depression is what probably lead to his alcohol poisoning and his fate. I'll be honest, it angers me how most just shut his dreams down and didn't give credit where it was so rightfully due. Brilliant Backyard Engineer, and Aspiring Nuclear Engineer, David Hahn, you will be greatly missed.
I host the Church of Mabus radio show and it is going on 8 years. I've been in the paranormal community for 20 years. I provide content from a network of sources and guests and allies. Ranging from Politics to the Paranormal and the Spiritual. You can check out my other articles here at my BIOGRAPHY at BIN and you can check out my free radio show at this link HERE. Thanks for showing your support and stopping by.