Story Views

Now:
Last Hour:
Last 24 Hours:
Total:
SerialBrain2: The Truth About Notre Dame May Surprise You.
Thursday, April 25, 2019 12:26
% of readers think this story is Fact. Add your two cents.

SerialBrain2: The Truth about Notre Dame
may surprise you.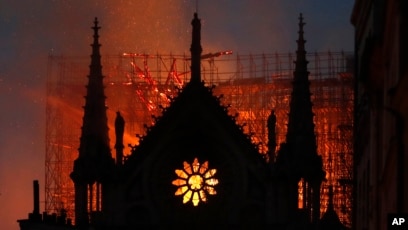 Support BeforeItsNews by trying APeX (far superior to colloidal silver) or any of our other great health products at www.mitocopper.com
PayPal: paypal.me/andweknow410
Instagram Https://www.instagram/andweknow8_28
---
Posted by
The Truth about Notre Dame may surprise you.
To know the truth about the Notre Dame fire, we first need to go through the cathedral's history and understand the current political context in France. Don't worry, it won't be school-boring and you'll get a cool free tour of Paris.Ready? Allons-y!
The current political context: the following image sums it all: Img1 It is well known Macron is a product of the Rothschild Cabal and his election number 66.06% was them clarifying that even if they lost the US with Trump's election, they still had their grip over France and most of Europe. Listen to how his former Rothschild Director contemptuously talks about him: video and how his masters terrorize him and humiliate him at dinners like this one on Feb 20 2019: video.
Next.
The construction of Notre-Dame began between March 24 and April 25 1163 with the laying of the cornerstone in the presence of King Louis VII and Pope Alexander III.
In this article, we learn about Biscornet's story. We are in the 1300's and the cathedral is almost completed. Biscornet was given the herculean task of producing the doors and it is rumored he sold his soul to the devil in exchange for his assistance in the production of a piece that contemporary artists consider to be a technical feat. When he completed his job, he was found dead and the doors mysteriously remained closed despite multiple efforts. They finally opened when they were sprinkled with holy water. Okay… If this story is true, kudos to Satan for signing his name on a door that millions of Catholics would go through to pray…
If it's not true, you still have these beautiful pieces to ponder upon: Img2
During the 1789 French Revolution a mob of angry democrats looted Notre Dame and decapitated the twenty-eight statues of the Kings of Judah located at the west façade. History books will tell you they mistook them for statues of French kings. Of course, as a Q researcher, you know the French Revolution was a masonic project that weaponized peasants to overthrow the King, crush the Church and kick it out of schools, empower the Tiers Etat and get the French bourgeoisie to rule. Have you ever asked yourself if Democracy was divinely inspired? Did you notice when Israel needed leaders after Moses, they were not advised by God to vote but were given Saul as their king? When Christ comes back, isn't it obvious voting him in will not make sense since we all accept he has a divine right to rule the world as the Messiah? Now you know why it's critical for our enemies to sell us his bloodline is interrupted, why those from this bloodline live in secrecy, why State and Government are promoted almost like divinities and why freemasons decapitated these Kings of Judah statues and never tried to restore them. Quite the contrary, they proudly display what they consider to be trophies at the Cluny Museum: Img3
Q354 Therefore, they openly showcase their symbolism.
Just to make sure everybody understood there was a new sheriff in town, the freemasons rededicated the cathedral in 1793 to the Cult of Reason, a state sponsored atheistic religion intended as a replacement for Roman Catholicism, and later to Robespierre's deist Cult of the Supreme Being.
In July 1801, the new ruler Napoleon Bonaparte restored the Cathedral to the church. Because he was cool? No: because he wanted the Pope to validate his coronation and that of his wife Josephine as Emperor and Empress of France, which Pope Pius VII reluctantly did on December 2, 1804. video.
In 1844, King Louis Philippe ordered the restoration of the Cathedral. Eugène Viollet-le-Duc was one of the two architects supervising the restoration and he took this opportunity to add the sculpture of very creepy creatures in the Galerie des Chimères and to replace the statue of Saint Thomas with a statue of himself! With this move, he entered the group of the 12 biblical apostles represented on the spire of the cathedral but with a twist: the other eleven statues are facing Paris when he is the only one facing the cathedral.
As you can see, this place which was supposed to be devoted to worshipping the Father has gone through a lot… layer after layer… darkness after darkness.
Now fast forward to 2017. In this article, we learn how Notre Dame is in desperate need for repairs and how a charity is seeking to raise $120 million for that purpose. The $2.4 million budget the French State allocates to the cathedral yearly is not enough to finance these repairs.
Now let's see what happened 5 days before the fire: video. Again, they beheaded the Apostles! Did you hear the reason given this time by the engineer in charge? He said he's going to restore them and that he needed to know the internal structure! He should have asked any 11th grade student. Supposing he does not know there is a science called chemistry, he could have cut the base or a finger but no: he needed the head. You know what's going on right? Yes: they applied the same fate as the one applied to the statues of the Kings of Judah during the 1789 French masonic revolution.
Let's recap: 5 days before the fire, Notre Dame needed money, all the Kings of Judah were out, beheaded and stored in the Cluny Museum, all the 11+1 Apostles were also out, beheaded and stored somewhere, all the demonic statues remained on site.
Next? We look at their satanic calendar to know if this place was not being prepped for a satanic ceremony. We go through this list and BINGO! We discover Easter Eve Day is celebrated by Satanists with adult human sacrifices.
So based on this calendar and these clues, something should have happened there around April 21 2019. Nothing happened. Instead, the fire took place on April 15 AND: nearly 300 people were killed in Sri Lanka on April 21 2019.
Do you see it?
The cathedral was being prepared for a secret mass sacrifice but the premature fire stopped their plan. Sri Lanka was their plan B.
How do I know?
First, you noticed Notre Dame was a cathedral and a touristic destination right? Well, this is why in plan B they translated the cathedral to multiple churches and met the touristic requirement by targeting hotels. Coincidence?
Second, I told you in this post in this image about the number 74=A SACRIFICE and how the Maestro coded it in his tweet relative to 9/11. Now let's calculate the number of days between 9/11 and the day of the Notre Dame fire. Img4 We find 17 Years, 7 Months and 4 Days. This 7 and 4 stands for 74=A SACRIFICE and 17 stands for Q! We are told the fire at Notre Dame is the White Hats' response for the 9/11 attacks! The White Hats had the intel they were preparing another satanic sacrifice for Easter Eve and they stopped it by advancing the date of the fire!
If things had worked the way they planned, it would have been a political masterpiece: Macron's speech on the controversial French National Debate in the evening of April 15, media coverage and political reactions on April 16 and April 17 and yellow vest protest against the speech on April 20 overshadowed by the Notre Dame fire that would have happened sometime between April 20 and April 21. You get the political gain, the satanic sacrifice and more renovation money than you could have ever dreamed of.
Now, is it me just speculating and selling you a plausible story with these coincidences? You know I have more than that. Of course, I got the confirmation from the Maestro!
It's all coded in his April 17 tweets.
Img5 The first tweet of the day refers to 11 payments. Now look at the last capital letter before this number 11: it's the I from FBI. Value for I? Yes: 9 and here is your 9/11! Coincidence? Go through the highlighted lines and read the decoded message.
Here are the other tweets with their respective decoded messages: Img6 – Img7 – Img8 – Img9 – Img10
Peruvian Coffee for those who noticed in the last image that the capital letters adding up to 86=NEPHILIM were also solved with ADAM LEVINE=86 because of Mark Levin's last name! Adam Levin is an artist and his real name is Adam Noah Levine. Noah? Nephilim? Coincidence? No, if we notice he's a coach on NBC's show The Voice, we deduce what the Maestro is telling us about their cult and rituals: they use vibrations to open portals and import dark spirits in our realm. Read the decoded message: Img11
Songs? Music? Vibrations? Voice? What are the odds Michel Obama tweeted this 3 days after the fire: link? What are the odds she was in Paris the day of the fire? And why does the version of how she learned about the fire change: Driver version – Boat version. What are the odds the 5 capital letters of her tweet about Beyonce add up to 66=MOLOCH? Why the subtitles? Yes: the 19 capital letters. What are the odds they add up to 161, Jewish value for MOLOCH?
Q153 Perhaps he could not stomach the thought of mass murders occurring to satisfy Moloch?
Check later for Part2.
---
Published on Apr 24, 2019
Kevin Annett rejoins the program to discuss the information he has obtained about the Notre Dame burning and the protests in France and elsewhere. We also discuss the Easter related protests against churches who have been shown to cover up child abuses and how they have significantly grown in number this year. Lastly we focus on updates from our previous shows and how victims can get help for their pain. You can see more of Kevin Annett's work @
http://MurderByDecree.com
For my Patreons, Kevin Annett does an exclusive segment about the differences in cultural attitudes towards his work in Canada and the United States.
ollow me on Twitter @ Westall_SarahW Sign up for my newsletter and stay informed on all the latest shows @
http://SarahWestall.com
Thank you for watching and for supporting the show!
End of article.
---
Note:
I do not necessarily endorse any products or services mentioned in these videos, on this web site or in any subsequent written material by the original authors of the presented material or this web site. I do not condone the use of any type of "inserted" advertising or p/u players into the body of an article, that is the site owner's practice, not mine. I do not intend to, nor do I, derive any profits or income from posting this material.
I may not agree with everything presented in this material , however I have probably found that there is sufficient valuable information to justify bringing it forward for you to sift through in order to expand your awareness and to trigger your desire to dig deeper to learn more about the subject matter presented.
My posts are not meant to be polished works of art, they are more utilitarian, meant to be a gathering of data/info loosely pulled together to become a starting point for further investigation and research. Consider it more like semi-processed mined dirt, something still requiring further sifting to extract it's wealth.
I present this material for informational, research and educational purposes only. It is not my intent to maliciously attack nor offend anybody (unless you are a Luciferian Swamp Dweller), so please develop a thicker skin, realize it is not my intent to insult, forgive me, shed it like water off a duck's back and move on, a better person. The material is presented for your edification, you filter as you see fit according to your perspective. May God's blessings and wisdom be upon you.
Support BeforeitsNews by trying our natural health products! Join our affiliate program
APeX
- Far superior to colloidal silver in destroying viruses, bacteria and other pathogens.
Ultimate Curcumin
- Natural pain relief, reduce inflammation and so much more.
Supreme Fulvic
- Nature's most important supplement! Vivid Dreams again!  See Testimonials
MitoCopper
- First bioavailable copper destroys pathogens and gives you more energy.
Prodovite - The Secret To Healing is in the Blood! Complete absorption in 5 minutes.