Story Views

Now:
Last Hour:
Last 24 Hours:
Total:
Russian Military Accused of Starting Fires in Gatlinburg, TN
Saturday, December 3, 2016 8:44
% of readers think this story is Fact. Add your two cents.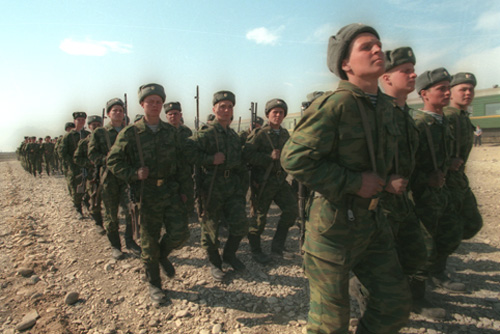 I have spoken to two locals from Gatlinburg, TN, where wildfires have destroyed much of the region. Further, going back several years, I have reported on Russian troops in the Gatlinburg area as well as the sighting of Russian mechanized armor in the nearby Smoky Mountains where former hunters are now banned from entering. Further, Russian commandos have previously been accused of starting wildfires near Colorado Springs and Washington State. Therefore, the allegations brought forth in the following video should come as no surprise.
From two locals, with whom I have had previous contact, there is a general belief among many of the Gatlinburg locals that the Russians are responsible for the fires.
The following seven paragraphs were published as part of a larger article on The Common Sense Show, nearly three years ago:
Is there a third attempted false flag in the offing? I think this is unquestionably the case. Not only do we have the Russians and Chinese to worry about, now I am receiving first hand reports of large numbers of Muslims appearing in communities where there is a large Russian contingent. Yesterday, I received two emails regarding this development in Gatlinburg, TN. One source is direct eyewitness to this fact. Interestingly, the Russians in Gatlinburg are notoriously stand-offish. However, this eyewitness says the Muslims and the Russians are interacting. The other email I received was from a person living near the Canadian border who reports that her parents have seen pretty much the same thing in Gatlinburg.

It is interesting that the Gatlinburg area has had its nearby mountain trails and national parks closed to visitors. My mind immediately harkens back to the reports filed by Sherrie Wilcox, which she related on The Common Sense Show. Also, Sherrie has videos of Russian troops in DHS vehicles which are available at www.sherriequestioningall.com. (see video below)

Local residents in Gatlinburg have been reporting to me stories of strange helicopters landing on a golf course late at night. Russians who speak impeccable English, but refuse to interact with the locals. Gatlinburg resident, Dr. Susan Helman, has twice been a guest on The Common Sense Show, in which she has offered details of the Russian invasion of her community along with her personal sightings of the aforementioned helicopters. Below is an example of the type of emails that I get from people in Gatlinburg.

"…My mother's family live there (grandparents, aunts, uncles, cousins, etc) and have confirmed that the Russian soldiers arrived in droves over the last 3 years. Also a large segment of the rural counties have seen the Russian mafia buy up land and homes. I told a DEA agent about the Russian mafia scaring the locals about 5 years ago and they successfully had a couple drug raids. Tennessee is becoming more Muslim…"
Let's connect some dots here. Why are trails and roads leading from Gatlinburg into the Smoky Mountains being closed? Why are the national parks being closed? Why are Russians and now Muslims appearing in Gatlinburg in such large numbers? How do these facts correlate with each other?
Certainly, Muslims would generally pose no threat. However, when they begin to appear in significant numbers where there are Russians in significant numbers, then we should all be paying attention. I think it is likely that this is a 5th column insurgent group. The closing down of vast wilderness areas in this proximity suggests to me that this is a staging area, a base of operations. It is a military foothold. Many in Gatlinburg feel the same way.
The fact that Sherrie Wilcox caught Russians in DHS vehicles is an important development as well. This is strongly suggestive of the fact that the lines for civil war are being drawn. Foreign troops plus DHS are one side and the US military, along with the American people are on the other side. Does it make any more sense to you as to why DHS purchased 2.2 billion rounds of ammo to go with their 2700 armored personnel carriers? Is this why much of our fighting force is in Afghanistan and Iraq and plans are being made to strand them there when the fighting begins here?
I have detailed on several occasions the Russian military presence. For example, the following two video were reports on Russians in the same area and they were traveling in uniform in DHS vehicles. This information came to me almost five years ago.
Most people who use social media have figured out that Facebook and Google are in cahoots with the government. For those who are well aware of the issues, it's high time you switched over to Seen.life.
It is a website that is similar to Facebook but without all the censorship. Firearm friendly, you may buy sell or trade anything allowed by site TOS rules.
On August 29, 2015, I received a very disturbing email from a reader. I published this email again because of the email which follows it, and the second email provides some confirmation for the claims made here.
Dave,

My son-in-law is a wild land firefighter based in Chelan, WA. As I'm sure you are aware the fires in Washington are some of the worst in the nation right now. I spoke with him last night after he came off of a 20 day shift. He has been battling the Wolverine fire which lies in a very remote part of the county only accessible by Boat or Helicopter. This is the same remote area that the U.S. Army Airborne division has been using to practice helicopter mountain training.

While battling the fire and establishing fie lines around Holden Village, he and his crew came upon two Blackhawk helicopters on the ground in a remote part of the forest. He said that soldiers drew their weapons on his US Forest service fire crew and told them they couldn't be in the area because it was a restricted Military zone. He said all of the soldiers were in US Army uniforms, but two of them appeared to be Russian (wearing US Army uniforms) and in his opinion the Russian soldiers seemed to be in charge.

My son-in-law challenged the soldiers stating they were there to save structures threatened by the fire and they would continue to do their job, at which point all the rifles in the company pointed at him. At this point he said he actually felt threatened for his life and he and his crew retreated going around the helicopter crew. This led to a discussion as to whether or not the US Army had been involved in possibly starting the fires which now burn approximately 135,000 acres.

Please withhold my name for obvious reasons.
SUMMARY OF EVENTS
For What Purpose Are the Russians Here?
To effectively answer the question, I must defer to what I wrote about in the past in which I claimed that all signs point to the United Nations taking over this country once martial law is declared in response to some crisis, probably economic.
I can draw no other conclusion that the Russians are responsible for "burning out" major areas in and around Gatlinburg for the purpose of establishing a strong base of operations.
My hypothesized is legitimized when we look at the FEMA bilateral agreement of 2011 mutually signed by the by the Russian Foreign Ministry which allowed the first 15,000 Russian soldier on American soil to engage in "disaster training". The disaster will occur when the economy collapses and we have Russian tanks in our streets.
Most people who use social media have figured out that Facebook and Google are in cahoots with the government. For those who are well aware of the issues, it's high time you switched over to Seen.life.
It is a website that is similar to Facebook but without all the censorship. Firearm friendly, you may buy sell or trade anything allowed by site TOS rules.
---
Please Donate to The Common Sense Show
PLEASE SUBSCRIBE TO OUR YOUTUBE CHANNEL AND DON'T FORGET TO "LIKE" US
This is the absolute best in food storage. Dave Hodges is a satisfied customer. Listeners to The Common Sense Show will receive 5% off their next order by mentioning "Hodgesnov5" in the coupon code box. Don't wait until it is too late. Click Here for more information.
Check out the life changing BeforeitsNews natural health products! Join our affiliate program to earn with them too!
APeX
- Far superior to colloidal silver in destroying viruses, bacteria and other pathogens. See the videos and 50 page report!
Ultimate Curcumin
- Most powerful natural pain relief you can buy. Reduce inflammation, depression, arthritis and so much more!
Supreme Fulvic
- Nature's most important supplement! Read our amazing testimonials and experience vivid dreams again!
MitoCopper
- First bioavailable copper cleans up your blood from pathogens and gives you more energy! Watch all videos on our website!

Prodovite - The Secret To Healing is in the Blood! Our nutrition is absorbed in 5 minutes! See the proof!