Story Views

Now:
Last Hour:
Last 24 Hours:
Total:
Small Cap Value Report (Fri 11 Jan 2019) - HFD, DEB, FLYB, CAR, NAH, SPE, QUIZ
Friday, January 11, 2019 12:33
% of readers think this story is Fact. Add your two cents.

Good morning, it's Paul here.
Before we start on today's news, I'll have a quick look back at some interesting developments yesterday
Debenhams (LON:DEB)
The AGM yesterday resulted in the Chairman, Sir Ian Cheshire, being ousted – his re-election was opposed by 2 major shareholders (Sports Direct, and one other – Brandes maybe?)
The CEO, Sergio Bucher, was also not re-elected as a Director. Very unusually though, he's staying on as CEO, but not as a Director. I can't see that arrangement lasting long.
As mentioned yesterday, I feel that DEB shares are probably worth zero now. The reason being that the company will almost certainly need to do some form of restructuring (probably a pre-pack administration) in order to shed long, and uneconomic property leases.
Halfords (LON:HFD)
Will revisit this later
---
Flybe
(LON:FLYB)
This is a total disaster for Flybe shareholders, unfortunately. A bid has been agreed, but at just 1p per share. The share price was 16.4p last night. What a pity for shareholders, who have woken up to a 94% loss this morning.
Flybe has been in bid talks for a while, and there were several interested parties – e.g. Virgin, and possibly BA. Press reports suggested that competition between them could result in a decent outcome for shareholders, but sadly not.
The 1p/share bid has come from a consortium of Cyrus (40%), Stobart (30%), and Virgin (30%). They will provide a £20m bridging loan, and up to £80m of additional investment.
Clearly, the financial position of Flybe must have been far worse than management had admitted to the market.
I thought the balance sheet at Flybe looked OK, given its considerable fleet of owned aircraft, being far larger than its debt. However, clearly there must be more to it than that. It looks like the working capital position must have engulfed the company.
My commiserations to anyone who has been hit by this disaster.
EDIT: I see the share price has settled (at c.9:30) at about 3.3p, over 3 times the 1p agreed bid. There must be traders betting on a higher bid being forthcoming. Given that the bid is only just over £2m, there's some logic to this. If shareholders refuse to vote through the bid, then the bidders might up their offer, which would be relatively small beer compared with the £100m investment they mention to revitalise the business.
Or a higher competing bid might come along? I'm steering well clear, as this is far too high risk now the true state of the company's financial predicament has become apparent. The bidders might stick to their 1p offer, and allow it to go into administration if shareholders reject that.
Now that shareholders are all but wiped out, the only thing that really matters is that jobs amp; the service to customers survive under new ownership. It hasn't worked as a listed company, obviously. The turnaround plans, over many years, just didn't work.
---
Carclo
(LON:CAR)
Share price: 57.0p (down 30% today, at 11:12)
No. shares: 73.4m
Market cap: £41.8m
Carclo plc ("Carclo" or the "Group"), a global manufacturer of fine tolerance injection moulded plastic parts mainly for the medical, automotive lighting and optics markets, issues this trading update for the year ending 31 March 2019.
As the share price is down heavily today, this must be a profit warning.
Graham published useful comments about Carclo here on 12 Oct 2018, pointing out that it repeatedly experiences customer delays, resulting in repeat profit warnings. He also noted that Carclo has quite high customer concentration (top 5 customers generating 48% of revenues), which increases risk.
Previously, I had quite liked the look of the company, but was put off by too much debt on its balance sheet, thankfully (as the shares have been a dismal performer in the last year).
What's gone wrong? – operational problems at its lighting division, which sound quite serious to me;
… The consequences of this have been significant with adverse operational variances, expedited freight deliveries and poor customer service leading to additional unplanned costs and, very recently, to delays in new programme awards and the profit recognition thereon.
They're trying to fix things, but it sounds like a protracted amp; costly process.
The result is this;
… the profitability of the LED Technologies Division is now expected to fall significantly short of our previous expectations for the current financial year.
Technical plastics division – operational improvements delivering results, but slower than expected pace.
Full year operating profits will be "broadly similar" to last year.
H2 "much improved" over H1.
Aerospace division – performing slightly ahead of expectations, and well ahead of last year. However it's the smaller division.
Overall performance -
Overall, given the significant challenges encountered in the LED Technologies Division, the Board now expects the Group results for the full year to be significantly below its previous expectations with the second half performance anticipated to be similar to that achieved in the first half.
This is based on;
Project milestones are met
New programmes are awarded before year end
Treating reorganisation costs as exceptional
Hmmm, given that this group has been very accident-prone, then I wouldn't want to hang my hat on the above all coming through seamlessly as planned. Another profit warning in early April 2019, perhaps?
Net debt is also going to be higher than previously expected;
The Group year end net debt position is anticipated to be slightly above the level seen at the half year. This is higher than previously anticipated due to a delay, until after the year end, in receiving customer approval for tooling on a major mid-volume contract. Group net debt is expected to remain within our banking covenants at the newly anticipated profit level.
CEO – the group CEO, Chris Malley, has stepped down from that role, and instead is moving to CEO of the LED lighting division, to focus on turning that around. This suggests no animosity, as he's remaining within the group.
The Chairman is taking over until a new CEO can be found.
My opinion – obviously it's a catalogue of woes. However, the very low market cap reflects the bad news, and at some point this might be a nice turnaround proposition, who knows?
I dislike the balance sheet, which has too much debt, and a pension deficit. However, I note from the 2018 Annual Report that fixed assets include £21.4m in land amp; buildings (presumably freehold). That reduces risk considerably, as banks are usually very comfortable lending where they have security of freehold property.
It would be good to find out the current market value of the group's freehold property.
For investors who specialise in turnaround situations, this one could be worth further investigation.
In H1, Carclo produced £3.6m in underlying profit before tax. It says today that H2 will be similar. So that's £7.2m underlying profit (less some exceptional costs) for the full year. That's not too shabby.
It doesn't look likely to go bust, so in my view this one might be worth a closer look, as a possible future turnaround, perhaps? Given that it seems to disappoint so often, then possibly not something I would want to hold long-term. More of a trading/turnaround opportunity? Possibly. It would need thorough research though, to properly understand the situation amp; prospects.
My main worry is how much damage to customer relationships might have been done by the operational problems encountered. It does also rather raise the question of management competence. At the very least, they seem to be too aggressive in forecasting, and perhaps need to rein in estimates in future, to levels that can be confidently delivered. As opposed to consistently being over-optimistic.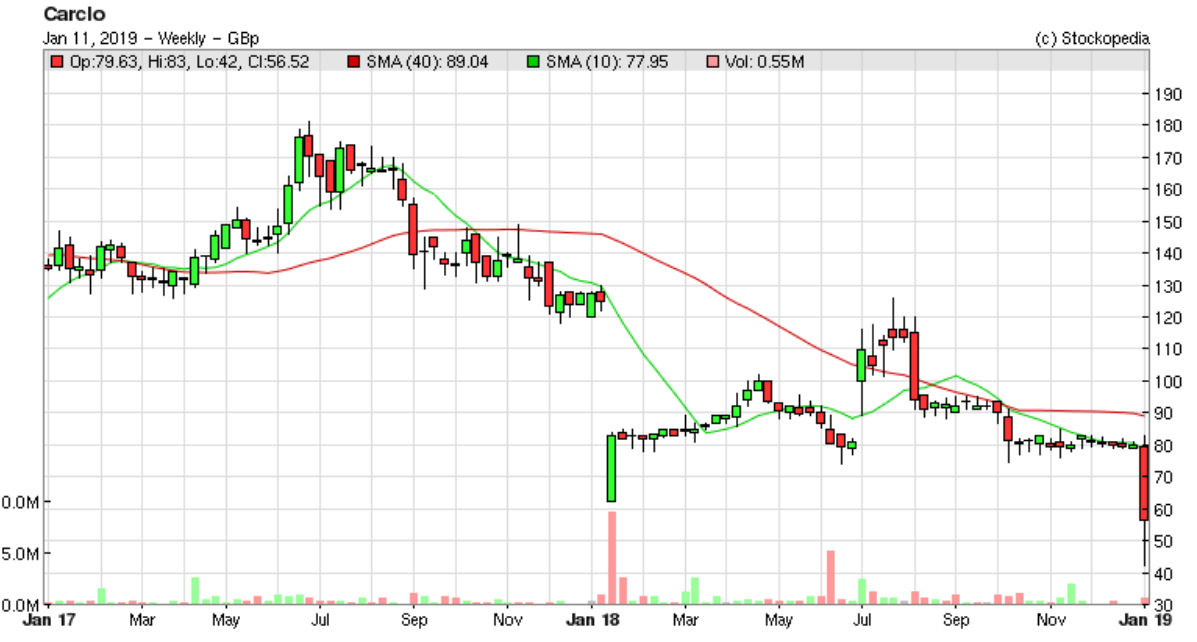 ---
NAHL
(LON:NAH)
Share price: 92p (down 17% today, at 12:29)
No. shares: 46.2m
Market cap: £42.5m
NAHL (AIM: NAH), the leading UK consumer marketing and services business focused on the UK legal services market, is today providing a trading update for the year ended 31 December 2018.
Admirable clarity here, even though it's moderately bad news;
The Group has had a disappointing end to the year. Consequently profits and adjusted earnings per share* for Financial Year 2018 are expected to be between 5 and 10 per cent below Board expectations.
What's gone wrong? -
Personal injury division
Reduced demand due to forthcoming regulatory changes
Increased competition
Increased customer acquisition cost
Residential property division – difficult housing market
What's being done to fix things?
· Investment in brand recognition and further digital marketing activity in our PI division which will enhance our competitiveness although we recognise that the competitor landscape may continue to be challenging.
· In the RP division the new leadership team has implemented several strategic initiatives designed to return the business to growth in 2019.
Positive comments are made about future opportunities from regulatory changes.
Net debt – lower than expected at £15.5m (end 2018)
Dividend policy will be maintained, at twice covered by earnings (no figures given)
My opinion – I don't touch anything in this sector, having seen so many go wrong.
Friends who hold this share tell me that it's much better than other personal injury type legal businesses, which have gone wrong.
The attraction is a low PER, and very high dividend yield. Although dividends seem to be dropping in recent years.
Are the profits sustainable long term, is the big question? This sector tends not to have much in the way of barriers to entry, and is also susceptible to regulatory bombshells. So one way or another, bumper profits can crumble.
The lowly earnings multiple seems to be indicating the market is unsure on that point about sustainability of profits.
---
I'm taking a couple of hours break now, for a jog, and lunch. More later.
Source:
https://www.stockopedia.com/content/small-cap-value-report-fri-11-jan-2019-hfd-deb-flyb-car-nah-spe-quiz-435018/