Story Views

Now:
Last Hour:
Last 24 Hours:
Total:
Chinese Herbs In Western View - Jin Ying Zi (Fructus Rosae laevigatae) Health Benefits and Side Effects
Thursday, April 5, 2012 14:29
% of readers think this story is Fact. Add your two cents.

Home of Kyle J. Norton for The Better of Living & Living Health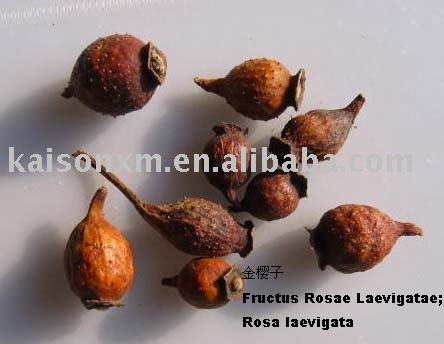 Jin Ying Zi or Jin Yin Zi or Jin Yin Gen is also known as Cherokee Rose Fruit. The sour, not smooth taste herb has been used in TCM as anti diuretic agent and to treat spermatorrhea, diarrhea, frequent urination, chronic diarrhea, cough and asthma, instant sweating, night sweating, heavy vagina bleeding not during menses, etc., as it strengthens the Essence and Intestines, etc., by enhancing the functions of spleen, lung and kidney channels
Ingredients
1. Palmitic acid
2. Succinic acid
3. Citric acid
4. Malic acid
5. Tannin
6. Resin,
7. Vitamin C,
8. Fructose and sucrose
9. Aponin
10. Etc.
Health Benefits
1. Phenolics composition and antioxidant activity
In the stidy of wines made from 3 spine grape (Vitis davidii Foex) genotypes-Junzi 1# (JZ 1#), Junzi 2# (JZ 2#), and Liantang (LT)-and Cherokee rose (Rosa laevigata Michx., CR) for their phenolics composition and antioxidant activities by several assays, showed that A significance analysis demonstrated that the antioxidant capacity (as measured by the ABTS scavenging capacity and cupric ion reducing antioxidant capacity) of CR wine was significantly higher than that of the control and spine grape wines. With respect to metal-chelating capacity, according to "Phenolics composition and antioxidant activity of wine produced from spine grape (Vitis davidii Foex) and Cherokee rose (Rosa laevigata Michx.) fruits from South China" by Meng J, Fang Y, Gao J, Qiao L, Zhang A, Guo Z, Qin M, Huang J, Hu Y, Zhuang X.(1)
2. Subchronic toxicity
In the determination of the toxicity of the TFs was evaluated on base of ophthalmic examination, body weight, feed/water consumption, urinalysis, hematology, clinical biochemistry and pathology. No toxic signs of the TFs at the doses of 500 and 1000mg/kg/day were observed. However, decreased PLT was found in the 2000mg/kg/day groups and increased intercellular space of myocardial cells was observed in the male 2000mg/kg/day group compared with control, according to "Subchronic toxicity study of the total flavonoids from Rosa laevigata Michx fruit in rats" by Zhang S, Zheng L, Xu L, Sun H, Li H, Yao J, Liu K, Peng J.(2)
3. Etc.
Side Effects
1. Do not use the herb to enhace sexual performance
2. Do not use the Huang Bai in newborn, children or if you are pregnant or breast feeding with out approval first with the related field specialist
3. Etc.
Recommended E books
Dr. Joseph Mercola's Complete Guide
To Weight Loss, Preventing Diseases, Premature Aging,
And Living Healthy And Longer

Super foods Library, Eat Yourself Healthy With The Best of the Best Nature Has to Offer
For other Chinese herbs in western view, visit http://chineseherbsinnutrientsperspective.blogspot.com/2011/10/chinese-herbs-in-western-view-health.html
For other health articles, please visit
http://medicaladvisorjournals.blogspot.com/

Sources
(1) http://www.ncbi.nlm.nih.gov/pubmed/22181048
(2) http://www.ncbi.nlm.nih.gov/pubmed/22226919
http://medicaladvisorjournals.blogspot.com
Read more at Medical Advisor Journals
Source: