Story Views

Now:
Last Hour:
Last 24 Hours:
Total:
Operation Crafty Beaver: Deep State Attempts to Start a Race War Before Stealing the 2020 POTUS Election +Video
Tuesday, February 19, 2019 10:49
% of readers think this story is Fact. Add your two cents.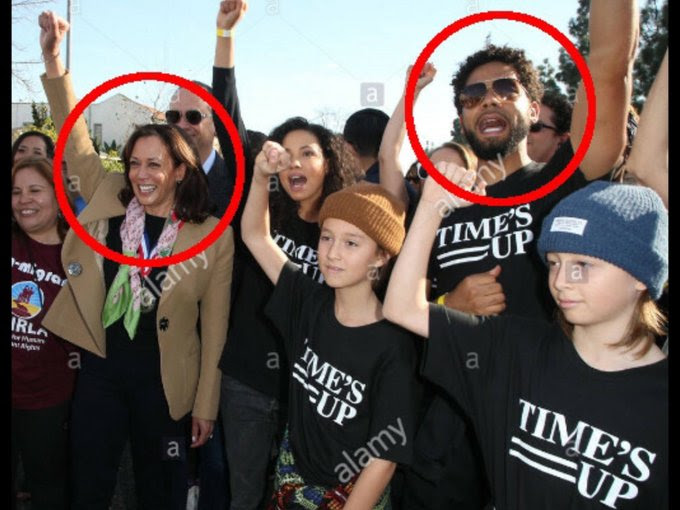 JUSSIE SMOLLETT HATE CRIME
HOAX EXPOSED & EXPLAINED
---
"Female Obama" Kamala Harris Poses as a Deep
Co-conspirator to Inflame Racial Tensions Before
She Steals the 2020 POTUS Election
There are two main players in Operation "Crafty Beaver" as seen in the photo above — Jussie Smollett and Kamala Harris.
This subversive plot to incite a race war before the 2020 election has multiple goals and purposes.
The two primary objectives; the first is to elect another dyed-in-the-wool cultural marxist as POTUS. That would be California's Kamala Harris. Clearly she has been politically positioned to pick up the mantle of Cultural Marxism once held by Obama.
---
Support BeforeItsNews by trying APeX (far superior to colloidal silver) or any of our other great health products at www.mitocopper.com
---
Just like Obama, Senator Kamala Harris is a half black. Her political ascension only occurred because she has been a truly "crafty beaver" throughout her career in California government. Even her previous patrons and bosses have spoken about what a crafty beaver she can be—WOW! See KAMALA HARRIS: "The poster politician for all swamp creatures."
The second objective, which must be accomplished before Harris can be elected POTUS is to restart the race war that Obama fomented over 8 long years. There are several reasons why the Democrats are desperate to trigger a full-blown race war. As follows:
---
---
With this critical understanding it's quite easy to see how the Democrat Party has been completely taken over by the cultural marxists and transformed into a Communist Party in disguise. The preceding link lays bare the entire treasonous scheme to collapse the American Republic that has been insidiously advanced over several decades.
Kamala Harris
In candidate Kamala Harris the Democrats have fastidiously fabricated a political persona who will aggressively promote both the fake feminist agenda as well as the rapidly evolving race war strategy.
Senator Harris has already proven that she will do and say anything that her masters demand of her — A N Y T H I N G! See: The Worst of Kamala Harris (Video)
Just as the Democrat Party got the first person of color elected POTUS, the DNC is determined to see the first woman in the Oval Office. Whereas Hillary Clinton was a total failure in this regard, Kamala Harris is their ace in the hole—literally.
Just like Manchurian Candidate Barack Obama, Harris is the product of a decades-long CIA project to create another empty suit who will faithfully carry out the highly destructive agenda of Cultural Marxism. This is why she was set up to be such a "crafty beaver" from the very beginning…just like Obama was.
---
---
What's quite interesting is that Harris treats her illicit trysts as a Feminazi badge of Cultural Marxism rather than the "Scarlett Letter" that it truly is. This sordid Kamala Harris MO reflects the extraordinarily twisted state of affairs that the Democrat Party has become.
It also illustrates the sheer desperation of the Left to preserve the very worst parts of the Obamanation and at all costs. That especially includes maintaining their "Sodom and Gomorrah" on both the Left Coast (LA & San Fran) and East Coast (NYC & D.C.). These extremely degenerate and indispensable sanctuary cities are the cultural marxists capitals that are used incessantly to implement the New World Order globalist agenda both nationwide and worldwide.
Jussie Smollett
Likewise, Smollett has been carefully set up by his Hollywood handlers to play the role of the hate crime hoaxer. The following excerpt explains further:
SOTN Editor's Note: SOTN is the first to admit that we do not know the exact details of the Deep State conspiracy behind this juvenile conspiracy. However, the way that this obvious hoax was immediately rolled out by the mainstream media (MSM) as a hate crime tells it all (see this video). It's quite unlikely that Jussie Smollett put together this childish scheme by himself. His Hollywood handlers may have first put his acting job in jeopardy as the media reports have suggested. Then, his Deep State masters threatened his job security and coerced him to perpetrate the fake hate crime. What wouldn't Jussie do to keep his EMPIRE acting gig? By the way, Smollett's character name on EMPIRE is "Jamal Lyon", as in lyin'.
(Source: Operation "Crafty Beaver": Jussie Smollett's Juvenile Hoax to Frame the MAGA Movement Exposes a Much Deeper Conspiracy)
---
Really, you can't make this stuff up…which is why Hollywood was contracted by the rogue C.I.A. to make this stuff up.
Except that the whole operation — Operation "Crafty Beaver" — inconveniently got exposed—BIG TIME ! ! ! See CONFIRMED HOAX: Jussie Smollett Paid $7K to Stage Fake Hate Crime Attack to Demonize MAGA Movement
Clearly, Smollett and Harris are joined at the hip as this exposé reveals. The funny thing is that these two juvenile co-conspirators may not even know it. Isn't that exactly how CIA black ops are run—both on a strictly need-to-know basis and in a highly compartmentalized fashion?
---
---
The Jussie Smollett piece of this psyop, however, is much more complex and convoluted than meets the eye. See: The Jussie Smollett Hate Crime Hoax Explained in One Video (Must View)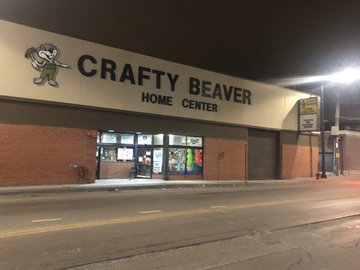 Crafty Beaver Home Center is where the paid assailants bought the 'noose' rope that Jussie Smollett was wearing when he arrived home after staging the hoax attack.
2020 Conspiracy
Where's the conspiracy?
Well, that the CIA's treacherous Mockingbird Media ran with this story with a vengeance was the first sure sign of a massive conspiracy. Every MSM organ of propaganda and disinfo was clued into this scheme to blame a fake hate crime on the MAGA Movement. How BIG is that, especially in the lead-up to the 2020 election cycle?!
---
---
The size and complexity of this Deep State conspiracy between the Democrat Party, the Mainstream Media, Hollywood and Big Social Media is truly staggering. Were one to analyze the timeline of media reports and how they were perfectly synchronized with social media posts by all the usual suspects within America's celebrity society, it becomes evident that this was a highly coordinated scheme TO START A RACE WAR. See: Speaker Pelosi was one of the first to pile on after Smolletts initially pulled off his harebrained hoax.
As always, Trump's MAGA Movement was quickly and unjustly blamed for a crime that the Left meticulously planned out and shamelessly committed. Even today Smollett is hiring a team of fixers to get him out of his perfidious mess.
---
---
The seditious Harris-Smollett conspiracy has likely been on the drawing board for months but only carried out after Harris declared her candidacy for POTUS. The precise timing of this hate crime hoax within the 2020 election cycle couldn't have been more well executed, just after the all-engrossing Super Bowl which was also deliberately used to stoke the flames of racial tensions across the USA.
It's crucial to comprehend that this was to be Harris's ticket to the White House. She really is such a flawed candidate and repugnant personality that the DNC knew it had to "shock and awe" her way to the presidency. And so they will!
---
KEY POINT: The Right should be careful not to underestimate the Democrat determination to start a race war. They have absolutely no one to run against Trump. What they do have is an exceedingly repulsive freak show the likes of which features the very scary Kamala Harris. For this reason the DEMs need to pull off something quite HUGE to sufficiently distract the electorate in order to steal the 2020 election.
---
Conclusion
Were it not for the investigative reporting of the Alt Media and Fifth Estate, Operation "Crafty Beaver" would never have come to light. In point of fact, the communist plot to take over America has been transpiring at breakneck speed for many years but mostly under the radar.
Nowadays, as soon as a major manufactured event jumps off, it's investigated and scrutinized until the dots are properly connected which invariably present a picture that looks like this: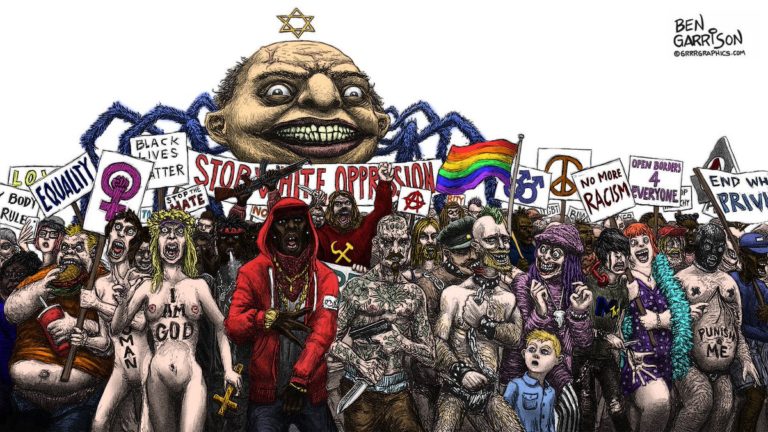 Some folks have wondered why SOTN has given so much site space to the "Jussie Smollett Hate Crime Hoax". Here's why:
This Deep State black operation was the central pillar of the Democrat 2020 secret platform which is why it had to be blown wide open. After all, it represents a key component of their dimwitted strategy to both start a full-scale race war as well as elect Manchurian Candidate 2.0—Kamala Harris.
State of the Nation
February 19, 2019
Recommended Video
http://stateofthenation2012.com/?p=116850
More great articles here: http://stateofthenation2012.com
---
---
Get Paid to Expose the Fake News!
Check out the life changing BeforeitsNews natural health products and sign up to be an Affiliate so you earn on all sales through your links on Beforeitsnews, other websites or social networks!
APeX - Far superior to colloidal silver in destroying viruses, bacteria and other pathogens. See the videos and 50 page report!
Ultimate Curcumin - Most powerful natural pain relief you can buy. Reduce inflammation, depression, arthritis and so much more!
Supreme Fulvic - Nature's most important supplement! Read our amazing testimonials and experience vivid dreams again!
MitoCopper - First bioavailable copper cleans up your blood from pathogens and gives you more energy! Watch all videos on our website!
Support BeforeitsNews by trying our natural health products! Join our affiliate program
APeX
- Far superior to colloidal silver in destroying viruses, bacteria and other pathogens.
Ultimate Curcumin
- Natural pain relief, reduce inflammation and so much more.
Supreme Fulvic
- Nature's most important supplement! Vivid Dreams again!  See Testimonials
MitoCopper
- First bioavailable copper destroys pathogens and gives you more energy.
Prodovite - The Secret To Healing is in the Blood! Complete absorption in 5 minutes.