Story Views

Now:
Last Hour:
Last 24 Hours:
Total:
Iran: Endless Strikes and Protests amid worker arrests
Thursday, November 29, 2018 7:00
% of readers think this story is Fact. Add your two cents.

By: Hassan. Mahmoudi
Streets of Ahvaz in Khuzestan province and Haft Tapeh in the ancient city of Shush in Iran witnessed yesterday Nov.29, the well determined and courageous strikes of sugarcane and Ahvaz Steel mill workers. The recent endless brave strikes by workers prompted the regime to, send the henchman Sadegh Larijani, the head of the regime's judiciary, to the scene on November 26, to show off to and intimidate the workers to pay "We must deal with those who want to disrupt the order of the country, under the pretext of pursuing the demands of workers," he said. … "Workers should not allow their demands to be an excuse for the use of enemies and to create disorder." He added: "Workers will never meet their demands with turmoil, crisis and actions countering the public order" (IRNA news agency – November 26, 2018)
See this Video:
https://youtu.be/2LY_QLW90vs
At the same time, the repressive forces of the regime tried to prevent the continuation of the strike and demonstrations of workers, but despite the intensive presence of state security forces, anti-riot guards and plain clothes, steel workers continued their strike for the third week. Workers gathered in front of the regime's governorate in Ahvaz, broke the blockade of repressive forces and rallied in the streets of Ahvaz.
According to Iran News Wire Report outspoken labor activist, Esmail Bakhshi, who represents the workers of the Haft Tappeh Sugarcane mill was tortured in prison.
The report says that he was beaten in the face and head and that his face was bruised and swollen. He is also suffering from internal bleeding as a result of the torture and has been transferred to a hospital in Ahvaz by security forces. There is no news on his current condition.
Haft Tappeh Sugarcane factory workers' representative, Esmail Bakhshi, protesting at rally
Esmail Bakhshi was arrested along with 18 other workers on November 18, following a 14 day rally by the workers of the Haft Tappeh Sugarcane factory.
According to other reports, security forces also arrested a leading unionist from the Haft Tappeh Sugarcane Company Trade Union today after raiding his home. The agents did not carry an arrest warrant and when Ali Nejati asked to see their warrant, they beat him and his family.
Haft Tappeh Sugarcane Factory Trade unionist, Ali Nejati, detained today by security forces
Ali Nejati and his son Peiman Nejati were then arrested. Reports indicate that Mr. Nejati suffers from a heart condition and was not well when arrested.
see this Video:
https://youtu.be/MQJsvKqAHps
The labor unionist was previously detained and served a prison term for his peaceful union activities.
On Monday, Iran's Chief of Justice threatened workers to end their protests, calling their peaceful protests, "sedition."
"Demands will never be met with sedition, crises and measures that are against public order," he said adding that disrupting public order was "unacceptable."
In the meantime, people of all walks of life took to the streets in various cities of Iran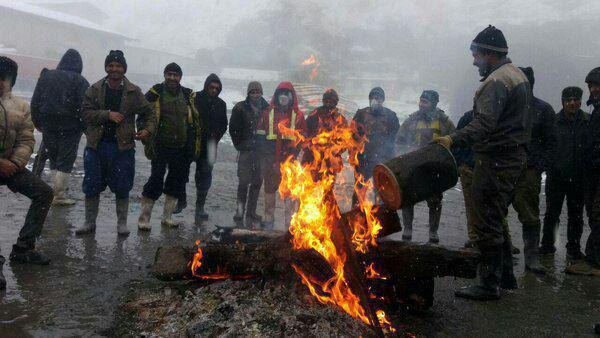 Workers strike Taloon Factory – Tehran Iran . Nov 28, 2018
on Tuesday, protesting the regime's policies and demanding their rights.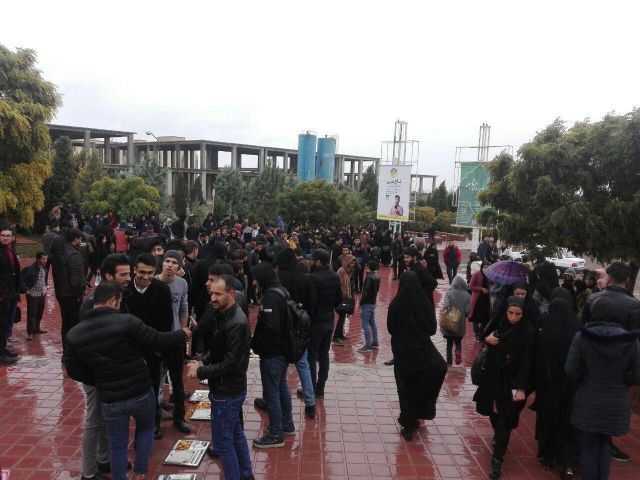 Hakim Univ.Student Protest in Sabzevar -Mashad -Iran. Nov 28,2018
A group of retirees rallied on Tuesday outside the regime's Department of Labor in Tehran. The protesters were holding signs calling on bystanders to join their ranks and chanting:
"Life, security and health are our right"
The retirees were holding placards reading: "Release all jailed teachers"
"All government institutions must be held responsible for why retirees are living in poverty"
"Fighting corruption and embezzlement is one of the methods to guarantee the retirees' legal security and recreation"
"Teachers don't belong in prison"