Story Views

Now:
Last Hour:
Last 24 Hours:
Total:
Ark of the Covenant in Giza? Where Is it Really Now? (Video)
Sunday, May 13, 2018 7:45
% of readers think this story is Fact. Add your two cents.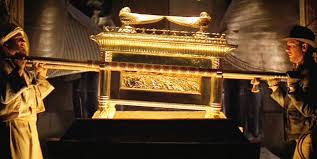 Has the Ark finally been found? to find out watch the video, this information will blow your mind.
There are many places upon our planet, that were once home to the many ancient cultures that we are yet to unravel. A large number of these places clearly showing the erosion of an enormous antiquity, with some even rendered unrecognisable, slowly slipping back into the geological features in which they were once placed amongst. However, some of these civilisations were seemingly aware of this fact of time, deciding to create the largest stone structures to have ever graced the earth.
These monuments predictably outlasting the many smaller sites, which have slowly been reclaimed by nature. These surviving sites can still reveal to us some astonishing things regarding our past, and indeed our future. One begins to wonder whether these monuments size, was a planned strategy for their apparent longevity? Or whether their size served another, perhaps more profound purpose… Nearly all of the unexplained or seemingly impossible ruins, which dot every continent on earth, are almost always attributed to a civilisation incapable of such feats, and often attributed to the same mundane purpose for creation, with rock cut structures, this almost always being a tomb.
Tumulus hill being a good example of this… Also known as the hill of Kasta, this enormous feature, is not a natural formation. Amazingly, this hill, long thought to have been a natural feature., is actually a massive man-made structure. Additionally, the original stone structure, once buried beneath millennia of strata, is actually a 500 metre long, precisely constructed stone boundary, forming an almost perfect circle. Encapsulating what has indeed been explained away as a tomb. Many pyramidal structures, all over earth, create compelling alignments, and although these mysterious structures, mounds and monuments, have been explained away as mere burial chambers,,, the truth is, we just don't know. And the question remains, what were these enormous triangular and structures used for?
Guarded by sphinxes most probably Anubis, amazingly, the sizes of Giza's pyramids are relative to the distance of each of onions stars, is this a mere coincidence? Along with our recent research into clues left regarding an Ark, be it Noahs Ark or the Ark of the covenant… A theory we touched upon previously, has begun to present some rather compelling leads connecting these structures, the alignments, star constellations, and a possible purpose for the pyramids. If one pursues past postulations regarding star gates, gateways to an apparent godly realm, etc etc… You begin to notice links between many ancient beliefs, ancient structures, ancient covenants, and possible interstellar travel…
The double hexagram, now largely recognised as the star of David, is also the shape realised when connecting many ancient sites upon our earth. Is this shape also an illustration of an Ark? Connecting or visually overlapping 2 pyramids into one point? What was the ark of the covenant? Did it power the pyramids? Did it once reside within the great pyramids? Many questions still left remain unanswered, although we may finally be on our way to answering them.
I host the Church of Mabus radio show and it is going on 8 years. I've been in the paranormal community for 20 years. I provide content from a network of sources and guests and allies. Ranging from Politics to the Paranormal and the Spiritual. You can check out my other articles here at my BIOGRAPHY at BIN and you can check out my free radio show at this link HERE. Thanks for showing your support and stopping by.