Story Views

Now:
Last Hour:
Last 24 Hours:
Total:
Pole Shift: Worldwide Disaster - The Third Secret of Fatima Revealed (Video)
Thursday, August 9, 2018 6:01
% of readers think this story is Fact. Add your two cents.

Mind blowing facts revealed in the show. Nostradamus, The Hopi Prophecy and the third secret of Fatima all confirm the same story. A complete axial shift of the poles. Millions will perish. 3 different prophecies foretold the future and the government still denies anything is wrong. They know what's coming. I tell you how it's done… Share this knowledge with other!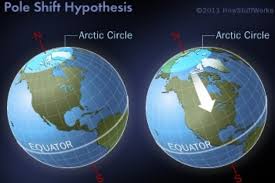 Earth's magnetic field is decaying at such a rapid rate that scientists think the poles may flip. New research shows the most significant weakening is happening under Africa, in an area called the 'South Atlantic Anomaly.' As well as giving us our north and south poles, the magnetic field blankets the Earth, protecting it from solar winds and cosmic radiation. Without it there would likely be no life on our planet today.
However, the forcefield has weakened significantly in the past 160 years and scientists have suggested that it could be in the process of flipping. Effectively this means a switch in magnetic polarity and would see compasses point south instead of north.
The cataclysmic pole shift hypothesis states that there have been geologically rapid shifts in the relative positions of the modern-day geographic locations of the poles and the axis of rotation of the Earth, creating calamities such as floods and tectonic events.
When the reversed patches grow to the point that they dominate the rest of the core, Earth's overall magnetic field flips. The last reversal happened 780,000 years ago during the Stone Age, and indeed there's evidence to suggest the planet may be in the early stages of a pole reversal right now.
I host the Church of Mabus radio show and it is going on 8 years. I've been in the paranormal community for 20 years. I provide content from a network of sources and guests and allies. Ranging from Politics to the Paranormal and the Spiritual. You can check out my other articles here at my BIOGRAPHY at BIN and you can check out my free radio show at this link HERE. Thanks for showing your support and stopping by.