Story Views

Now:
Last Hour:
Last 24 Hours:
Total:
WTH! Personal Vendetta Updated With Reactions | Newly Elected Muslim Dem Busted Lying About What Soros Gave Her | Rashida Tlaib on Trump: We're Going to Impeach That Motherf**ker (Videos)
Friday, January 4, 2019 14:17
% of readers think this story is Fact. Add your two cents.

In this file photo taken on January 3, 2019, US House Representative Rashida Tlaib participates in a ceremonial swearing-in at the start of the 116th Congress at the US Capitol in Washington, DC. Tlaib kicked off her term with an expletive-laced vow to impeach President Donald Trump, triggering Republican outrage and testing party discipline barely a day after Democrats regained the House. (SAUL LOEB / AFP)
---
1-4-19
These are highly alarming developments and sentiments, folks. Not just against POTUS, but against America itself. This woman Wore THE PALESTINIAN FLAG WITH HER HAND ON THE DAMN QURAN WHILE BEING SWORN IN!! Her allegiance is NOT with the United States, it's with Palestine, hence the UN-American flag and blasphemous quran! We have opened our arms to the enemy. PREPARE! JL
Earlier in the morning, Tlaib's brother called in to C-Span's Washington Journal television new program to congratulate his sister. "I'm proud of you," he said. "I can't wait to see you getting sworn in on Jefferson's Quran and wearing the Palestinian flag."
---
Rashida Tlaib on Trump: We're going to impeach that motherf**ker
Fox Host Jeanine Pirro ROASTS Democrat Rashida Tlaib
Fox News
'The Five' react to new Rep's vulgar call for impeachment
Fox News The new Congress has been sworn in and freshman Democrat Rashida Tlaib is making headlines with her profane comments; reaction and analysis on 'The Five.' #TheFive #FoxNews
Newly Elected Muslim Dem Busted Lying About What Soros Gave Her – She's In Deep Trouble
It is quite disturbing that George Soros hasn't been arrested for the all the criminal acts he's done. It amazes me how we still allow him to do the things he does. If American citizens behaved like this..they would be arrested.
This is also a reminder to all of us that elections have consequences. Be careful on who you vote for.
Congresswoman-elect Rashida Tlaib (D., Mich.) did not disclose the name of the source of funds for a fellowship that was paid by liberal billionaire George Soros—as required by the House ethics committee—and also disclosed a lesser amount than she received, according to a review of tax and financial disclosure forms.
The Washington Free Beacon obtained the most recent copies of tax forms for a number of Soros's organizations, including the Open Society Institute, the legal name for the Open Society Foundations, the entity in which Soros pushes millions in funding to a number of liberal causes and organizations.
An expenditure of $85,307 to Rashida Tlaib in Detroit, Mich., from 2017 is shown on page 97 of the 321-page report to "to increase involvement of disenfranchised urban communities of color with their local governance process by creating a community benefits strategy for equitable development and creating a leadership training for impacted residents focused on negotiation skills and identifying leverage at the local level."
Tlaib did not report any income in the amount of $85,307 on financial disclosure forms submitted as she was running for office, which identified the names of the sources that provided her income in three of four cases. Tlaib received compensation from the Maurice & Jane Sugar Law Center, Wayne State University, and Metro Solutions, the forms show.
However, the fourth reported source of earned income is marked as a "Leadership in Government Fellowship," but does not identify who provided the payment.
A press release from 2016 shows that Tlaib was chosen for a "leadership in government" fellowship by Soros's Open Society Foundations along with seven other individuals.
"The eight fellows, chosen from the senior ranks of federal, state, and local government, will work on a wide variety of issue areas: devising new ways to bring criminal justice reform to local prosecutors' offices; developing new strategies for helping school children exposed to trauma; improving life outcomes for low-wage workers, immigrants, and boys and men of color; and closing the digital divide, and more," the release reads.
Tlaib held this position until May of this year, according to the Open Society Foundations website.
Kendra Arnold, executive director of the Foundation for Accountability and Civic Trust, a Washington, D.C.-based watchdog group, said that Tlaib's failure to report the source of her income is "problematic" due to rules requiring that the income source be identified.
Candidates are required to disclose the name of groups and organizations that provide their source of income, according to the manual on financial disclosure statements from the U.S. House of Representatives Committee on Ethics. Continue Reading
FREE BEACON
---
Michigan Democrat lobs expletive at US president hours after being sworn in as first-ever Palestinian-American in Congress
Hours after being sworn in as the first-ever Palestinian-American to serve in Congress, Michigan Democrat Rashida Tlaib used an expletive to describe US President Donald Trump and vowed to push for his impeachment.
Speaking at an event organized by progressive group MoveOn, Tlaib recounted a conversation she had with her son.
"'Momma look you won. Bullies don't win,'" she said he told her.
"And I said, 'Baby they don't, because we're going to go in there and impeach the motherfucker," Tlaib continued to applause.
There was no immediate response from Trump, who is known for taking to Twitter to hit out at critics.
Placing her hand on a Quran that once belonged to Thomas Jefferson, Tlaib was sworn in earlier Thursday.
Together with Minnesota's Ilhan Omar, Tlaib, an outspoken activist-cum-politician from Michigan, was one of the two first Muslim women to enter Congress Thursday, among dozens of freshman lawmakers who are helping make the 116th Congress the most diverse one in the nation's history.
Democratic Representative Rashida Tlaib of Michigan speaks at an event organized by progressive group MoveOn on January 3, 2018. (Screen capture: YouTube)
Tlaib, whose parents are from the West Bank village of Beit Ur al-Fauqa, where much of her family still lives, is one of the first-ever lawmakers to support the anti-Israel boycott movement. She also says she supports a one-state solution to the #Israeli-Palestinian conflict and has called for cutting US aid to Israel.
A reporter in Tlaib's office on Thursday noted the world map hanging on her wall with a minor change. On top of Israel was a post-it note that said "Palestine." It's not clear who put the note up, whether it was a guest or an official from Tlaib's office.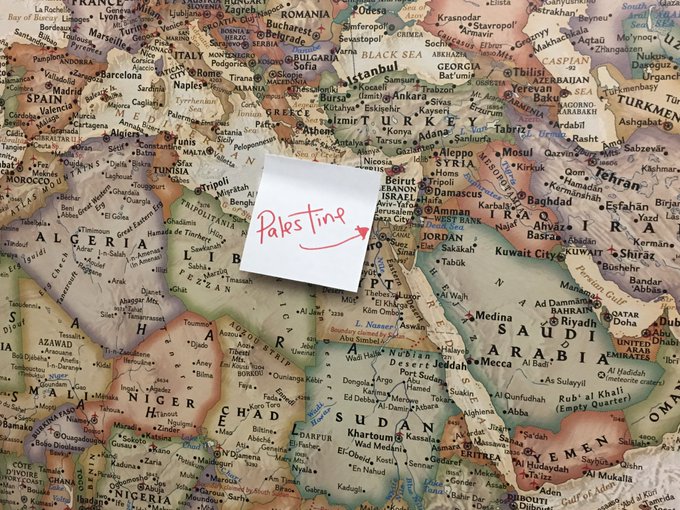 Someone has already made a slight alteration to the map that hangs in Rashida Tlaib's new congressional office.
Accompanying Tlaib during the swearing-in ceremony was activist and fellow BDS backer Linda Sarsour.
"It's a national holiday," Sarsour, also a Palestinian-American, said in a congratulatory Facebook video for Tlaib. "You're witnessing history today."
Sarsour is best known as one of the leaders of the Women's March, which has recently been roiled with accusations of anti-Semitism, with one activist recently telling The New York Times she was pushed out of the movement and that her Jewish identity was a cause for her ejection.
During her swearing in, Tlaib wore a Palestinian gown called a thobe.
Tlaib had written in Elle magazine that she would wear the thobe for her mother, who had to stop school in the eighth grade and become a tailor.
Rashida Tlaib (in red thobe and glasses), accompanied by her family, being sworn in with Speaker of the House Nancy Pelosi (in pink dress), at the US Capitol in Washington, DC, January 3, 2019. (Chip Somodevilla/Getty Images/AFP)
---
In recent months, Tlaib has unsettled Washington's hawkish pro-Israel community. In December, she said she will lead a trip of incoming US lawmakers to the West Bank.
The visit is designed as a counter to the traditional Israel trip for first-term legislators orchestrated by the American Israel Public Affairs Committee, or AIPAC, which includes touring the country and meetings with leading Israeli figures in business, government and the military.
On Thursday, Tlaib's ascendance was met with enthusiasm by pro-Palestinian activists who have long complained that they are an ignored constituency in Washington. Many of Tlaib's backers came to Capitol Hill also wearing a thobe in solidarity with the Michigan Democrat.
Earlier in the morning, Tlaib's brother called in to C-Span's Washington Journal television new program to congratulate his sister. "I'm proud of you," he said. "I can't wait to see you getting sworn in on Jefferson's Quran and wearing the Palestinian flag."
Eric Cortellessa and AP contributed to this report.
The Times Of Israel
---
​IMPORTANT DISCLAIMER! THIS ARTICLE ENDS HERE AND ANY ADS ON THIS STORY'S PAGE, INTERRUPTING THE DESCRIPTION OR TITLES TO VIDEOS, AFTER THE STORY OR AROUND THE STORY, ARE ABSOLUTELY NOT ENDORSED BY OR PLACED BY THIS CONTRIBUTOR