Story Views

Now:
Last Hour:
Last 24 Hours:
Total:
Roy Moore Not Over Yet: Will Pull Ahead After Fraudulent Votes Are Thrown Out? (Video)
Thursday, December 14, 2017 5:03
% of readers think this story is Fact. Add your two cents.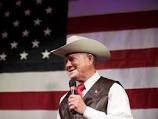 Via Washingtonpost
Far-right conspiracy theorist Alex Jones cried "election fraud" Wednesday after Alabama voters picked Democratic candidate Doug Jones over Republican rival Roy Moore for Attorney General Jeff Sessions' former U.S. Senate seat.
The Infowars publisher called into question the results of Tuesday's special election in the wake of Mr. Moore losing a race widely considered a referendum on the Republican Party and President Trump in particular.
"The election was clearly stolen," he said during Wednesday afternoon's broadcast of The Alex Jones Show, his popular internet and radio program made notorious for peddling misinformation and fake news.
Opponents used bogus polls to skew expectations and cast ballots in the names of deceased voters to defeat Mr. Moore, "The Alex Jones Show" host claimed without evidence.
"The swamp has struck back big time in Alabama. Massive evidence of election fraud," he said during Wednesday's broadcast.
I have noticed in the comments alot about Roy Moore from positive to negative. I think its good people are asking questions but in the meantime I am just providing the news. Thanks for stopping by!
There are other situations to back up that there is a Roy Moore voting situation problem and I will show you that here.
Election security experts question Alabama's decision to destroy ballot copies
A recent court decision permitting Alabama officials to destroy digital copies of paper ballots eliminates an important tool for ensuring electoral integrity, said two experts interviewed on the day of Alabama's special U.S. Senate election.
Both experts also said paper ballots – which are maintained for 22 months after the election – provide the most security in the event of a recount. Yesterday, a circuit court judge in Alabama ordered election officials to preserve digital copies created when machines scan paper ballots. That decision was stayed by the Alabama Supreme Court later that day, which will allow state officials to destroy the copies.
John Sebes, chief technology officer for the OSET Institute, a California-based non-profit dedicated to improving election integrity, said officials can use digital copies and paper ballots to check for glitches and fraud. A comparison of copies and originals can show whether machines are scanning and counting correctly.
"If it goes to a recount, we're going to have to go through some legal battles to get to the point where we're actually counting paper ballots," Sebes said. "I think having digital backups would help."
Alabama counties use optical scanners to record votes cast on paper ballots. Sebes said saving digital copies is not difficult, but ensuring their security would require extra work by election officials. Most state election offices aren't very well staffed or resourced, which could make it difficult to protect digital copies.
I host the Church of Mabus radio show and it is going on 8 years. I've been in the paranormal community for 20 years. I provide content from a network of sources and guests and allies. Ranging from Politics to the Paranormal and the Spiritual. You can check out my other articles here at my BIOGRAPHY at BIN and you can check out my free radio show at this link HERE. Thanks for showing your support and stopping by.