Story Views

Now:
Last Hour:
Last 24 Hours:
Total:
A Kitchen Spice That Blocks Airway Inflammation, Scientists Reveal
Thursday, August 9, 2018 5:12
% of readers think this story is Fact. Add your two cents.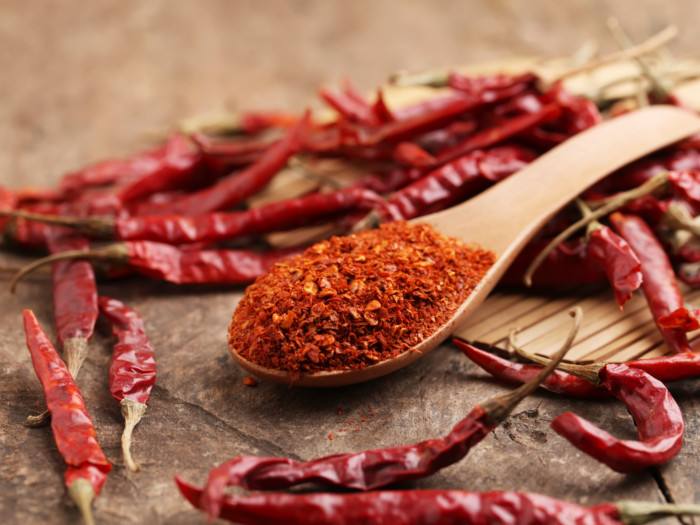 Kyle J. Norton, Master of Nutrition
Scientists in numbers of institute suggested that cayenne, a kitchen spice may process a significant effect in inhibited airway inflammation, an important component of asthma, chronic obstructive pulmonary disease (COPD), and the various cough syndromes.
Conventional medicine has synthesized the effect of many of herbal plants' secondary metabolites, since the discovery of penicillin, the first antibiotic extracted from a very primitive plant, the fungus Penicillium, in 1928, used for treatment of infection.
In years, herbalist are suspicious that these plants must contain some substances used together for healing purposes, without knowing the existence of each single ingredient.
Today, under microscopes of new technology, scientists discovered that effectiveness of herbal plants in treatment of conditions and diseases are attributed to their's secondary metabolites.
Secondary metabolites are organic compounds, according to Massachusetts Institute of Technology that serve(7)
* As competitive weapons used against other bacteria, fungi, amoebae, plants, insects, and large animals.
* As metal transporting agents.
* As agents of symbiosis between microbes and plants, nematodes, insects, and higher animals.
* As sexual hormones; and
* As differentiation effectors.
for survival of the plants producing them,
Following the herbalist food step and used herbal medicine as a fundamental source, conventional medicine has discovered numbers of single ingredient medication, including quinine (from cinchona bark), and morphine (from the opium poppy)……
According to the Dr. Stanley F. Malamed, the lead author in the study of causative factors for acute asthma suggestion, "(In acute airway inflammation) Inflammation may occur as a result of either immunologic or nonimmunologic airway insults, which produce airway edema and cause the immigration of inflammatory cells into the lumen through the epithelium "(5)
Chronic airway inflammation can lead to chronic obstructive pulmonary disease (COPD), a progressive syndrome caused by expiratory airflow limitation as a result of airway remodeling, including an increase in airway smooth muscle (hyperplasia and hypertrophy),……
More importantly, the longer duration of air way inflammation may lower the lung function in induction of the worse of the bronchial hyperresponsiveness and symptoms(6)
Cayenne is also known as Cayenne Pepper, a red, hot chili pepper, belongings to Capsicum annuum, the family Solanaceae, native to sub-tropical and tropical regions.
The herb or food has been used in traditional medicine to increase metabolism, enhance circulatory system and stomach and the intestinal tract, adjust blood pressure, lower LDL cholesterol and triglycerides, treat frostbite, muscles, arthritis, rheumatism, low back pain, strains, sprains, bruises and neuralgia, ……., particularly, in treatment of inflammation caused by invasion of microbial organisms and allergens.
The immune system is the set of cells and their activity against antigens or infectious agents that comprises of the body's defense system against diseases, including inflammation.
Red pepper (Capsicum baccatum) extracts, according to the study by the Federal University of Rio Grande do Sul (UFRGS), exerted its anti-inflammatory properties through in inhibiting the neutrophil migration induced by carrageenan (Cg).
In animal study, the ethanolic and butanol extracts (200mg/kg, p.o.) presented a significant anti-inflammatory activity through their antioxidant phenolic and flavonoid compounds against oxidative and inflammation-related pathological processes, including arway inflammation.
β-Defensin, members of the antimicrobial peptide found in cayenne inhibited the expression of the mRNA of anti-inflammatory cytokine during bacterial invasion, through stimulating immunomodulatory effects.
Other research suggested that anti-inflammatory effect induced by red pepper may be by inhibition of pro-inflammatory cytokine production at the inflammatory sites, such as upper airway.
Regular intake of Cayenne pepper can improve immune system against microbial infection and reduced risk of airway inflammation but overdose is found to induce toxicity.
Natural Medicine for Fatty Liver And Obesity Reversal – The Revolutionary Findings To Achieve Optimal Health And Loose Weight
Ovarian Cysts And PCOS Elimination
Holistic System In Existence That Will Show You How To
Permanently Eliminate All Types of Ovarian Cysts Within 2 Months
Back to Kyle J. Norton Home page http://kylejnorton.blogspot.ca
Kyle J. Norton, Master of Nutrition
Health article writer and researcher; Over 10.000 articles and research papers have been written and published on line, including world wide health, ezine articles, article base, healthblogs, selfgrowth, best before it's news, the karate GB daily, etc.,.
Named TOP 50 MEDICAL ESSAYS FOR ARTISTS & AUTHORS TO READ by Disilgold.com Named 50 of the best health Tweeters Canada – Huffington Post
Nominated for shorty award over last 4 years
Some articles have been used as references in medical research, such as international journal Pharma and Bio science, ISSN 0975-6299.
Sources
(1) Red Pepper (Capsicum baccatum) Extracts Present Anti-Inflammatory Effects In Vivo and Inhibit the Production of TNF-α and NO In Vitro by Allemand A1,2, Leonardi BF1, Zimmer AR1, Moreno S3, Romão PR2, Gosmann G1.(PubMed)
(2) Anti-inflammatory effects of red pepper (Capsicum baccatum) on carrageenan- and antigen-induced inflammation by Spiller F1, Alves MK, Vieira SM, Carvalho TA, Leite CE, Lunardelli A, Poloni JA, Cunha FQ, de Oliveira JR.(PubMed)
(3) Antioxidant and anti-inflammatory properties of Capsicum baccatum: from traditional use to scientific approach by Zimmer AR1, Leonardi B, Miron D, Schapoval E, Oliveira JR, Gosmann G.(PubMed)
(4) Defensin γ-thionin from Capsicum chinense has immunomodulatory effects on bovine mammary epithelial cells during Staphylococcus aureus internalization by Díaz-Murillo V1, Medina-Estrada I1, López-Meza JE1, Ochoa-Zarzosa A2.(PubMed)
(5) Learn more about Airway Inflammation(Science Direct)
(6) Why Does Airway Inflammation Persist? Is It Failure to Treat Early? by SØREN PEDERSEN(ATS Journals)
(7) The natural functions of secondary metabolites by Demain AL1, Fang A(PubMed)