Headline: Bitcoin & Blockchain Searches Exceed Trump! Blockchain Stocks Are Next!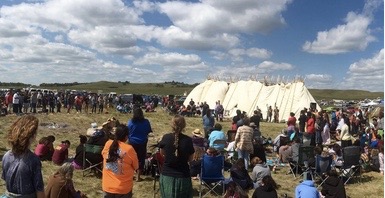 Deputy Commanding General Donald Jackson for Civil and Emergency Operations at the U.S. Army Corps of Engineers listening to voices articuate the reasons millions of people are protesting the Dakota Access Pipeline has been captured in one of the most chilling videos (below) produced to date about the controversy.
Jackson emerged from the Washington DC Headquarters before thousands of witnesses to listen to Eryn Wise, a defender of indigenous rights from the International Indigenous Youth Council, and Ladonna Brave Bull Allard from the Sacred Stone Camp at Standing Rock North Dakota.
The day before demonstrations had been held throughout the world, including at Army Corps of Engineer facilities. The Corps had issued the following Statement Regarding the Dakota Access Pipeline.
"Washington, D.C. – Today, the Army informed the Standing Rock Sioux Tribe, Energy Transfer Partners, and Dakota Access, LLC, that it has completed the review that it launched on September 9, 2016. The Army has determined that additional discussion and analysis are warranted in light of the history of the Great Sioux Nation's dispossessions of lands, the importance of Lake Oahe to the Tribe, our government-to-government relationship, and the statute governing easements through government property.

The Army invites the Standing Rock Sioux Tribe to engage in discussion regarding potential conditions on an easement for the pipeline crossing that would reduce the risk of a spill or rupture, hasten detection and response to any possible spill, or otherwise enhance the protection of Lake Oahe and the Tribe's water supplies. The Army invites discussion of the risk of a spill in light of such conditions, and whether to grant an easement for the pipeline to cross Lake Oahe at the proposed location. The Army continues to welcome any input that the Tribe believes is relevant to the proposed pipeline crossing or the granting of an easement.

While these discussions are ongoing, construction on or under Corps land bordering Lake Oahe cannot occur because the Army has not made a final decision on whether to grant an easement. The Army will work with the Tribe on a timeline that allows for robust discussion and analysis to be completed expeditiously.

We fully support the rights of all Americans to assemble and speak freely, and urge everyone involved in protest or pipeline activities to adhere to the principles of nonviolence."