Smashing through media outlets' fake news reporting on Syria through selective news bites, omission of facts, and reliance on dubious information sources' twisted facts, Whitney Webb with MintPress News exposed Thursday how media is whitewashing crimes committed by rebels rather than exposing crimes against Syrians driven by pro-imperialist geopolitics. I
n its powerful article about media
double standards
regarding Syrian civilian casualties, MintPress News called out major news outlets and their funding sources.
The US narrative on Syria reported by mainstream media has been fraudulent and continues to be so. The real reasons for the US-supported genocide there are not being reported, unlike what Dupré has been reporting for years.
"US, Russia, Syria, Energy Geopolitics and all of Dupré's articles (listed at the end of this page) about fake news shaping American TV news viewers' opinion about Syrians to justify genociding them.
Syria saw this week one of its deadliest attacks against civilians as they fled Al-Fu'ah and Kafrayah during a government-rebel civilian swap. "Rebels" targeted and killed 126 people, including dozens of women and children. A blast hit a convoy of refugee buses Saturday.

The refugees, all Muslim Shiites, were scheduled to be bussed from al-Nusra-Front-dominated Idlib Province as part of a deal between the rebels and President Bashar al-Assad's government.

Strangely, the fact that victims targeted in the blast were all Muslim Shiites was either outright ignored by media or construed as proof that they were 'pro-Assad,' a term most mainstream media uses as a pejorative, reports Mint News.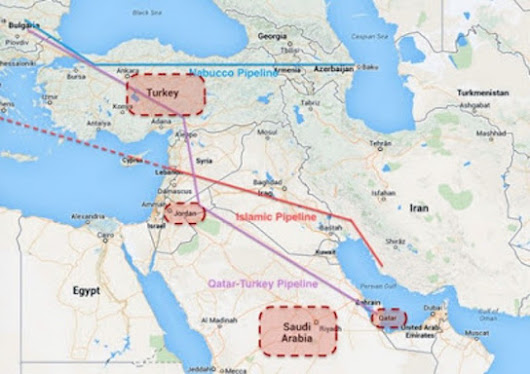 Despite supposed commitment to 'democracy' and self-determination in Syria, media outlets supporting the regime-change narrative promoted by the US and some other foreign governments "conveniently omitted these facts from their coverage."
Now an MIT professor with extensive forensic experience confirms it the US government story repeated by media is false. "The story of the chemical attack in Syria is a total scam," Brasscheck TV reports.
"Evidence shows that the canisters were not even dropped from a plane as claimed."
ALSO READ
Syrian PSYOP Doubts? Watch This False Flag Terror History Video!
"Al Jazeera, funded by Daesh (ISIS) and rebel-supporting Qatari government, refused to even mention the fact that the victims were Muslim Shiites, as well as the fact that the attack occurred in al-Qaeda territory – even going so far as to imply that the attack was perpetrated by the Syrian government.
"The BBC, funded by pro-Syrian opposition British government, also insinuated that Assad's forces were to blame for the attack, even claiming the attack 'would not be in the rebels' interest' despite the fact that extremist Syrian rebels have been calling for the massacre of all Muslim Shiites in Syria for years and that even the U.S. government has admitted that anti-Assad groups, particularly Daesh, are committing acts of genocide against those of different faiths.
Most mainstream media coverage – from CNN to Huffington Post – concluded "no evidence" that rebels were involved in the attack nor that anyone could be blamed as "no group had claimed responsibility."
Dehumanizing victims is a typical ploy to gain support for 'collateral damage." CNN dehumanized the Syrian victims fleeing al-Qaeda, accusing them of being Assad supporters just because they were Muslim Shiites, and described the attack as a "hiccup."
"Considering this, it is no small wonder that viewership and popularity of the mainstream media have reached a historic low, given their propensity to overlook journalistic standards and even manipulating tragedies to sell a particular narrative – whether true or false – to their audiences."
Propaganda is a form of purposeful persuasion that attempts to influence the emotions, attitudes, opinions, and actions of specified target audiences for ideological, political or commercial purposes through the controlled transmission of one-sided messages (which may or may not be factual) via mass and direct media channels. -Richard Alan Nelson
In January, this author wrote in the article, "
US, Russia, Syria, Energy Geopolitics"
: "Syrians know that the US war against Assad did not begin with peaceful civil protests of "Arab Spring" in 2011; but instead, it began in 2000 when Qatar proposed a $10 billion, 1,500km pipeline through Saudi Arabia, Jordan, Syria and Turkey."
Related articles by Deborah Dupré
US, Russia, Syria, Energy Geopolitics
We encourage you to Share our Reports, Analyses, Breaking News and Videos. Simply Click your Favorite Social Media Button and Share.