The Psychopaths Who Planned 9/11 and Other Insights
Wednesday, September 27, 2023 22:02
% of readers think this story is Fact. Add your two cents.

The blogsite posted on my Facebook Group, Free Speech for East Carbon by Phil Holt, acting under either his personal reputation or that of a member of the East Carbon Police Force, now employed as the Sargeant for that institution, extends the violation done to me, personally and professionally, by a group of individuals hired to carry out these attacks on my reputation, and my ability to earn an honest living in my chosen profession as a writer, talk show host, journalist and now as a Reality 2-Way TV Executive.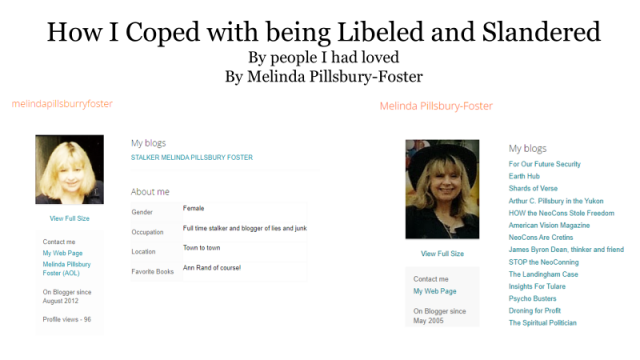 First, the background for the statements made on Melinda Pillsburryfoster.blogspot.com
Note: I know how to spell my own name. This is not my site, but one put up by the group of individuals paid to continue attacks on my reputation over the last 20 years. Instead of dealing with the issues East Carbon faces today, or the qualifications of the candidates, I am being attacked personally. This is a common strategy used by people with something to hide. To dispose of these ad hominem attacks we are going to deal with the blog posted by Holt now so real discussions can take place.
This article below debunks the libels posted by Holt and provides facts and documentation, including court papers from 1998 forward to now.
The story reaches back in time from the vitriol you see spread across multiple pages on the blog above, which, incidently, I had not discovered until very recently. At one time there were many more of these attacks being launched at me. Therefore, you need to know more on these interconnected events. So, we will begin closer to the beginning.
At first, the marriage between Melinda Pillsbury-Foster and Craig Franklin had seemed like an amiable relationship. Craig was a computer programmer and a guitar playing libertarian; Melinda was a Libertarian activist, teaching natural childbirth, and raising children from her marriage with Ron Kellett, who spent all of his weekends at game parties.
two married twice, once in 1987 and again with a large formal wedding, requested by Craig, in their backyard in North Hills, CA in 1989. At this time Craig, at his own request, adopted Melinda's five children, Morgan, Dawn, Ayn, Arthur and Justin.
If all was not bliss, it was a busy time for everyone. Craig moved to Los Angeles from Northern California and started his job at Green Hills Software (GHS), then located in Glendale, CA.
In July of 1997, I had solved the problem Craig had caused by failing to file his required returns to the IRS for his entire working life. See

You're Not Paranoid – The IRS is out to get you

. By pointing to the violation of rights in how the IRS targeted disabled individuals, Craig was saved from his hysterical fear of the IRS, I thought. The refunds for each year began around June of 1997. Eventually I received over $200,000 through the refunds using the funds to pay our many, many debts caused by Craig's overspending, I had thought. Actually, money was coming in through Craig's agreement for a healthy slice of the business he brought in for GHS, but since no tax returns had reached the IRS, they were keeping most of what Craig earned.
My son, Arthur's first Traumatic Brain Injury took place on September 27, 1997. While riding his motorcycle, Arthur hit the back of a car that pulled out in front of him on the 217 Freeway leading to the Goleta area and the airport. He was not initially expected to live. I flew home immediately from a business trip and oversaw his care. He survived, but needed extensive rehabilitation. At this point in time, neither sufferers of Traumatic Brain Injuries (TBI) or their families were supplied with information on the realities those recovering from TBI face.
Arthur had been in college, majoring in physics. His recovery, slowed by the TBI, drove him into a depression. I had thought our problems were behind us, but they had not yet actually started.
Craig filed for divorce in January 1998 after insisting we spend Christmas in Hawaii. Exhausted, I was left to plan the trip and holiday for 8 people for 2 weeks.
Craig returned early, I later learned this was to write a check to his attorney, Jacqueline Misho for the divorce and meetings with Dan O'Dowd to allow O'Dowd and Craig to carry out the plan they had concocted to steal the equity in Green Hills Software (GHS) from Dan's partner, Glenn Hightower, who had funded the GHS as a start-up in 1982.
Just a few weeks later, Craig, who had filed for divorce against me on January 23rd, called to tell me he wanted to continue his relationship with Arthur, who was struggling with his TBI, and asked if Arthur could have lunch with him. At the time, I cried to think that at least he cared about his adopted son. Arthur agreed to the lunch and I dropped him off. An hour later Arthur slammed into the house and went into his room, refusing to talk to me.
Growing more worried about Arthur every day, I also had to cope with the hideous and incessant demands of the divorce. Later, I would learn Craig's early return from Hawaii involved going through all of my papers and computer and removing the records of the adoption Craig had insisted take place in 1989. Adoption Records.
Craig, at the suggestion of Morgan, my oldest child, had retained the deadliest divorce attorney in Santa Barbara, Jacqueline Misho, who later would handle the divorce for John Cleese's wife, who also got exactly what she wanted, Cleese's money. Craig, also aided by Dan O'Dowd, also got what he wanted during our divorce.
It was Misho who was let into our home by Morgan and Craig and stole the records of the adoption and then went into court claiming Craig should not be forced to support his disabled son or Justin, who was then in junior high school. I received only four years of support, although California law mandated support for life after ten years of marriage. In the Divorce Decree I was allotted a part of the stock Craig had received as options; these were to be paid for by Craig and turned over to me. But this never happened due to the agreement Craig had made with Dan O'Dowd, who had approached Craig for a deal which the two of them called, the Throw Momma From the Train Strategy.
never reeived any assistance from either Arthur's adopted father, Craig, or his biological father, my former husband, Ron Kellett (Foster). Arthur, as a result of his 'lunch' with Craig was thrown into a deep depression and tried to commit suicide. arranged for him to spend time in a local facility for those in danger of suicide. Arthur asked to spend one day before his treatment began, with his biological father, Ron, and while there shot himself through the palate into his brain with the loaded gun Ron left in plain sight.
Again, Arthur was not expected to live. Ron still lived in the house we had shared in Reseda, CA; Ron called me that day, a Sunday, I was shocked. Ron had signed an agreement stating he would not leave Arthur alone the entire time he was there. But the call of fast food, Ron's favorite breakfast, evidently was irresistible.
I arrived at the hospital while Arthur was being prepared for surgery. Again, he was not expected to live. This time he would lose the sight in one eye entirely and the other eye's vision would be extremely limited. He would have to relearn how to walk, use a spoon, and would be bedridden for months.
Morgan, persuadable by the sound or scent of money, had continued to help Craig. She visited me at the hospital, opposite the Northridge school Arthur had attended, and told me she needed a heart transplant. Could she have Arthur's heart? After weathering the shock, I realized there was no reason Morgan would need a heart transplant. She had lied.
who was paying Morgan $5,000 a month for her assistance, had given her $10,000 to persuade me. I saw the evidence when the financial records were pulled as part of the divorce proceedings. Morgan did not know yet that whose sexual impulses were for always younger and younger girls, had another use for her until she was called into Misho's office herself and told she had to sign an agreement for the repayment of the 'loans' Craig had made her. This is typical behavior for psychopaths, and I believe now both Morgan and Craig are psychopathic.
Later, in 1998, Craig would tell Morgan to go to Misho's office to sign a paper for him. This was a document saying the money paid to her was a loan, not a gift of payment for services. He told her he needed this to evade paying taxes on the money himself. After Morgan signed this, not understanding the implications, she discovered Craig expected her to repay him for the money she thought was a 'gift', but was actually payment for illegal services. She would then declare bankruptcy. The total of what Craig had given her was $5,000 a month, which he had previously insisted she have as his daughter for years, plus the $10,000. See Bankruptcy
Later, I would learn $5,000 a month was what Craig paid women routinely to be sexually available to him.
The names of those engaging in this part of the conspiracy are Michael Emerling Cloud, Dan O'Dowd, and Jonathan Scott Franklin, Craig's son by his first marriage.
In 2005, Melinda and Arthur, were left without any support, and blocked on the attempts Melinda made to start the Arthur C. Pillsbury Foundation at that time. Both ended up living at her unfinished cabin at 6,000 feet in Cedar Slope, CA There was no heat and wood was scarce. Melinda managed to get disability support for Arthur and Social Security for herself and realized, first hand, what dealing with psychopaths was like. Melinda continued working on the ACP Foundation, and knowledge of her grandfather's work began to grow.
By 20o6, Melinda was doing Radio Talk Shows. One show recorded was an interview Melinda did with Rebecca Potter. The recording is at the bottom of this page. Ruthlesspeople.info
I had been contacted by Dr. Liane Leedom, who had written a book about her own experience with a psychopathic husband. Together with Wendy Montagu Manchester, (the divorced wife of Alexander, 13th Duke of Manchester) and Rebecca Potter, we started an organization to aid people confronting the issue of psychopathic spouses, LifeStealers.
Rebecca and Liane also began to be attacked and maligned.
This was an early recording during the period when I did not realize how large the group were who had decided this was the best way to destroy my credibility and silence me. Many of these individuals were highly positioned in media and or politics.
This is the back story to the next attack on me which included these individuals, which started in 2012.
Craig Franklin – Senior Vice President for Advanced Product Development for Green Hills Software, Inc. and Chief Technology Officer
FireFly DSP LLC
Now, 2023, Craig is in hospice care in Florida and not expected to live.
Dan O'Dowd – President and owner, with his wife, Amy Chang, of Green Hills Software, Inc.
Smith, also known by the following assumed and married names, the owner and operator of

Rumor Mill News

. Raye died in Ohio in 2021, I was told.

TimeLine
Morgan Gell, also known as Carolyn Anne Barteaux, Carolyn Anne Kellett, Carolyn Anne Pillsbury, Morgan Pillsbury, and Morgan Gell. Morgan has now changed her name again, which we are seeking to discover. My website about Morgan and some of the other individuals here named, which are Reality 2-Way Interactive TV series shows, include How the NeoCons Stole Freedom, the story starts in 1998, before millions of people died in 9/11 and Iraq. The show series which will focus specifically on Morgan is Morgan Pillsbury Gell
Alexander, The Duke of Manchester, also known as Alexander Montagu-Manchester, is still a prisoner incarcerated in Nevada; his time was up, but he is still threatening his victims from prison. The same is true of Jonathan Scott Franklin, (Craig's son from a prior marriage) who was convicted of hiring a hitman to kill his wife.
There is a recording of one of the death threats from the Ruthlesspeople.info site.
The Duchess of Manchester, also known as Laura Smith – Laura evidently thought Alex was wealthy. Actually, he was dependent on his wife's job at the office of a local group of attorneys. Wendy, the Duke's previous wife, had been working there since she gradudated from high school. The only other income Manchester had was from the Manchester Trust.
Jay E. Gell, the common-law husband of Morgan Gell, by whom he had two sons, was also involved in libeling and slandering me. Previously, Jay was married before he impregnated Morgan. From that marriage Jay had one child, a girl. He never bothered to get a divorce. Gell page from RuthlessPeople.info
These individuals also figure prominently in attacking me because of what I found out about their activities.
John Fund, (the former lover of Morgan Pillsbury) was formerly on the Editorial Staff for the Wall Street Journal, formerly a writer for the WSJ's online publication, now national-affairs reporter for National Review. Fund page from RuthlessPeople.info
Dick Cheney, the co-conspirator with John Fund, Craig Franklin, Dan O'Dowd, and others to be named for the airliner's guidance system programming which brought down the Twin Towers on September 11, 2001.
Karl Rove, a co-conspirator with John Fund and Dick Cheney for 9/11 and subsequent events.
I have to thank Phil for finding this long forgotten blog. I have now copied every page and will be taking action on these issues. This is not farfetched, just good investigative journalism, asking questions and matching answers with facts and affidavits. Just like we see in East Carbon City.
Those libeled and otherwise maligned by the group above.
Melinda Pillsbury-Foster
Rebecca Potter, LMHC has 15 years of counseling experience. She is also trained in Applied Behavior Analysis. Rebecca has also been trained as a trauma therapist and specializes in assisting individuals who have experienced trauma. Rebecca is also certified in Biofeedback Therapy.​
undergraduate degree is from Michigan State University. She taught for ten years, returning for a Master's Degree is Psychology at Southeastern University. She has been practicing since 1995.
Wendy Buford Montagu, the former wife of Alexander, 13th Duke of Manchester, an activist who experienced psychopathy in her own life under circumstances which forced her to confront the condition through a harrowing experience in Family Law Court. See thedukeanddoxieofmanchester.blogspot.com
Dr. Liane Leedom (1961 – ) is Visiting Assistant Professor of Psychology at the University of Bridgeport, Connecticut. She obtained her B.S. in Psychobiology and her M.D. degree from the University of Southern California. She completed advanced training in psychiatry at Harbor-UCLA and Yale New Haven Hospital. According to her own claims, she spent ten years in private practice during which time she specialized in treating mood disorders in women.
Dr. Leedom's book, Just Like His Father, on the subject of psychopathy will be followed by another soon.
Her book, tentatively titled, The Duke of Deceit, is now being written and is expected to become a movie.
Melinda's blog, thedukeanddoxieofmanchester.blogspot.com Rebuts all of the statements made in Phil Holt's posting on East Carbon Action's Blog, one of our Facebook groups. If you looked at that and thought about it for a moment you might have wondered why I would be using my own name on such a blog, with just two rs in Pillsbury and no hyphen, and without Foster being capitalized.
Before It's News®
is a community of individuals who report on what's going on around them, from all around the world.
Anyone can
join
.
Anyone can contribute.
Anyone can become informed about their world.
"United We Stand" Click Here To Create Your Personal Citizen Journalist Account Today, Be Sure To Invite Your Friends.