A Hostile Takeover of All Food Production. UN Food Systems Summit Agenda 2030. Absolute Slavery: Absolute Zero Carbon Agenda Equals Absolute Insanity
Monday, November 15, 2021 5:22
% of readers think this story is Fact. Add your two cents.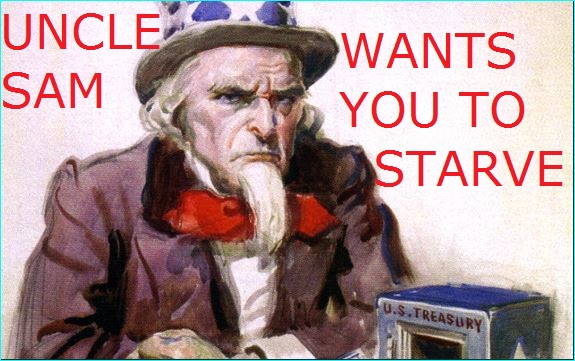 A Hostile Takeover of All Food Production.
UN Food Systems Summit Agenda 2030.
Absolute Slavery: Absolute Zero Carbon Agenda Equals Absolute Insanity

NO FOOD, NO WATER, NO ENERGY = NO MODERN CIVILIZATION = NO HUMANS
The Biden Admin is Destroying Our Country, Right in Front of Our Eyes
Policies Forcing us into A One World Dictatorship Under United Nations Agenda 2030 and the WEF Global Reset Depopulation Plan.
We Are Under Direct Assault. Our Food Water, Energy and Freedom is Being Erased.
Their End Game is to Erase 7 Billion People Off of the Face of the Earth
Everything Will Soon Skyrocket in Price. Not Just Food and Gas.
THE CULT OF CLIMATE CHANGE HAS DECLARED YOUR LIFE IS UNSUSTAINABLE
STARVATION IS ONE OF THE OLDEST FORMS OF WARFARE
IF YOU DO NOT TAKE BACK YOUR COUNTRY NOW, YOU WILL FACE A SLOW MISERABLE DEATH
@OratorBlog 11-15-2021
Frederic Leroy, Ph.D: Hostile Takeover of Food Production – Ice Age Farmer Broadcast
In this special Ice Age Farmer broadcast, Christian is joined by Dr. Frédéric Leroy, a professor in the field of food science & biotechnology at Vrije Universiteit, to detail what can only be described as an attempted hostile takeover of all human food production. Dr. Leroy outlines with studied precision the UN Food Systems Summit: the agenda to end traditional farming and ranching, the players involved (and the revolving door between big multinational food companies, think tanks/foundations, and policymakers), the movement's genesis in new age "Gaia" worship, and much, much more.
Dr. Frédéric Leroy
https://twitter.com/fleroy1974
https://aleph-2020.blogspot.com/
https://scholar.google.be/citations?u…

ABSOLUTE SLAVERY: Zero Carbon Agenda Deconstructed
What is a zero-carbon future? What does it look like? To imagine, turn off your heater. No airports. No shipping. No animals. Perfect surveillance state. In this Ice Age Farmer special report, Christian breaks The "Absolute Zero" plan and how governments are actively taking drastic steps every day to meet these dystopian goals for Travel, Transport, Energy, Manufacturing, Recycling, and Food. We must understand the reality underneath their flowery philanthropic language: Absolute Slavery.
Intro to Net Zero: (0:00)
Road Vehicles: (3:54)
Rail: (8:25)
Flight: (14:15)
Shipping: (17:56)
Heating & Appliances: (22:42)
Food & Waste: (26:34)
Materials, Construction, Recycling: (35:32)
Electricity & Fossil Fuels (43:22)
Water (45:00)
Perfect Surveillance/Enforcement (46:46)
Closing (49:58)
FULL SHOW NOTES: https://www.iceagefarmer.com/2021/04/…
Absolute Zero document: 31 Page pdf- http:// https://iceagefarmer.com/docs/Absolut…
DIRE WARNING. BIDEN ADMIN IS STEALING FARMLAND
MILLIONS WILL STARVE
GREEN NEW DEAL INFRASTRUCTURE BILL-CULT OF CLIMATE CHANGE-
TO REPLACE FARMLAND WITH BOGUS WIND FARMS AND SOLAR ENERGY
THEY PLAN TO STRIP THE TOPSOIL TO DESTROY ANY POSSIBILITY OF FARMING
FIGHT BACK NOW, BEFORE IT IS TOO LATE

Farmers' Land Confiscated for 'Carbon Pipeline' through Corn Belt
Farmers' land across the Midwest is being confiscated to make way for construction of a massive, 1300-mi long Carbon Capture & Sequestration Pipeline. Town halls in hundreds of counties are full of angry farmers, as county officials announce, "There's not much we can do." As the world enters a food crisis, plowing under tens of thousands of acres of the best soil in America is complete madness…or is it a flawlessly calculated attack? Christian breaks it down in this critical Ice Age Farmer broadcast.
AI and the War on Agriculture with Christian Westbrook, brought to you by the Great Reset 4th Industrial Revolution
Whitney Webb: AI and the War on Agriculture with Christian Westbrook (Unlimited Hangout Podcast)
Whitney Webb's Unlimited Hangout Podcast, episode 14 [April 28, 2021]: In this episode, Whitney is joined by Christian Westbrook of the Ice Age Farmer broadcast to discuss the underreported yet massive supply chain crisis and how the Davos elite plan to capitalize on that chaos to usher in AI-driven supply chains, especially as it relates agriculture.

ALERT: No Energy, No Fertilizer, No Food. Holodomor 2.0?
German farmers are unable to find fertilizer. Italian farmers are facing 6x costs for drying grains. Propane is exploding in the US. As the energy crisis spill over into food production, it has immediate impacts — but the true cost may come next season as fertilizer shortages push yields worldwide down under 50%. Against the backdrop of already strained food production and a supply chain in cascading failure, there is only one question: who gets to eat in 2022 ?
Before It's News®
is a community of individuals who report on what's going on around them, from all around the world.
Anyone can
join
.
Anyone can contribute.
Anyone can become informed about their world.
"United We Stand" Click Here To Create Your Personal Citizen Journalist Account Today, Be Sure To Invite Your Friends.