Climate Change May Cause Increased Rates of Heart Defects in Babies, According to The Journal of American Heart Association. Ah, NO. The Weather Does Not Cause Heart Defects 
Thursday, November 18, 2021 20:54
% of readers think this story is Fact. Add your two cents.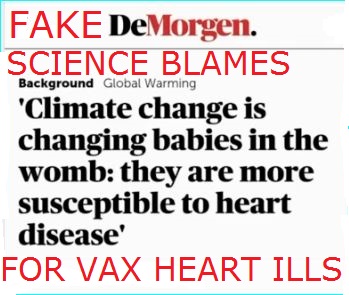 Climate Change May Cause Increased Rates of Heart Defects in Babies, According to The Journal of American Heart Association
Ah, NO. The Weather Does Not Cause Heart Defects
But Do You Know What Does?
Vaccines, Chemicals and Contaminants in our Food and Water. Heavey Metal Nano-Particulates. and Graphene Oxide.
Bunker Fuel Dumped into our Atmosphere and Chem-Trail Weather Modification ARE THE CAUSE of Climate Change and Widespread Illness.
Every baby today is given about 70 doses of 16 vaccines (per CDC).
CDC: Immunization Schedules
Table 1. Recommended Child and Adolescent Immunization Schedule for ages 18 years or younger, United States, 2021
https://www.cdc.gov/vaccines/schedules/hcp/imz/child-adolescent.html
https://www.cdc.gov/vaccines/schedules/hcp/imz/child-adolescent.html
THE CULT OF CLIMATE CHANGE HAS BEEN PLANNING TO BLAME THE CLIMATE FOR EVERYTHING FOR A LONG TIME
Climate Change is Changing Babies in the Womb: They are More Susceptible to Heart Disease
SMITHSONIAN MAGAZINE REPORTS:
Climate Change May Cause Increased Rates of Heart Defects in Babies
A new study predicts that increases in maternal heat exposure across the United States will lead to 7,000 additional cases of congenital heart defects
Adding to the dire and ever-growing list of ways climate change is harming our planet, a new study has predicted that rising temperatures will lead to an increase in the number of infants born with congenital heart defects. According to Live Science's Yasemin Saplakoglu, the results of the new research suggest that we might start to see this worrying trend as early as 2025.
Congenital heart defects (CHDs) are already the most common birth defect among children born in the United States, affecting some 40,000 babies every year. Some of the authors behind the new study, published recently in the Journal of the American Heart Association, were previously involved in research that found a link between maternal heat exposure during early pregnancy and higher rates of CHDs. Scientists aren't sure why this is the case, but animal studies suggest that heat can lead to fetal cell death, or interfere with heat-sensitive proteins vital to fetal development.
WHY IS A MUSEUM REPORTING ON MEDICAL ISSUES AND CLIMATE CHANGE?
CAN YOU SAY PROPAGANDA?
OK. So this Report is Coming from Yasmin Saplakoglu of LiveScience
She MUST BE Really Smart?
Oops, She is NOT A DOCTOR. She is a writer for LiveScience
OMG, WHAT A FRIGGIN DITZ
Climate Change May Hurt Babies' Hearts
By Yasemin Saplakoglu January 31, 2019
https://www.livescience.com/64654-climate-change-heart-defects.html
Climate change is melting ice, intensifying storms and bleaching coral reefs, and now, a new study suggests that it could also take a toll on babies' hearts.
The study, published yesterday (Jan. 30) in the Journal of the American Heart Association, suggests that, starting in 2025, extreme heat brought on by climate change could increase the number of babies born with heart defects in the United States. The greatest increase would be seen in the Midwest, followed by the Northeast and the South, researchers reported.
Congenital heart defects, or heart abnormalities that infants are born with, affect around 40,000 newborns every year in the U.S., according to a statement from the American Heart Association. [7 Ways Pregnant Women Affect Babies]
It's unclear why a pregnant woman's heat exposure can lead to a congenital heart defect in a baby, but animal studies suggest that heat could cause cell death in fetuses and interact with heat-sensitive proteins that are important in development, according to the statement.
The team built upon climate change forecasts gathered by NASA and the Goddard Institute for Space Studies. They simulated changes in daily maximum temperatures for various geographic regions in the U.S. and calculated how much heat and extreme heat events pregnant women would be exposed to in the spring and summer.
Between 2025 and 2035, they found that climate-change-driven heat events might spur an additional 7,000 cases of congenital heart defects, according to the statement. They found that most of these cases would be in the Midwest, followed by the Northeast and the South.
"Although this study is preliminary, it would be prudent for women in the early weeks of pregnancy to avoid heat extremes similar to the advice given to persons with cardiovascular and pulmonary disease during heart spells," senior author Dr. Shao Lin, an associate director of environmental health services with the University at Albany, State University of New York, said in the statement.
It's especially important for those planning to become pregnant or those who are three to eight weeks pregnant to avoid extreme heat, she said.
Live Science previously reported that pregnant women who are exposed to heat during early pregnancy can develop hyperthermia, or extremely high body temperature, which increases the risk of having babies with defects of the brain or spinal cord.
Look at what else this Ditz recently Wrote:
Moderna says COVID-19 vaccine is safe and effective in children
By Yasemin Saplakoglu 22 days ago
The company plans to submit their data to regulatory agencies soon.
YASEMIN SAPLAKOGLU on Twitter
https://www.twitter.com/@yasemin_sap YES, SHE IS A SAP
OK. The Ditz was Reporting on this Published Study: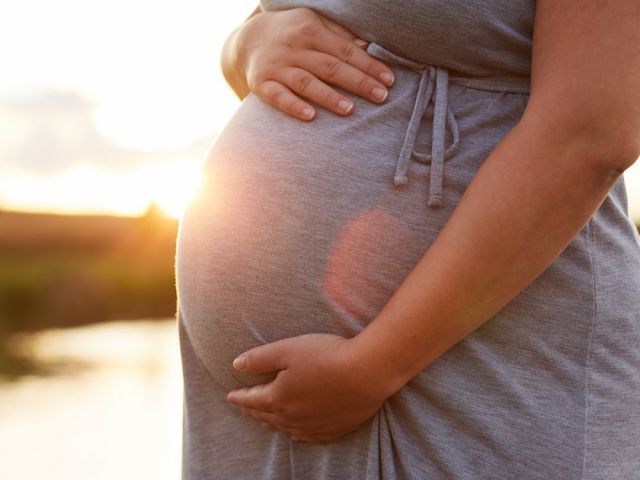 Projected Changes in Maternal Heat Exposure During Early Pregnancy and the Associated Congenital Heart Defect Burden in the United States
Wangjian Zhang, Tanya L. Spero, Christopher G. Nolte, Valerie C. Garcia, Ziqiang Lin, Paul A. Romitti, Gary M. Shaw, Scott C. Sheridan, Marcia L. Feldkamp, Alison Woomert, … See all authors
https://www.ahajournals.org/doi/10.1161/JAHA.118.010995
WHAT THE FFFF???? SERIOUSLY? THAT HAS TO BE THE SMALLEST, WEAKEST SCIENTIFIC/MEDICAL STUDY ABSTRACT I HAVE EVER SEEN
TRULY PATHETIC
DeMorgen is an European News Site that are Complete Cult of Climate Change Shills. They Regularly Contradict Themselves however-
Global warming makes trees grow fastest in 200 years

Have we embarked on 30 years of global cooling?
THE CULT OF CLIMATE FAKE NEWS STARTS AT THE TOP OF THE FOOD CHAIN
Climate change is already damaging health of world's children, threatening lifelong impact 11/13/2019 | The Lancet Countdown 2019
Without Radical Emissions Reductions Climate Change Will Define Health for Generations, Report Warns
LAUGH OUT LOUD
The Lancet is a Globalist Den of Vipers
The 2019 report of The Lancet Countdown on health and climate change: ensuring that the health of a child born today is not defined by a changing climate
Did You Know Climate Change Causes Violence?
The Lancet Blames Everything But the True Causes Effecting Our Climate
Anyone who claims the Wildfires were Caused By Climate Change IS A MORON
First Off, Forest Mismanagement is the number one cause of Wildfires.
The Second is the Drought which has been INTENTIONALLY CAUSED THROUGH WEATHER MODIFICATION
Third is the Extreme Amount of Aluminum Nano-Particulates that are Used In Weather Modification through non-stop Chem-Trail Spraying as the Main Part of Weather Warfare Programs.
FOR GOD'S SAKE- I HAVE VIDEO FOOTAGE FROM SATELLITES THAT SHOW DIRECTED ENERGY WEAPONS SETTING FIRES
But I guess Scientists do not have access to their OWN SATELLITES
FAKE SCIENCE STARTS AT THE TOP OF THE GLOBALIST FOOD CHAIN
@OratorBlog 11-18-2021
Before It's News®
is a community of individuals who report on what's going on around them, from all around the world.
Anyone can
join
.
Anyone can contribute.
Anyone can become informed about their world.
"United We Stand" Click Here To Create Your Personal Citizen Journalist Account Today, Be Sure To Invite Your Friends.