Jerry Day - Smart Meters - Worse Than You Think
Tuesday, July 14, 2020 22:52
% of readers think this story is Fact. Add your two cents.

Big brother has total control.
Ever wonder why they insist your get a Smart Meter installed on your home?
If you have a Smart Meter on your home right now, you may as well have a webcam following your 24/7…
Jerry Day explains all of this and more in his video below….
New Manhattan Project Jerry Day – Smart Meters
Doctor: Wireless Smart Meters Cause Illness
The new meters have not been properly tested and they can cause environmental health problems, according to the past president of the American Academy of Environmental Medicine (AAEM).
"The claim has been made that smart meters are safe and that no health risks exist," stated Dr. Amy Dean. "However, [the] industry has not conducted independent studies or investigations to verify that claim."
Dr. Dean, an Ann Arbor, Michigan, physician and most recent past president for the AAEM, reached her conclusion after reading a new reseach report.
"Recently, the AAEM received a 92-case series from outside the United States for review regarding smart meter health effects," Dean said. "Based on this research, it appears that there is a direct correlation between smart meter installation and the development of health conditions…"
Dean named some of the health conditions associated with smart meters:
Insomnia,
Fatigue,
Headaches,
Cognitive disturbance, and
"Other symptoms"
"Many of these are the same symptoms correlated with EMF and RF [pulsed radiofrequency] exposure found in the scientific literature," Dean said.
A smart meter is usually an electrical meter that records energy consumption. Unlike the old home energy monitors, however, smart meters enable two-way communication between the meter and the central system, Some can gather data for remote recording.
"It was clear to me when reviewing the scientific literature that these fields have a definite impact on the human body and can cause disease," Dean said. (Read the full article here)
Forcibly Radiating Americans
Dr. Dean's conclusion is not isolated, according to WUSA 9′s report below.
While government and industry say smart meters save money, this, too, is untrue, according to a report by the Electric Power Research Institute, a utility industry think tank that conducted the study and prepared the report.
Susan Satter, senior assistant Illinois attorney general for public utilities said about the report, "It's devastating to their plan… The report shows zero statistically different result compared to business as usual."
If not for saving money, why are the being installed? One reason some critics say is for control, at the expense of public health. That control is of particular concern for targeted individuals.
Smart Meters are more dangerous than Drunk Drivers, Drug Abuse, and Guns, combined!
Screen Hoopla This Will Knock Your Socks Off In Terms Of Reality!
Now you can protect your health, home and family from harmful RF radiation. Our EMF Blocking Smart Meter Cover safely blocks ~98% of harmful EMF (radio frequency/ microwave) radiation emitted from smart meters while allowing the smart meter to still communicate with your utility company.
KEY FEATURES AND BENEFITS
SAFE & EASY INSTALLATION: Just slide over the glass portion of the smart meter and you're done!
DURABLE: Stainless steel construction built to withstand all weather conditions.
AFFORDABLE: Utility companies will charge you a one-time fee of $150.00 or more to come out and replace the smart meter with a conventional meter plus charge you $15.00 per month which is added to your monthly electric bill..
PORTABLE: Easy to take on/off – take it with you if you move.
EFFECTIVE: Blocks ~98% of smart meter radiation, while still allowing the utility company to receive a signal.
TESTED AND PROVEN to block ~98% of Smart Meter RF radiation
DURABLE 316 STAINLESS STEEL MESH construction built to withstand all weather conditions
EASILY SLIDES ON/OFF so you can take it with you whenever you move
SUPERIOR DESIGN reduces RF radiation exposure danger from your Smart Meter, while still allowing the utility company to receive its signal
NO ADDITIONAL SHIELDING MATERIAL IS REQUIRED. Once installed, forms a "cage" with the metal utility box reducing RF exposure in ALL directions (including back toward the house)
FITS MOST US AND CANADIAN SMART METERS
100% MONEY BACK GUARANTEE! - If for any reason you are not completely satisfied with the EMF Blocking Smart Meter Cover, return it within 30 days for a full refund
—————————-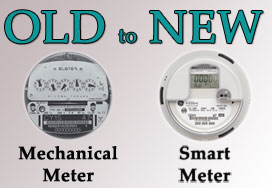 Another study from the University of California, Santa Cruz by a researched named Daniel Hirsch, shows that EMF radiation from Smart Meters emit 160 times the amount of radiation that a cell phone emits. 160 times greater, that is stunning.
In the same report, Hirsch stated that:
"the cumulative whole body exposure from a Smart Meter at 3 feet appears to be approximately two orders of magnitude higher than that of a cell phone, rather than two orders of magnitude lower."
It could be because of the excessive radiation exposure from your Smart Meter.
EMF Blocking Smart Meter Cover Smart Meter Dangers and a Solution!
Smart Meters transmit Wireless DATA, from your home or business, back to the utility company. The term Smart Meter was coined by the internet, but actually the Smart Meter is a Advanced Metering Interface.
These Advanced Metering Interface or Smart Meters are capable of passing communications both ways, allowing utility companies to collect DATA, in real time, on how much power you are using and which devices in your home are being used.
This saves the utility company money but exposes homeowners to enormous amounts of EMF radiation in the process.
What is EMF Radiation? EMF stands for "Electromagnetic Frequency Radiation". Radiation is well known to cause cancer and many other health issues which I will list later in this article. But make no mistake, EMF radiation is deadly and will have an negative affect on your families health.
If you call your electric company and inquire about the radiation your Smart Meter is emitting, they will likely hand you a pre-written statement on how this radiation is "non-ionizing" so you shouldn't worry about it. Let me assure you this is far from the truth.
The fact is, there has been an enormous amount of research showing how non-ionizing EMF radiation harms our bodies. In fact there are many studies that show EMF radiation causes a domino effect of cellular destruction.
Now that you understand how smart meters affect your family and your families health, Purchse your Smart meter Cover Today and Have the peace of mind that you are doing all you can to keep your family safe from EMF radiation emited by your smart meter.
Cancer is a life ending disease, it's real, protect your family today.
Health: Amazing New Smart Meter Cover Reduces EMF Radiation by 98%
Before It's News®
is a community of individuals who report on what's going on around them, from all around the world.
Anyone can
join
.
Anyone can contribute.
Anyone can become informed about their world.
"United We Stand" Click Here To Create Your Personal Citizen Journalist Account Today, Be Sure To Invite Your Friends.