9 Foods Explorers Ate in Their South Pole Expedition 100 Years Ago
Sunday, April 4, 2021 14:25
% of readers think this story is Fact. Add your two cents.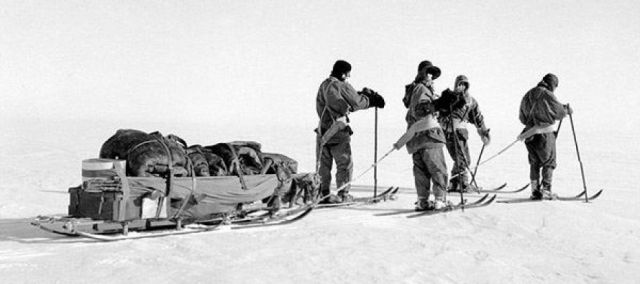 The Journey across the Atlantic to the New World has vastly changed over time. It was once a necessity to escape things like oppression and famine. This journey took months to achieve and it was no vacation. By the early 1900's the transatlantic travel had become something of a status symbol for the wealth. They would shuttle from America to England or the opposite on large, much more efficient ships that would make the trip in less than a week.
In researching this article, I couldn't help but imagine one of these seafaring ships loaded with well to dos passing an immigrant ship full of hopefuls. They would literally be seeing the American potential from their ship as they headed to the New World both with a heavy heart and huge aspirations.
Of course, some pioneers were not happy with mere exploration of the transatlantic waters ways. Robert Scott and Roald Amundsen had higher aspirations. They both wanted to be the first to explore the Antarctic continent. This was a perilous journey that would require many considerations. Food for his men and for the voyage, as well as the trek, would be one of the most significant.
Robert Scott was a British Naval Officer who led the Terra Nova Expedition to Antarctica. He had a prior expedition called the Discovery which was hampered by sea ice in which a heroic dual ship rescue was performed to rescue Roberts own ship.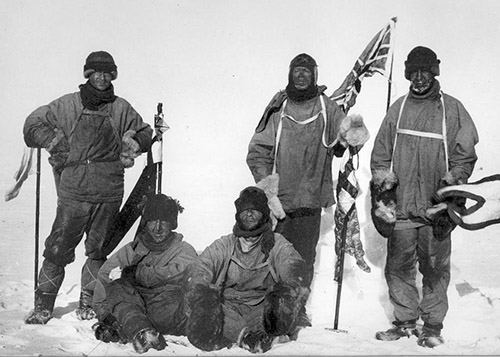 Terra Nova Expedition
Roald Amundsen was a Norwegian explorer of polar regions who attributes man great feats to his legacy. Not the least of which is being the first man to visit both poles! Roald had a profound understanding of scurvy on the water and also had serious experience in polar regions, which was not shared by Robert Scott.
The diets of the two exploring parties were relatively similar but it was the difference that made the winner of this "race to the South Pole." Robert Scott was prepared with the right number of calories to sustain his men, but he had very little understanding of the potentially debilitating effects of scurvy and how that condition would affect the condition of his men. Therefore, his food stores had very little emphasis on the inclusion of Vitamin C.
Now, I must remind you that the word Vitamin didn't even come to be till around 1920 so the management of scurvy was part in parcel of having true seafaring experience. Roald had both the experience of the sea and the subarctic regions.
Both explorers had food stores that would that would be used on the sea voyage and for the trek over the frozen tundra. As we explore these food choices you will notice that the menu items were not much difference. Below are examples of four food items that appeared on both of the explorer's food inventories.
9 Foods Explorers Ate in Their South Pole Expedition 100 Years Ago
#1. Biscuits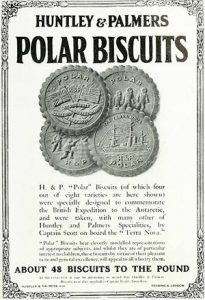 The devil was in the details. Amundsen's biscuits also had oats in them aside from the flour. Scott used white flour in all his preparations while Amundsen used whole wheat with germ added. This imparted much more nutrient density to his team.
#2. Pemmican
Amundsen also included peas and oats in his pemmican recipe. This was another small detail that created an enormous difference over the nearly 800-mile hike to the South Pole.
#3. Bread
The difference in the explorer's bread was similar to the biscuits. Amundsen packed breads that were made of whole wheat and wheat germ for the nutrients. Scott's team stuck to the English staple of white bread which was devoid of many of the nutrients.
#4. Seal Meats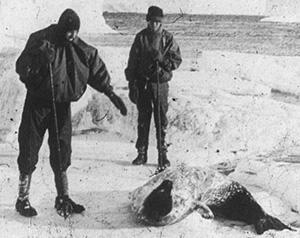 Both companies had seal meat on the menu but, again, it was the detailed approach of Amundsen that made all the difference in how the meat affected his team and how quantities were managed. Amundsen left his seal meat a bit undercooked to persevere some of the Vitamin C and other nutrients. This was fed to the men on a daily basis. Scott's team did not have meat each day and his meat were over cooked.
Amundsen also managed caloric intake in a very interesting way. His team ate less calories heading to the pole and more coming back. It was about 4000 per day there and 5000 per day on the way back. Scott's team kept it around 4500 across the board.
The true heroes of this trip on Amundsen's side were the two berries called the whortleberry and the cloud berry. These subarctic species were smeared all over hotcakes and breads that were prepared and served. This meal was eaten on the sea and staved off any issues with scurvy. The berries were added inherently for the purpose of boosting Vitamin C.

A few more interesting items that made the voyage were:
#5. Chocolate
Amundsen brought chocolate along for the journey and this was no doubt a treat but one that held on the shelf. Quality chocolate that isn't full of milk will last a long time.
#6. Dried Milk
Like most preppers dried milk made it on the voyage as well because of the fact that it would hold up for the duration of the trip.
#7. Tea
It should be no surprise, but the British naval officer made sure there was tea on the journey.
#8. Butter
While butter is not the most shelf stable food item, the fat plays a key role in keeping up the bodies of the men. Butter would also have held well in this type of environment. The addition of butter speaks to the idea of food storage and adapting to different environments.
Related: All Churned Up – Making Your Own Delicious Butter
#9. Sugar
While sugar has been shown to cause all sorts of disease when eaten in large quantities, there is no denying that sugar is a great preservative. This was no doubt the reason it was brought on trips to the south pole. I am sure Scott put a little in his tea, too!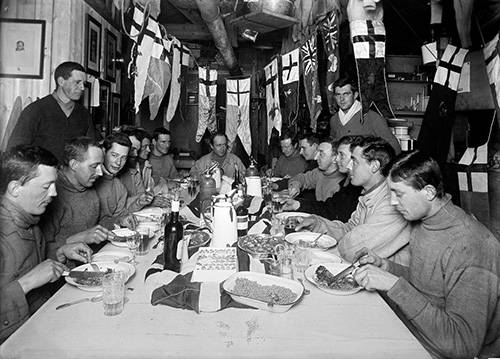 Unfortunately, in this expedition there was a winner and a loser. The risks were high and thus the consequences as well. Like in all survival it was the Norwegians understanding of the polar environment as well as managing disease and nutrition that made his voyage a success.
For the men of the ill-fated Terra Nova Expedition their lives would end on a long, white, 800-mile march back from the South Pole in which they had reached Amundsen's black flag he had placed at the pole not much earlier. The men fell in crevasses, fell into comatose states and one man, on his 23rd birthday, left camp and walked to his death in the pale arctic.
I hope your takeaway was similar to my own. This gave me a different outlook on managing my own stockpile of food. It also put some real-life consideration on the quantity of calories we should be planning for. At the end of the day survival will be a competition. Will your team be prepared for that or will they be facing mental and physical ailments due to malnutrition, like the Terra Nova?
Related: How to Make 2400 Calorie Emergency Ration Bars Designed to Feed You for a Full Day
Scotts final diary entry read as follows as himself and the remaining two of his men hunkered down under a relentless blizzard. With frost bitten toes:
We took risks, we knew we took them; things have come out against us, and therefore we have no cause for complaint, but bow to the will of Providence, determined still to do our best to the last … Had we lived, I should have had a tale to tell of the hardihood, endurance, and courage of my companions which would have stirred the heart of every Englishman. These rough notes and our dead bodies must tell the tale, but surely, surely, a great rich country like ours will see that those who are dependent on us are properly provided for.
Source: askaprepper.com
WHAT TO READ NEXT:
HOW TO MAKE YOUR OWN BACON (STEP BY STEP GUIDE)
A RETURN TO THE OLD PATHS: HOW TO MAKE PEMMICAN LIKE THE NATIVE AMERICANS
20 LOST RECIPES FROM THE PIONEERS: WHAT THEY COOKED ON THEIR JOURNEY WESTWARD
SEVEN CLASSIC GREAT DEPRESSION ERA RECIPES GRANDMA USED TO MAKE
POTTED MEAT: A LOST SKILL OF LONG TERM MEAT STORAGE
BACK TO BASICS: HOW TO MAKE AND PRESERVE LARD
THE BEST WAY TO STOCKPILE VEGETABLES OFF-GRID
OLD FASHIONED PRESERVING-GRANDPA'S RECIPE FOR CURED SMOKED HAM
HOW TO MAKE GUNPOWDER THE OLD FASHIONED WAY
SURVIVAL HERBAL RECIPES FROM OUR ANCESTORS
HOW TO PRESERVE MEAT FOR SURVIVAL LIKE OUR GRANDFATHERS
Recommended Reading
THE LOST BOOK OF REMEDIES-All Medicinal Plants and Lost Cures of North America
THE LOST WAYS-Learn the long forgotten secrets that helped our forefathers survive famines,wars,economic crisis and anything else life threw at them
EASY CELLAR-AMERICA'S NATURAL NUCLEAR BUNKERS: FIND THE CLOSEST ONE TO YOUR HOME
THE LOST WAYS 2-This lost super-food will bulletproof you against any food shortage or famine
BLACKOUT USA-EMP survival and preparedness guide
DIY HOME ENERGY-Follow the step-by-step guide from A to Z and you will have a working system to reduce your electricity bills and save energy
MY SURVIVAL FARM-This hidden survival garden will keep you well fed when SHTF
MEAT FOR LIFE -THE REAL HOMEMADE AND HEALTHY MEATY TREATS OUR GRANDPARENTS USED TO MAKE…
Before It's News®
is a community of individuals who report on what's going on around them, from all around the world.
Anyone can
join
.
Anyone can contribute.
Anyone can become informed about their world.
"United We Stand" Click Here To Create Your Personal Citizen Journalist Account Today, Be Sure To Invite Your Friends.