Warning: Telegram is a Russian-Israeli Backdoor Tracking and Spying App. Telegram Founder is a WEF Young Global Leader
Wednesday, August 17, 2022 17:54
% of readers think this story is Fact. Add your two cents.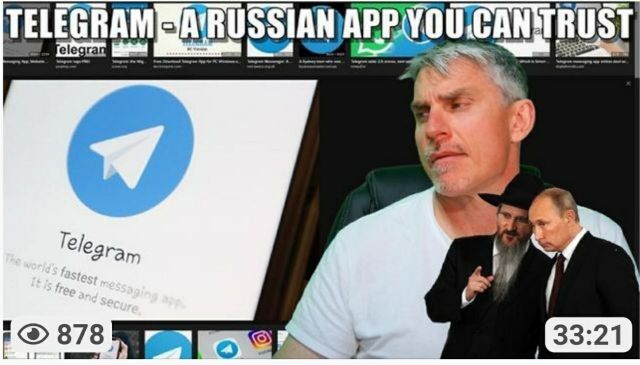 Warning: Telegram is a Russian-Israeli Backdoor Tracking and Spying App
Telegram Founder is a WEF Young Global Leader
Israeli Unit 8200 Cyber Warfare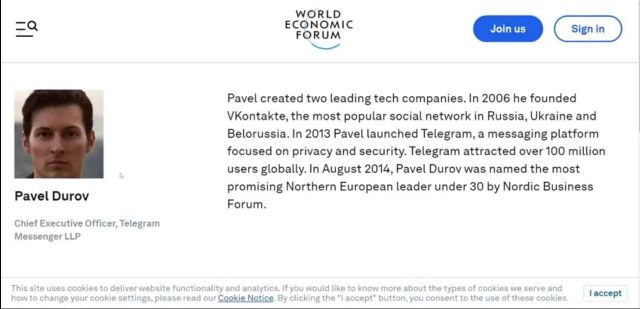 O'CONNELL REPORT: TELEGRAM… A 'RUSSIAN ISRAELI' UNIT 8200 BACKDOOR TRACKING AND SPYING APP
Telegram is a hugely popular and hugely useful app you can put on your phone and or laptop. It's Cloud Based – meaning it keeps ALL your data on a "centralized cloud server" that you can access with any device. That server that contains ALL that data is where? Dubai, United Arab Emirates. And who is totally best friends with Dubai?
Israel is deep in bed with Russia – but clueless clowns think these Davos Young Global Leader founders of Telegram are gonna keep them free? Oh come on…
TELEGRAM FOUNDER PAVEL DUROV AND THE WORLD ECONOMIC FORUM
Pavel Durov is a WEF Young Global Leader
RUSSIA'S WAR AGAINST TELEGRAM, FREE SPEECH, THE INTERNET AND ITSELF
The Official Cover Story, though interesting misses the most crucial points.
Pavel Durov is a WEF Young Global Leader
You Do Not Pass Go unless you are Part of the Club = Freemason – WEF Agent – Intelligence Agent etc.
The Encryption used is STORED IN THE CLOUD. That means your Data is Encrypted and Protected from Everyone BUT Anyone with Access to That Cloud.
World Governments Have an Agreement:
NO SOFTWARE APPLICATIONS CAN BE MADE THAT USE ENCRYPTION METHODS THAT CANT BE BYPASSED BY GOVERNMENTS
Telegram was Built by Durov TO BE a Spying App
The Telegram Servers are in Dubai, United Arab Emirates and Controlled by MOSSAD AGENTS
Duh. If you make your Telegram Posts Public, your Posts are Available To Everyone.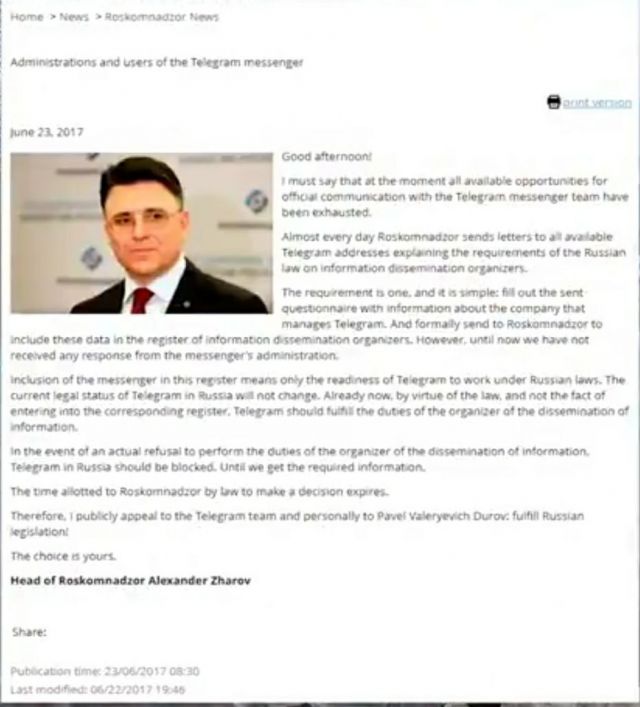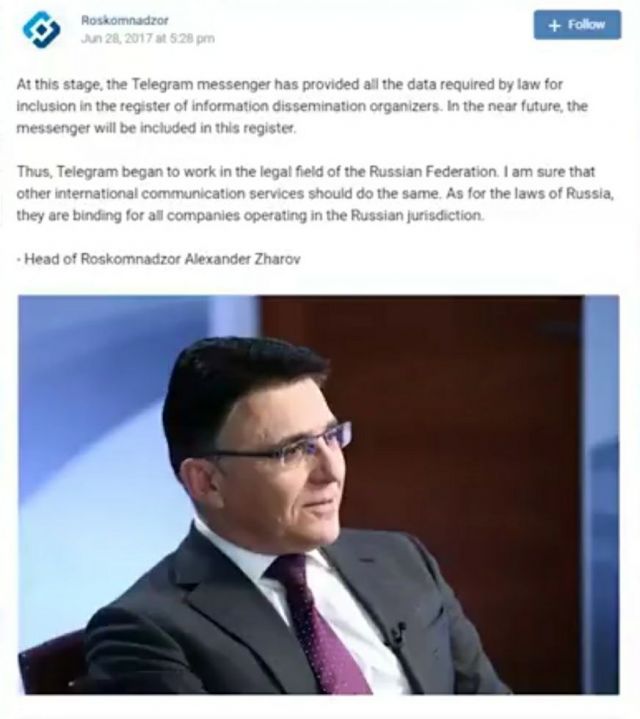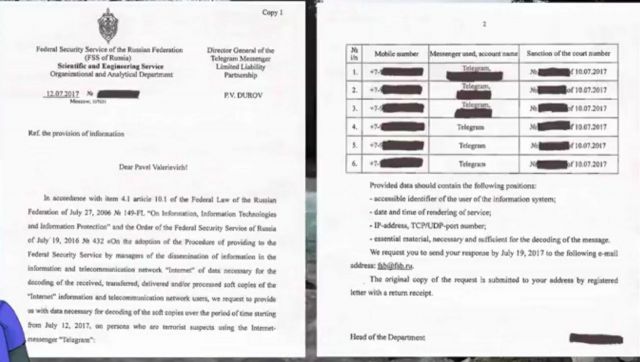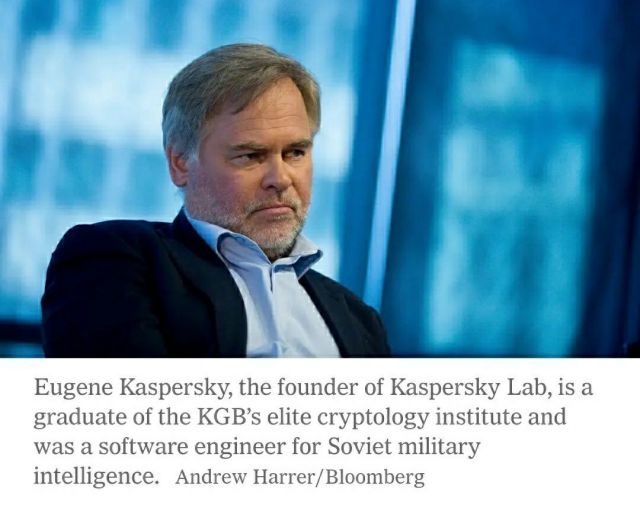 KASPERSKY ANTIVIRUS IS ALSO A RUSSIAN-ISRAELI BACKDOOR TRACKING AND SPYING APP
US bans Kaspersky software over security concerns
Sep 14, 2017
The Department of Homeland Security ordered federal agencies to stop using software made by Kaspersky Labs over concerns about the company's ties to Russian intelligence. But as Andrea Day reports, thousands of businesses and consumers are still using the software.
World Governments occasionally expose each other's Spying.
Duh, ALL Major Government's Create Back Door Access in Hardware and Software.
The NSA may have a backdoor in your computer that you can't get rid of
Feb 17, 2015
Russian security software maker Kaspersky Lab announced that a cyber espionage group, perhaps connected to the NSA, has developed a means to hide spying software within the hard drives of personal computers. Computers impacted include those manufactured by companies such as Western Digital and Seagate. The surveillance program is among several spy surveillance programs discovered by Kaspersky. Although Kaspersky did not say specifically who planted the software, they said the program is closely linked to Stuxnet, an NSA-related cyberweapon that was used to attack Iran's uranium enrichment facility. The spies were able to access source codes for computer hard drives, allowing the attackers to better understand and control computer systems. According to unnamed former intelligence operators who spoke with Reuters, NSA employees may have obtained the source codes by posing as software developers and asking manufacturers directly for the information. Knowing the source code allowed access to the drive, and spies were able to place spyware into the firmware. The corrupted firmware runs each time a computer is turned on. Firmware loads all the low-level drivers that manage a computer's interfaces such as keyboards and displays before an operating system such as Windows is booted. As the firmware helps to manage the computer's operating system, the malware is able to access many of the computer's folders, file-systems and operating system components. Viruses in the firmware are usually undetectable, and as a consequence are difficult to remove. The surveillance software has been found on computers in 30 countries worldwide. Iran, Russia, Afghanistan, China, Mali, Pakistan, Syria, Yemen and Algeria were particularly targeted. Institutions of interest included government and military organizations, energy companies, Islamic activists and the media.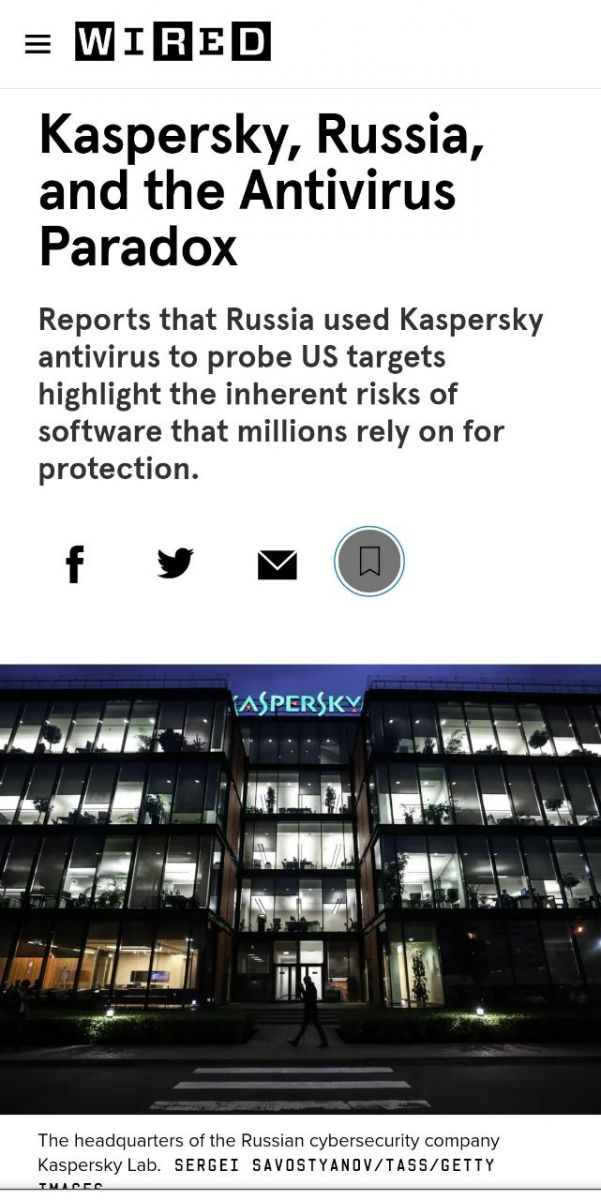 Kaspersky, Russia, and the Antivirus Paradox
https://www.wired.com/story/kaspersky-russia-antivirus/
After months of escalating hostility toward the Russian cybersecurity company and antivirus maker Kaspersky, including its complete banishment from US government agency computers,…
Reports that Russia used Kaspersky antivirus to probe US targets highlight the inherent risks of software that millions rely on for protection.
SO FAR THIS week, separate reports have indicated that Russia exploited software from Kaspersky Lab to trawl US systems for classified data—in at least one case, successfully—and that North Korea hacked into classified South Korean military files. (It's only Wednesday.) The common culprit? Antivirus software.

Is Kaspersky backdoor real? – Water Cooler – The Spiceworks Community
Kaspersky is basically a Russian Intelligence asset. Where there is smoke there is fire folks. The Israelis proved this in 2014. Think of it as a giant botnet which can scan for and ex-filtrate data. There is too much evidence pointing to this conclusion. Check out the Cyberscoop article on Kaspersky, and Russia too.
Kaspersky bans and allegations of Russian government ties
Kaspersky Lab has faced controversy over allegations that it has engaged with the Russian Federal Security Service to use its software to scan computers worldwide for material of interest—ties which the company has actively denied. The U.S. Department of Homeland Security banned Kaspersky products from all government departments on 13 September 2017, alleging that Kaspersky Lab had worked on secret projects with Russia's Federal Security Service. In October 2017, subsequent reports alleged …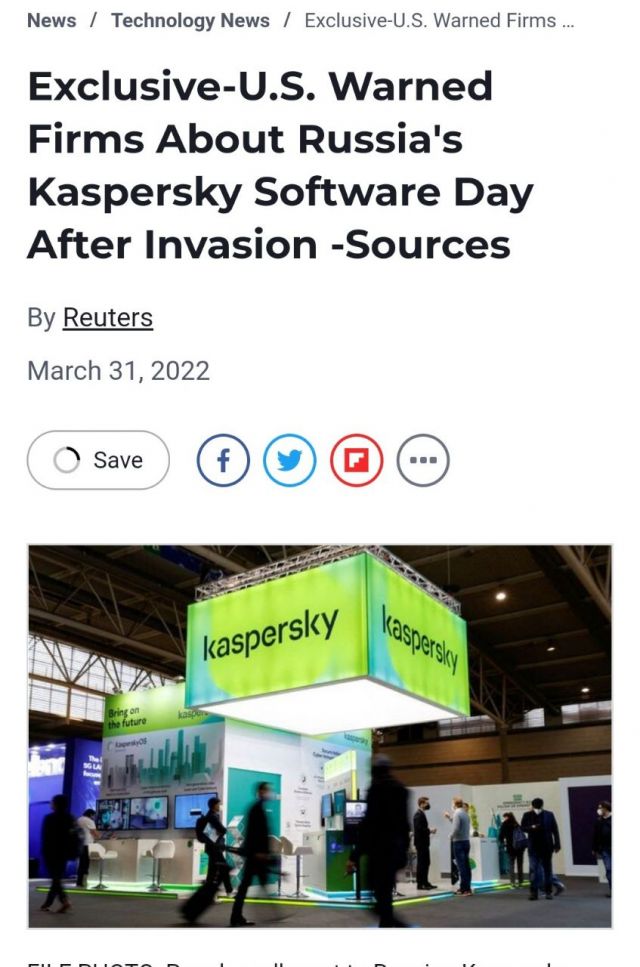 Exclusive-U.S. Warned Firms About Russia's Kaspersky Software Day After …
Kaspersky, one of the cybersecurity industry's most popular anti-virus software makers, is headquartered in Moscow and was founded by Eugene Kaspersky, who U.S. officials describe as a former
Before It's News®
is a community of individuals who report on what's going on around them, from all around the world.
Anyone can
join
.
Anyone can contribute.
Anyone can become informed about their world.
"United We Stand" Click Here To Create Your Personal Citizen Journalist Account Today, Be Sure To Invite Your Friends.