Putin Orders Mobilization For War With Collective West Rather Than Ukraine
Thursday, September 22, 2022 11:30
% of readers think this story is Fact. Add your two cents.


The Kremlin today first noting that as prescribed in The Constitution of the Russian Federation, the government cannot instigate a military conflict unless it is for the immediate defense of the Motherland and thereafter approved by citizens, says following last week's national elections wherein the peoples of Russia voted overwhelmingly to support the "Special De-Nazification Operation" to liberate Ukraine, this morning President Putin responded with an emergency televised address informing the world that he signed a decree authorizing the Ministry of Defense (MoD) to immediately partially mobilize Russian military forces, and stated directly to the peoples of Russia:
The purpose of the West is to weaken, divide and ultimately destroy our country.
They were already directly saying that in 1991 they were able to split the Soviet Union, and now the time has come for Russia itself, and that it should disintegrate into many mortally warring regions and regions.
Plans have been hatched in the West for a long time, as they encouraged gangs of international terrorists in the Caucasus, promoted the installation of NATO's offensive infrastructure close to Russia's borders and made total Russophobia their weapon.
We talk about the aggressive policy of a number of the Western elites, who are striving with all their might to maintain their dominance, and for this purpose they are trying to block or suppress any sovereign independent centers of development in order to further brutally impose their will on other countries and nations, to plant their fake values.
The West has crossed every line in its aggressive anti-Russian policy, and we constantly hear threats against our country and our people.
Some irresponsible politicians in the West talk about plans to organize the supply of long-range offensive weapons to Ukraine, systems that are capable of launching strikes against Crimea and other regions of Russia.
I consider it necessary to take the following decisions, they are fully adequate to the threats we face, namely: to protect our Motherland, its sovereignty and territorial integrity, to ensure the security of our people and people in the liberated territories; I consider it necessary to support the proposal of the Ministry of Defense and the General Staff on conducting partial mobilization in Russia.
The parliaments of the people's republics in Donbass as well as civil-military administrations of the Kherson and Zaporozhye regions have decided to hold the referendums on the destiny of these territories and appealed to Russia, asking to support this step. I stress that we will do everything to ensure security at the referendums for people to express their will.
In Zaporozhye, the Kherson region, as well as Lugansk and Donetsk, people have seen and are seeing the atrocities that neo-Nazis conduct in the occupied areas of the Kharkov region. The heirs of Bandera and Nazi punishers kill people, torture, throw them in prison, settle scores, crack down, abuse civilians.
Many of them were forced to become refugees and leave their homes. Those who remained – about 5 million people – today are subjected to constant artillery and rocket fire from neo-Nazi militants, who hit hospitals and schools and organize terrorist attacks against civilians. We have no moral right to hand over people close to us to be torn to pieces by executioners, and we cannot but respond to their sincere desire to determine their own fate.
We will use all means to defend the new Russian territories, and if the territorial integrity of our country is threatened, we will without doubt use all available means to protect Russia and our people – this is not a bluff.
Immediately following President Putin, this report notes, it then saw Defense Minister Sergei Shoigu delivering an emergency televised address to warn the world: "Russia is now at war with the collective West rather than Ukraine"—an emergency address wherein Defense Minister Shoigu confirmed that a total of 5,937 Russian troops have died during the special military operation, then he revealed: "Initially, the Armed Forces of Ukraine amounted to between 201,000 and 202,000 people, and since then they have suffered losses of around 100,000, with 61,207 killed and 49,368 others wounded…Russian forces and the militias of the People's Republics of Donetsk and Lugansk have also eliminated more than 2,000 mercenaries fighting for Kiev…Just over 1,000 foreigners currently remain in the ranks of the Ukrainian military"—due to these staggering losses, Defense Minister Shoigu reported that Ukraine has just begun a fourth mobilization, and whose forces are aided by over 200 military and 70 civilian socialist Western colonial satellites and are completely dependent on the West because Ukraine has run out of old Soviet weapons.
Under the partial nationwide mobilization, this report continues, Defense Minister Shoigu announced that a total of 300,000 reservists will be called up to fight, about whom he noted: "Those are not people who have never heard anything about the army. Those are those who, firstly, had completed their military service, secondly, those who have a military specialty and have military experience"—and was an announcement Defense Minister Shoigu joined with a factual reminder to the socialist Western colonial powers: "Russia possesses an immense mobilization capability and could summon almost 25 million people with some military experience".
In the classified at the highest level "Of Special Importance" portion of this transcript, the very limited portions permitted to be openly reviewed by various ministries sees Security Council Members discussing various aspects of the partial mobilization—are discussions without context included because of transcript redactions, but whose topics include massive Russian military capabilities and its world's largest nuclear weapons arsenal—other topics include Russia's population of 146-million that live in the world's largest nation that comprises 11% of the entire world and are protected by Russia's world's largest natural resources wealth valued at over $75-trillion—but whose most ominous topics discussed were the massive and mysterious Mount Yamantau underground complex and the thousands of nuclear bomb shelters President Putin ordered to be built.
Also included in the highly classified portion of this transcript is a notation that the socialist Biden Regime yesterday moved to seize the tens-of-billions-of-dollars it stole from Russia and give it Ukraine—sees another notation about the "Black Tuesday" event that rocked Moscow's stock market yesterday after the socialist Biden Regime moved to steal Russian wealth, and reveals: "The market was also negatively impacted by reports of planned referendums in the territories of the special military operatin and amendments to the Criminal Code of the Russian Federation related to mobilization and martial law"—and for reasons not immediately clear, this portion of the transcript then notes a massive oil refinery explosion that occurred in Ohio yesterday evening.
In apparently clarifying why this refinery explosion is noted, an unredacted portion of this transcript states the explosion occurred at BP-Husky Toledo, and notes: "The BP-Husky Toledo refinery in Oregon, Ohio, has been a cornerstone of Northwest Ohio's economy for more than 100 years…Today it can process up to 160,000 barrels of crude oil each day, providing the Midwest with gasoline, diesel, jet fuel, propane, asphalt and other products…On a daily basis the refinery can produce 3.8 million gallons of gasoline, 1.3 million gallons of diesel fuel and 600,000 gallons of jet fuel"—in factual reality, this isn't a normal BP refinery, as since 2010 up to 2017, after which its contracts were classified, all of its refined fuel products are sold to the Pentagon—is a fact critical to notice because this transcript notes the article published last week "Why Biden's Draining of Strategic Petroleum Reserves is Grave Mistake" wherein it warns: "US emergency crude reserves fell 8.4 million barrels last week to 434.1 million barrels, their lowest levels since October 1984"—then this transcript notes the article published yesterday "US To Release More Crude From Reserves", wherein it reveals: "The US Department of Energy has announced plans to sell up to 10 million barrels of oil from its Strategic Petroleum Reserve for delivery in November"—and as to exactly why Security Council Members were discussing these issues, a glimpse was given by this transcript showing them also discussing the just published articles "Biden Declared The Pandemic Over, But Unvaxxed Air Force Pilots Are Still Grounded" and "US Air Force Chief Reveals Troops Greatest Concern", wherein it grimly reveals: "Financial woes are far outpacing any worries over 'foreign adversaries' as the US economy reels from decades-high inflation".
As to if Russia has activated its feared deep cover "sleeper cells" after Defense Minister Shoigu declared this morning that "Russia is now at war with the collective West rather than Ukraine", it can be logically surmised, though not firmly concluded in today's transcript—is logical to surmise because in June, it saw Security Council Members apparently discussing "sleeper cell" attacks occurring in America—in 2017, it saw top Western intelligence expert Victor Madeira stating during his testimony before the British Parliament: "There are probably more Russian sleeper agents in the United Kingdom and United States today than there were during the Cold War"—and of those few who know the inner workings of Russian "sleeper cells" in wartime is Serbian President Aleksandar Vučić, who as a staunch ally of Russia served as his nation's Minister of Defense gaining access to privileged secrets, and yesterday stood before the United Nations General Assembly to warn the entire world: "I assume that we're leaving the phase of the special military operation and approaching a major armed conflict, and now the question becomes where is the line, and whether after a certain time – maybe a month or two, even – we will enter a great world conflict not seen since the Second World War"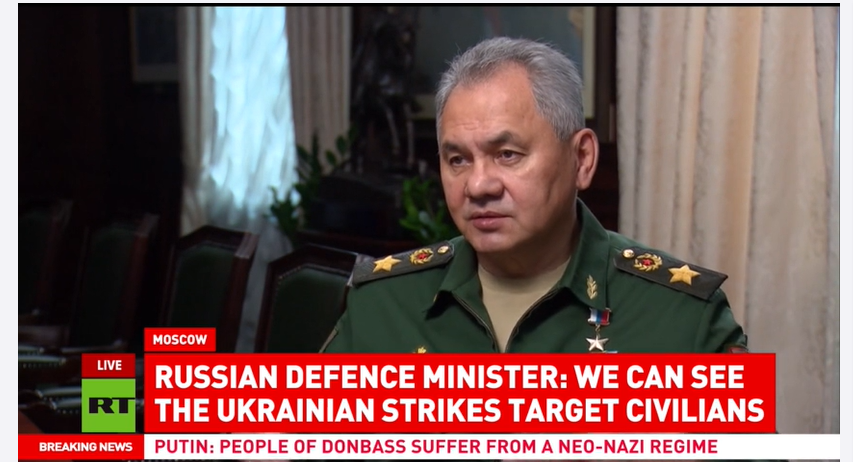 SOURCE ;https://www.mydailyinformer.com/putin-orders-mobilization-for-war-with-collective-west-rather-than-ukraine/
Before It's News®
is a community of individuals who report on what's going on around them, from all around the world.
Anyone can
join
.
Anyone can contribute.
Anyone can become informed about their world.
"United We Stand" Click Here To Create Your Personal Citizen Journalist Account Today, Be Sure To Invite Your Friends.