Brendon O'Connell: The Origins of COVID Revealed. America Did It For the Vax Agenda 6-8-2023. Israel Cyber Espionage & Terrorism. How Israel, Russia & China Work Together for World Domination
Friday, June 9, 2023 12:23
% of readers think this story is Fact. Add your two cents.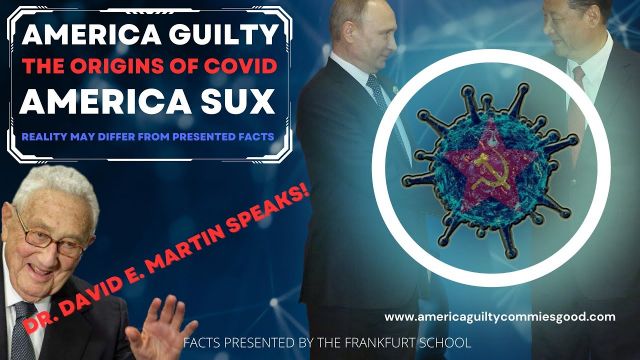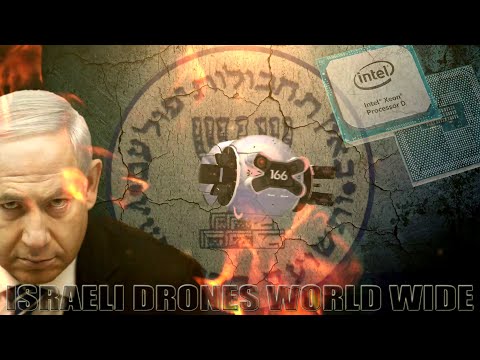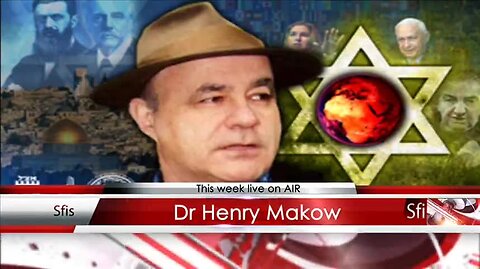 Brendon O'Connell: The Origins of COVID Revealed. America Did It For the Vax Agenda 6-8-2023
—
189. The Origins Of Covid Revealed! America Did It! Jun 8, 2023
—
Full Patreon Post – https://www.patreon.com/posts/189-ori…
—
In a cunning plot, the EU has revealed that evil America inflicted a virus on the world so it could shut down it's booming economy as it was feeling too good about itself.
—
The cunning'ness of it all… Dr David E. Martin PhD – Covid Summit – European Union Parliament May 2023 https://rumble.com/v2ncp8w-dr-david-e…
—
European Union Parliament Testimony: Coronavirus 'Intentionally Released' to Raise Public Acceptance of Vaccines https://valuetainment.com/european-un… 01:34 Covid EU Conference and Dr David E. Martin…America Did It. 30:31 Critical Infrastructure attacks. 52:59 Ukraine offensive. 1:01:54 Trumpy and 2024 shananigans. 1:08:44 Conclusion
—
ISRAEL PENETRATES U.S CRITICAL INFRASTRUCTURE – PLAYLIST (A must watch)
https://www.youtube.com/watch?v=0YPO9QeRdU8&list=PLlDxOv3vXbAe3yPHdQn1ML_yD9jC7enX2&index=1&t=0s
—
The War In Ukraine, Whats It About (Playlist)
https://www.youtube.com/watch?v=9LUYOH29LzY&list=PLlDxOv3vXbAdoHlmL2JMygM8nl_bheVmw&index=1&t=0s
—
Taking On Corrupt Judges – Cleaning The Swamp https://www.patreon.com/posts/taking-…
—
WHAT IS JEWISH POWER BY BRITISH JEWISH ACTIVIST PAUL EISEN https://www.righteousjews.org/article…

Brendon O'Connell: Israel Cyber Espionage & Terrorism. How Israel, Russia & China Work Together for World Domination
—
18. NSO GROUP – ISRAELI CYBER ESPIONAGE, THE BIG PICTURE – HOW ISRAEL, RUSSIA & CHINA WORK TOGETHER Aug 12, 2021
—
PLEASE READ DESCRIPTION – FIRST UPLOADED MARCH 2018
1. How Russia China, Iran & Israel work together for the Belt & Road Project.
2. How Israel steals US technology and passes on to China, Russia and Iran.
3. How 911 was designed to get the United States to destroy Pan Arab nationalism to facilitate the expansion of Israels borders into Greater Israel – whereby Israel can dominate the Pan Eurasian Superstate economic development model as forecast in the 500 year old "Bunting Cloverleaf Map".
4. How Iran and Israel are tied at the top under the Swiss banker boys of Rouhani and Zarif. Iran gets to the East bank of the Euphrates, a new Persian Empire. Israel gets to the west side of the Euphrates. The Jewish State v The Islamic State.
5. I ring Homeland Security to make a complaint about Jewish Zionist spying in America – it a good one hour watch.
—
Israel and Iran both set to join Russia-led free trade zone After two rounds of negotiations, Jerusalem close to agreement with Eurasian Economic Union; separately, Tehran also set to sign deal 'in the near future' https://www.timesofisrael.com/israel-…
Brendon O'Connell: Economic Doom Joker. Incompetent Fool Peter Schiff 6-7-2023
—
190. The Sheer Incompetence Of Peter Schiff Jun 7, 2023
—
Peter Schiff, like so many like him, have been raking in the dough with their yearly predictions of the end of the world. And yet…here we are. I made this video on the fly back in 2018. Still so relevant today. Video's mentioned in video below. 17. ISRAELS SECRET WEAPON, THE TALPIOT PROGRAM – "HOW ISRAEL RULES"  • 17. NSO GROUP - … 4. COVID 19 – CORONA, ISRAEL, THE BUNTING CLOVERLEAF MAP & GREATER ISRAEL  • 4. NSO GROUP - IS…
Dr. Makow: Western Society is Subverted. The Satanic Khazarian Corruption Consuming Society
—
WESTERN SOCIETY IS SUBVERTED – DR. HENRY MAKOW
—
August 2, 2016 – The People Speak Show (SFi035) – Western Society is Subverted – Dr. Henry Makow
—
A Dystopia is upon us … lately, to me it all points to a (Jewish/Khazarian/Zionist) Mafia causing all the ills on the planet. This has been going on for a long time.
Dr. Makow connects the dots …
—
Freemasonry is a Satanic Cult , Zionism is a type of Freemasonry, Communism (type of Freemasonry).
—
The NWO modus operandi is Communist Insanity. The Kabbalist, Jewish Bankers who redefine reality so that they're at the pinnacle and replace God. God's Creation has been subverted and turned upside down.
—
Every spiritual ideal is inverted and the (Jewish/Zionist/Khazarian) can lie without impunity.
—
Dr. Henry Makow, born in Switzerland in 1949 and today a Canadian, is the author of multiple books about the Illuminati and Satanists and how they use Cultural Marxism to divide and conquer and confuse.
—
Related links:
—
https://www.henrymakow.com/
https://www.amazon.com/exec/obidos/ASIN/B004V49G2E/ossnet-20
Before It's News®
is a community of individuals who report on what's going on around them, from all around the world.
Anyone can
join
.
Anyone can contribute.
Anyone can become informed about their world.
"United We Stand" Click Here To Create Your Personal Citizen Journalist Account Today, Be Sure To Invite Your Friends.