Judy Byington: Military Tribunals Aired, Lockdown, Martial Law, Emergency Alert System Activates - Intel and Situation Update For Sat. 3 June 2023 (Video)
Saturday, June 3, 2023 6:17
% of readers think this story is Fact. Add your two cents.

by N.Morgan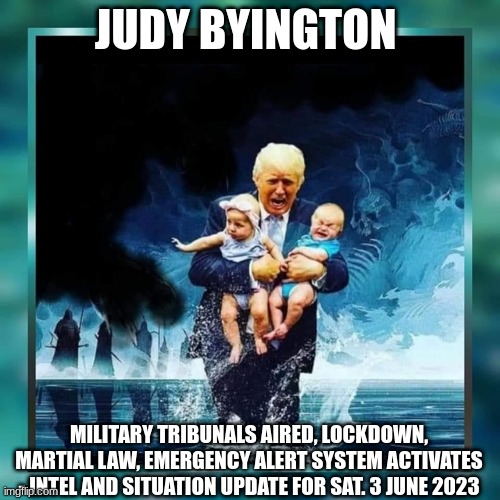 Compiled Sat. 3 June 12:01 am EST by Judy Byington, MSW, LCSW, Therapist ret, Journalist, Author: "Twenty Two Faces: inside the extraordinary life of Jenny Hill and her Twenty Two Multiple Personalities"
Seven Kingdoms of the Alliance
US, Brazil, Russia, India, China, Saudi Arabia, North Korea
Trust Their Plan
Welcome to the Greatest Economy Crash of All Time
US Dollar Default = Economy Freezes
Emergency Alert System Activates
Lockdown, Martial Law
Ten Days of Communication Darkness During Mass Arrests
Military Tribunals Aired
Currencies Around the Globe Revalue to a Gold/asset-backed System
Deep State Great Reset Fiat Digital Currency Banking System Goes Down the Tube
It's only wise to have a month's supply of food, water, cash, fuel and essential items on hand.
Be Strong Enough to Stand Alone
Be Yourself Enough to Stand Apart
And When the Time Comes, Be Wise Enough to Stand Together
"I Need Jesus"
Hinge Point
https://youtu.be/0u1L2EJ2oWs
Judy Note: It is my personal opinion that the Black Swan Event that would bring on the Global Currency Revaluation of currencies (based on the gold/asset-backed resources of 209 participating countries) was a financial collapse of the already bankrupt Deep State Global Central Banking System.
That financial collapse would likely be triggered by a default of the World's Reserve Currency, the US Dollar, and was bound to result in freezing both the US and Global economies.
Advertisement
Secretary of the US Treasury Janet Yellen has set the deadline to avoid a US Dollar default as Mon. 5 June. To meet that deadline the US House of Representatives and Senate have passed a bill to suspend the US Debt Ceiling. On Thurs. 1 June Congress sent that bill to Biden's Desk for signature.
Behind the scene, experts say that Biden's signature on the Debt Ceiling Bill by Mon. 5 June was designed to not divert a default on the US Dollar, but actually create a default – because suspension of the Debt Ceiling which debt was already at an unsustainable $36 Trillion.
When combined with the Central Banks of the World's recent bankruptcies (unreported by the Mainstream Media), the bill's approval by Congress has already removed any pillar of support for the US dollar in global financial markets.
Default of the US Dollar was the basis (and goal) for the soon-to-be implemented Deep State's Great Reset Fiat Digital Currency Banking System. The Great Reset was designed so those Elite members of the Deep State could have control over The People's bank accounts and thus, rule their lives and rule the World. https://dailycaller.com/2023/06/01/senate-sends-debt-ceiling-package-bidens-desk-default-days-away/
House & Senate to allow $36 Trillion US Debt To Rise Even Higher – with nowhere to borrow the money, setting up Operation Sandman De-dollarization: within 24 hours $2 Trillion U.S. Treasury Bonds would be dumped, loosing 50-90% of US Dollar value. US cash would be worthless.
All Central Banks around the world were now bankrupt and insolvent — it just cannot be announced all at once. https://t.me/drue86/26063
The Mockingbird Media would make it seem like this was a good thing. Nothing wrong's — go back to your shopping, post selfies & leave your money in the banks.
We have seen a string of bank deaths: Credit Suisse, Deutsche, SVB, First Republic & regional banks — all dead. Even Evergrande is dead. All publicly dead entities are being propped up, pretending to still be functional. They are not. They won't let the banks default, because once that happens, the GAME is OVER.
Massive consolidation — JPMorgan have been swooping up all the dead assets. JPMorgan connects to Epstein with Jamie Dimon on the hook.
Senate passes bill to raise debt ceiling, preventing first-ever U.S. default: https://www.cnbc.com/2023/06/01/debt-ceiling-bill-updates.html
House & Senate passes a $4 Trillion debt ceiling — which could bring the total debt to $36 TRILLION! Where will the $4 Trillion come from? No one will lend U.S. the money — not China, Russia or Saudi. So the Federal Reserve will print it.
The De-dollarization is set. Operation Sandman — where $2 Trillion U.S. Treasury bonds will be dumped within 24 hours, with St. Petersburg leading the way. The American Dollar can potentially lose 50-90% of its value. Operation Sandman https://t.me/drue86/35852
Historically fiat currencies have a life span of 27 years. The USDA Reserve Currency has been in effect for over 90 years, 40 of which was functioning in fiat currency.
We crashed the Russian economy back in the 80s/90s — tables have turned. American allies like France & Japan have dumped U.S. Treasury bonds. In Long Beach, the largest port in America, shipping companies rejected U.S. Treasury bonds. It was expected that the US Financial Meltdown would happen in mid-June 2023.
When this happens, gas may cost up to $40/gallon. $100 Egg cartons. It will FREEZE our whole economy. All banks will fall publicly. All U.S. cash will be worthless. Drug dealers' & dirty cops like LAPD's Rampant Division's stashed cash will be worthless. CIA stashed cash payments for train derailments, public shootings, Antifa, contract killers & all [DS] agents will be worthless.
The MUSIC STOPS: Greatest ECONOMY CRASH of all times.
Hollywood on Strike.
Pedo Joe admin indictments.
Hunter laptop crimes.
Advertisement
Epstein List Floods.
JPMorgan GUILTY.
Brunson Supreme Court x 2020 Election Fraud.
Mass Arrests.
Everything shuts down.
Lockdown.
Marshall Law.
10 Days of Darkness?
Emergency Alert System – Emergency Broadcast System
Military Tribunals are aired – millions must watch while school is out.
Advertisement
It would be the most epic Event in current history.
The BRICS nations gold/asset-backed currency will be an alternative to the IMF.
Judy Note: If you were reading this Update on here, be aware that some information has been redacted. For the complete un-redacted version, see the PDF copy at the end of the report.
Global Currency Revaluation:
On Thurs. 1 June the Global Quantum Financial System's Fed ISO 20022 activated, meaning all electronic payments for 209 countries' financial network were now able to communicate with each other at lightning speed.
Thurs. 1 June Bruce: Last night all banks came online that had passed the Global Quantum Financial System's Fed ISO 20022 24 hour evaluation. Thousands of banks that didn't become Basil 3 compliant as of Thurs. 1 June would be closed. Thurs. 1 June Iraq came out with a new Dinar Rate that was being traded. Sunday night 4 June the new rate would quit trading and be settled on bank screens. Bond Holders received their packages by FedEx starting Tues. night 30 May for 42 hours. They were starting up again on Sunday 4 June and would continue on for another 3-4 days. Tier4b notifications to set exchange/redemption appointments were pending for Sat. 3 June or Sunday 4 June.
Fri. 2 June 2023 MarkZ: In Iraq I continue to hear solid stuff with great expectations of the culmination of the budget battle Sat. 3 June or early Sun. 4 June. My Redemption Center contacts are pretty confident they will work on Sun. 4 June. Starting at the end of next week and after Tier4b was in progress, there would be a massive "clean up" in many Redemption Areas around the world.
Thurs. 1 June TNT Tony Rayren98 on Twitter: The new Dinar rate was international. Banks were told they would work this weekend.
Some say that that Tier4b notification would happen prior to a Emergency Broadcast System announcement of a 2-4 week communication shutdown, while Head of the Global Redemption Committee, Dr. Charlie Ward, indicated on his show that Tier4b notification would come after the EBS – which was expected to begin at any moment.
We are in full blown Debt Crisis: https://gregorymannarino.substack.com/p/we-are-in-a-full-blown-debt-crisis-72b
Senate Passes Biden Debt Ceiling Bill – Global Debt Crisis Pretend and Extend: https://www.thegatewaypundit.com/2023/06/senate-passes-biden-mccarthy-debt-ceiling-bill-63/ https://www.zerohedge.com/political/senate-rubber-stamps-debt-ceiling-band-aid-biden-sign-law-soon-possible https://www.zerohedge.com/news/2023-06-01/global-debt-crisis-pretend-and-extend
Money converter calculator: Find The Best Ways To Move Your Money – Forbes Advisor
Emergency Alert System and Communication Shutdown, Hal Turner News:
You will be given a 24 hour notice before the shut down in 17 strategic US cities
There will be no Mainstream Media broadcasts.
Prepare for 2-4 weeks of a shutdown – no school, work, shopping and Internet – to be replaced with new Internet on Star Link.
Prisons, jails, hospitals and other institutions with kitchens feeding people who cannot go elsewhere are being told they must have a ten day food supply on hand for supply chain disruptions. That would likely be the changeover to the QFS (Quantum Financial System). …Hal Turner news
Timeline: JFK Jr. Alert: 4 Important Dates Announced – Steve Jobs & Lady Diana Is Alive? (Videos) | Alternative | Before It's News (beforeitsnews.com)
The EBS and Martial Law was set to activate at any time worldwide.
On Thurs. 1 June at 8:00 EST the Quantum Financial System's Fed ISO 20022 activated – a universal language for global financial networks to communicate with each other. The 209 major countries now had their new gold/asset-backed currencies live on the Quantum Financial System.
Mon. 5 June: Yellen's deadline for US Dollar Default.
Tues. 13 June Q's Timeline: (30 days from Mother's Day) MOAB attack on the King and Queen. https://m.beforeitsnews.com/alternative/2023/05/qs-timeline-revealed-t-minus-30-days-mothers-day-m-o-a-b-when-do-you-attack-the-king-queen-3792598.html …Q
Thurs. 16 June collapse of IRS and all tax orgs.
Sun. 18 June GESARA/NESARA announced during EBS Disclosure implementation.
Wed. 21 June Special Counsel John Durham to testify on his report to House Judiciary Committee (1788 became law on June 21).
Sun. 23 July Inauguration of Pres. Donald J. Trump and his VP, JFK Jr, a celebration where those in the World Protection Program would come out.
Tues. 25 July Queen Diana's Coronation.
In June 2023 the General Public would have access to Med Beds.
Be Careful What You Wish For As the World Turns. …Q
What happens to the FBI?
What happens to the DOJ?
What happens to Special Counsel?
What happens in general?
Advertisement
Every FBI/DOJ prev case could be challenged. Lawless. Think logically.
We haven't started the drops re: human trafficking / sacrifices [yet][worst].
Those [good] who know cannot sleep.
Those [good] who know cannot find peace.
Those [good] who know will not rest until those responsible are held accountable.
Nobody can possibly imagine the pure evil and corruption out there.
Those you trust are the most guilty of sin.
Who are we taught to trust?
If you are religious, PRAY.
60% must remain private [at least] – for humanity.
Advertisement
These people should be hanging.
Brewing Storm on Horizon
Imagine the storm that will ensue once the UN, CIA, and EU face complete exposure regarding their involvement in the Epstein pedophile ring and captured government blackmail schemes. The implications are significant.
A brewing storm is on the horizon, and EU countries that were entangled with Epstein, protected by military intelligence, will face the consequences. Their association with the Deep State's Epstein operations connects to a web of cover-ups involving world banks financing human trafficking, sex trafficking, and money laundering operations. The impending downfall of this intricate network is inevitable.
Prepare for the unveiling of shocking revelations as the truth behind these clandestine activities comes crashing down.
The Real News for Fri. 2 June 2023:
Exposed Secrets from Area 51, Telegram:
Audits are coming.
Durham is coming.
Hunter's laptop is coming.
Hillary's emails are coming.
Weiner's laptop is coming.
Donald J. Trump is coming.
Advertisement
Full DECLAS is coming.
All lies will be revealed, [they] are just trying to get ahead of it.
It won't work.
David Wilcock, Telegram: Get Ready for Impact: U.S. Military Forewarns of Turmoil and Generals Sound the Alarm!
as esteemed military figures raise the alarm. Brace for the stunning insights from Major Gen Paul Eaton, former Brigadier Gen Steven Anderson, and Army Major Gen Antonio Taguba, who express grave concerns about a potential civil war on the horizon in 2024. Their words reverberate through military circles, leaving us with a sense of unsettling anticipation.
Militias Rise, Ammunition Disappears!
as numerous militias, spanning across political affiliations, non-voters, criminal gangs, and cartels, contribute to an unprecedented surge in ammunition sales. Prepare for a chilling truth: an astonishing 76 government agencies in the United States are stockpiling weapons and military equipment, boasting over 200,000 federalized officers armed with the authority to make arrests and bear firearms. This force outnumbers even the formidable U.S. Marines. Disturbing revelations emerge about hidden funding, reaching into the tens of millions, courtesy of the Biden Administration's collusion with the CIA and Pentagon.
Revealing Loyal Generals and the Deep State!
How did they ascend to positions of power? Brace yourself for a truth that shatters trust: the [Eastern Europe] failure intertwined with a corrupt web of connections involving global bank corruption, the U.S. military-industrial complex, and a clandestine bioweapons saga. Grave concerns of Nuremberg Code violations, crimes against humanity, treason, and war crimes loom large.
Exposing Pentagon's Role in the Plandemic!
to uncover the shocking involvement of the Pentagon in the global pandemic. Delve into the dark underbelly where a sinister plot is intertwined with stolen elections, foreign interference, foreign occupation, and a ruthless power pursuit. The air hangs heavy with allegations of treason, violations of the Nuremberg Code, and crimes against humanity, casting a damning shadow over those orchestrating this devastating conspiracy.
High-Ranking Military Officers Take a Stand!
including captains, majors, and lieutenant colonels, step forward as whistleblowers. These fearless voices, protected by Congress and the Senate, are poised to expose deep state military generals involved in pushing the vaccine agenda, violating the Nuremberg Code, and committing crimes against humanity. The landscape shifts as reports emerge of certain generals resigning in anticipation of imminent investigations.
A Militarized Journey!
the resounding echoes of "it had to be this way" leave an indelible mark. As the United States teeters on the edge, one truth emerges: the path ahead lies with the military. Brace yourself for the trials that lie in wait. The destiny of our nation hangs in the balance, watched closely by the world with bated breath.
Rothschild Controlled Banking Collapse:
Afghanistan: Bank of Afghanistan
Albania: Bank of Albania
Algeria: Bank of Algeria
Argentina: Central Bank of Argentina
Armenia: Central Bank of Armenia
Advertisement
Aruba: Central Bank of Aruba
Australia: Reserve Bank of Australia
Austria: Austrian National Bank
Azerbaijan: Central Bank of Azerbaijan Republic
Bahamas: Central Bank of The Bahamas
Bahrain: Central Bank of Bahrain
Bangladesh: Bangladesh Bank
Barbados: Central Bank of Barbados
Belarus: National Bank of the Republic of Belarus
Belgium: National Bank of Belgium
Advertisement
Belize: Central Bank of Belize
Benin: Central Bank of West African States (BCEAO)
Bermuda: Bermuda Monetary Authority
Bhutan: Royal Monetary Authority of Bhutan
Bolivia: Central Bank of Bolivia
Bosnia: Central Bank of Bosnia and Herzegovina
Botswana: Bank of Botswana
Brazil: Central Bank of Brazil
Bulgaria: Bulgarian National Bank
Burkina Faso: Central Bank of West African States (BCEAO)
Burundi: Bank of the Republic of Burundi
Cambodia: National Bank of Cambodia
Came Roon: Bank of Central African States
Canada: Bank of Canada – Banque du Canada
Cayman Islands: Cayman Islands Monetary Authority
Central African Republic: Bank of Central African States
Chad: Bank of Central African States
Chile: Central Bank of Chile
China: The People's Bank of China
Colombia: Bank of the Republic
Comoros: Central Bank of Comoros
Congo: Bank of Central African States
Costa Rica: Central Bank of Costa Rica
Côte d'Ivoire: Central Bank of West African States (BCEAO)
Croatia: Croatian National Bank
Cuba: Central Bank of Cuba
Cyprus: Central Bank of Cyprus
Czech Republic: Czech National Bank
Denmark: National Bank of Denmark
Dominican Republic: Central Bank of the Dominican Republic
East Caribbean Area: Eastern Caribbean Central Bank
Ecuador: Central Bank of Ecuador
Egypt: Central Bank of Egypt
El Salvador: Central Reserve Bank of El Salvador
Equatorial Guinea: Bank of Central African States
Estonia: Bank of Estonia
Ethiopia: National Bank of Ethiopia
European Union: European Central Bank
Fiji: Reserve Bank of Fiji
Finland: Bank of Finland
France: Bank of France
Gabon: Bank of Central African States
The Gambia: Central Bank of The Gambia
Georgia: National Bank of Georgia
Germany: Deutsche Bundesbank
Ghana: Bank of Ghana
Greece: Bank of Greece
Guatemala: Bank of Guatemala
Guinea Bissau: Central Bank of West African States (BCEAO)
Guyana: Bank of Guyana
Haiti: Central Bank of Haiti
Honduras: Central Bank of Honduras
Hong Kong: Hong Kong Monetary Authority
Hungary: Magyar Nemzeti Bank
Iceland: Central Bank of Iceland
India: Reserve Bank of India
Indonesia: Bank Indonesia
Iran: The Central Bank of the Islamic Republic of Iran
Iraq: Central Bank of Iraq
Ireland: Central Bank and Financial Services Authority of Ireland
Israel: Bank of Israel
Italy: Bank of Italy
Jamaica: Bank of Jamaica
Japan: Bank of Japan
Jordan: Central Bank of Jordan
Kazakhstan: National Bank of Kazakhstan
Kenya: Central Bank of Kenya
Korea: Bank of Korea
Kuwait: Central Bank of Kuwait
Kyrgyzstan: National Bank of the Kyrgyz Republic
Latvia: Bank of Latvia
Lebanon: Central Bank of Lebanon
Lesotho: Central Bank of Lesotho
Libya: Central Bank of Libya (Their most recent conquest)
Uruguay: Central Bank of Uruguay
Lithuania: Bank of Lithuania
Luxembourg: Central Bank of Luxembourg
Macao: Monetary Authority of Macao
Macedonia: National Bank of the Republic of Macedonia
Madagascar: Central Bank of Madagascar
Malawi: Reserve Bank of Malawi
Malaysia: Central Bank of Malaysia
Mali: Central Bank of West African States (BCEAO)
Malta: Central Bank of Malta
Mauritius: Bank of Mauritius
The Brunson Supreme Court Case Regarding the Takedown of the Biden Administration and all of Congress.
Must Watch Videos:
[Note: Sensitive content in this report has been redacted. See redacted content in the full report attached below.]
Read Full Report (Doc):
Restored-Republic-via-a-GCR-6-3-2023Download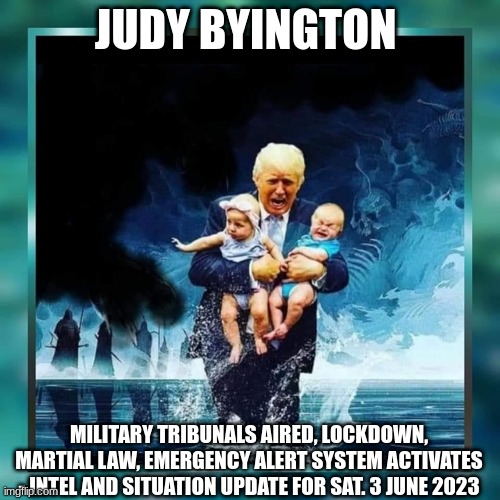 Before It's News®
is a community of individuals who report on what's going on around them, from all around the world.
Anyone can
join
.
Anyone can contribute.
Anyone can become informed about their world.
"United We Stand" Click Here To Create Your Personal Citizen Journalist Account Today, Be Sure To Invite Your Friends.