Judy Byington: Prepare for Black Swan Events, Global Communication Blackout, Martial Law - Intel and Situation Update For Fri. 2 June 2023 (Video)
Friday, June 2, 2023 10:33
% of readers think this story is Fact. Add your two cents.

by N.Morgan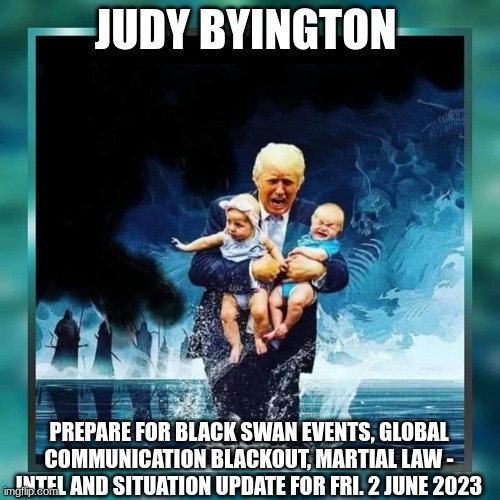 Compiled Fri. 2 June 12:01 am EST by Judy Byington, MSW, LCSW, Therapist ret, Journalist, Author: "Twenty Two Faces: inside the extraordinary life of Jenny Hill and her Twenty Two Multiple Personalities"
Prepare for
Black Swan Events
Emergency Alert System Activation
Global Communication Blackout
Worldwide Martial Law
Internet Closure – Star Link Satellite Activation
Global Currency Revaluation
It's only wise to have a month's supply of food, water, cash, fuel and essential items on hand.
"The Dream of a Nation"
November 07, 2021 – #4808 Music & the Spoken Word (thetabernaclechoir.org)
Veterans and those in uniform tend to give their best, serve nobly, give much to preserve and defend all that we hold dear. "The dream of a nation where freedom would endure" would still only be a dream if not for their selfless service.
This sacred responsibility to keep the dream alive belongs not only to women and men in uniform. All who are blessed by our nation's legacy have a duty to preserve and defend it.
Freedom has endured thus far through the work and prayers of centuries, and that's how it will continue. That work surely includes standing up for freedom and taking seriously our shared civic duty. It must include shunning contention, respecting and valuing others, listening to and learning from those different from us, and simply being neighborly and kind.
If we can do that, then perhaps someday our children and grandchildren will read about us and feel grateful and inspired – grateful for the legacy we've passed along, and inspired to preserve it for another generation.
Judy Note: A Worldwide Black Swan Event was soon expected that would cause activation of the Emergency Alert System, along with a Communication Blackout across the Globe under Worldwide Martial Law – that would be followed by Internet Closure and Star Link Satellite Internet Activation that would control a Global Currency Revaluation.
Global Currency Revaluation:
On Thurs. 1 June the Global Quantum Financial System's Fed ISO 20022 activated, meaning all electronic payments for 209 countries' financial network were now able to communicate with each other at lightning speed.
Thurs. 1 June Bruce: Last night all banks came online that had passed the Global Quantum Financial System's Fed ISO 20022 24 hour evaluation. Thousands of banks that didn't become Basil 3 compliant as of Thurs. 1 June would be closed. Thurs. 1 June Iraq came out with a new Dinar Rate that was being traded. Sunday night 4 June the new rate would quit trading and be settled. Bond Holders received their packages by FedEx starting Tues. night 30 May for 42 hours. They were starting up again on Sunday 4 June and would continue on for another 3-4 days. Tier4b notifications to set exchange/redemption appointments were pending for Sat. 3 June or Sunday 4 June.
Thurs. 1 June 2023 MarkZ: An international law enforcement contact said that there would be a massive "clean up" in many of redemption areas around the world starting at the end of next week.
Thurs. 1 June TNT Tony Rayren98 on Twitter: The new Dinar rate was international. Banks were told they would work this weekend.
Some say that that Tier4b notification would happen prior to a Emergency Broadcast System announcement of a 2-4 week communication shutdown, while Head of the Global Redemption Committee, Dr. Charlie Ward, indicated on his show that Tier4b notification would come after the EBS – which was expected to begin at any moment.
Thurs. 1 June 2023 Bruce, The Big Call The Big Call Universe (ibize.com) 667-770-1866, pin123456#
All banks came online last night that had passed the Global Quantum Financial System's Fed ISO 20022 24 hour evaluation. Thousands of banks that didn't become Basil 3 compliant would be closed.
On Thurs. 1 June Iraq came out with a new Dinar Rate. Sunday night 4 June the new rate would be decided and settled.
The Indonesian Rupiah was also on the bank screens.
Bond Holders received their packages by FedEx starting Tues. night for 42 hours. They are starting up again on Sunday 4 June and would continue on for another 3-4 days.
Tier4b notifications to set exchange/redemption appointments were pending for Sat. 3 June or Sunday 4 June.
The Emergency Alert System (EAS) will be a cover for Tier4b exchanges.
Restored Republic White Hat Intel: Near Death of Civilization Event in Play. Buckle Up. Prepare:
As we come into the Necessary Scare Event and Nuclear Standoff it's important to remember there are back channels that connect the real Chief and Commander in Cheyenne Mountain to Russian White Hats and Chinese White Hats – World White Hats connected to bringing down the CIA Rockefeller regime.
The CIA/FBI DEEP STATE were getting ready to pull off the CYBER-ATTACK of the century and getting ready to blame PATRIOTS and label them white supremacists. Remember the media, the fake Biden have said the biggest threat to the U.S. is white supremacists. They did this because they are going to blame the COMMUNICATION BLACKOUT on MAGA.
They want to end the investigations into Epstein, Hunter, exposure of Gain of Function, Pentagon involvement, Obama involvement, Clintons, exposure of Vax, Military Coup of 2020 stolen Election.
They know the dismantling of the FBI, CIA Rockefellers in the U.S. is happening and they are planning to stop the internet – shut down the Grid to cause major chaos.
PLANS are already under way for TRUMP to RETURN publicly as Commander in Chief (in real time TRUMP is the commander and Chief, and Cheyenne Mountain recognizes him as the true leader and authority over the Highest military commands).
Emergency Alert System and Communication Shutdown, Hal Turner News:
You will be given a 24 hour notice before the shut down in 17 strategic US cities
There will be no Mainstream Media broadcasts.
Prepare for 2-4 weeks of a shutdown – no school, work, shopping and Internet – to be replaced with new Internet on Star Link.
Prisons, jails, hospitals and other institutions with kitchens feeding people who cannot go elsewhere are being told they must have a ten day food supply on hand for supply chain disruptions. That would likely be the changeover to the QFS (Quantum Financial System). …Hal Turner news
Timeline: JFK Jr. Alert: 4 Important Dates Announced – Steve Jobs & Lady Diana Is Alive? (Videos) | Alternative | Before It's News (beforeitsnews.com)
The EBS and Martial Law was set to activate at any time worldwide.
On Thurs. 1 June US Inc. would default on it's debt, while at 8:00 EST the Quantum Financial System's Fed ISO 20022 would then activate – a universal language for global financial networks to communicate with each other. The 209 major countries would have their new gold/asset-backed currencies live on the Quantum Financial System and GCR Bond redemption would begin to be paid out.
Tues. 13 June Q's Timeline: (30 days from Mother's Day) MOAB attack on the King and Queen. https://m.beforeitsnews.com/alternative/2023/05/qs-timeline-revealed-t-minus-30-days-mothers-day-m-o-a-b-when-do-you-attack-the-king-queen-3792598.html …Q
Thurs. 16 June collapse of IRS and all tax orgs.
Sun. 18 June GESARA/NESARA announced during EBS Disclosure implementation.
Wed. 21 June Special Counsel John Durham to testify on his report to House Judiciary Committee (1788 became law on June 21).
Sun. 23 July Inauguration of Pres. Donald J. Trump and his VP, JFK Jr, a celebration where those in the World Protection Program would come out.
Tues. 25 July Queen Diana's Coronation.
In June 2023 the General Public would have access to Med Beds.
Overview of Redemption Process, Bruce
1. The redemption/purchase/redemption process has been streamlined and will be easy and straightforward. The appointment will last about 20-45 minutes. You'll be in and out quickly.
2. You will receive the relevant instructions for the appointment by means of a written message by email, or you may find it on various dinar websites.
3. Follow the instructions provided in the message or email, where you will be instructed which toll-free number to call (#800) and/or which website to access.
4. The call may ask you to verify who you are by answering questions based on publicly available information. This process is similar to when you present an online application to open a bank account or loan.
5. You may be required to electronically sign an NDA (Non-Disclosure Agreement/Agreement of non-disclosure). Read carefully so that you understand what you are accepting. The NDA is to protect you. Print a copy for your records and for future reference. At the appointment, you will sign a printed copy of the NDA.
6. When you call the #800 you will schedule an appointment for redemption of Zim Bonds or exchange of foreign currencies. The number you're calling may correspond to a region or specific location. You will be asked to provide the zip code that corresponds to your home or place where you want to carry out your appointment. If it is different from your home, so that you are directed to the nearest location.
7. When you call, you may be asked if you have Zimbabwe (Zim) bonds. This is because not all locations will be able to redeem Zim. Never say how much you have, and legally they can't ask.
8. You can redeem in any country. You do not need to make your exchange / sale / redemption in your city, state or country of origin. It is recommended that if you live in a small town, you redeem in another city where they don't recognize you. This is for your safety. No restrictions if you want to go to another country.
9. Bring to the Appointment:
2 photo IDs: driver's license, passport, government ID or anything with your photo
2 recent copies of statements, utility bills to verify your address.
If you are homeless or have no permanent address, explain this at the appointment.
Social Security Card and/or Birth Certificate. These may not be necessary, but wear it especially if you don't have a photo ID.
If you have a bank account with a level 1 bank (HSBC, Santander, BBVA, etc.) take your account number (a recent statement or blank check that has that information.)
If you have a trust, take a copy of the cover pages and the registration page, certified by a notary. They should need copies of those pages.
Currencies / Bonds: carry them separately by country and denomination, from large to small. If you have coins, place each one in a small plastic bag.
If you have a lot of coins or a lot of bonuses, it is recommended that you create a tally sheet of the amount of each coin/bonus you have.
10. Allow yourself plenty of time before. Identify where you are going and where you can park if you are in a big city/urban area. If you ask for a ride, ask someone else trusted or use a regular taxi service, preferably do not use Uber-type services, Didi or Lyft.
11. Don't share with anyone the purpose of your date or what you're doing.
The Real News for Thurs. 1 June 2023:
The Brunson Supreme Court Case Regarding the Takedown of the Biden Administration and all of Congress.
Latest on Brunson Case: With Waiver signed the Doors to the Supreme Court were now open a little wider. The Counsel for the 388 Defendants, Solicitor General Elizabeth B. Prelogar, in a one sentence "pass" to the court on May 24, 2023. This immediately opens the door for the nine Justices to consider the case in Conference (if not decided by June, then in October) when the Supremes vote behind closed doors on whether the Loy A. Brunson vs. Alma S. Adams, et al, case #22-1028 will be heard in the Supreme Court. http://www.cedarhillscitizens.org/in-loy-a-brunson-v-alma-s-adams-et-al-at-supreme-court/
https://t.me/BrunsonBrothersSCOTUS/466 https://www.supremecourt.gov/Search.aspx?FileName=/docket/docketfiles/html/public%5C22-1028.html
Ken and Barbie vs. Goliath IRS:
Must Watch Videos:
[Note: Sensitive content in this report has been redacted. See redacted content in the full report attached below.]
Read Full Report (Doc):
Restored-Republic-via-a-GCR-6-2-2023Download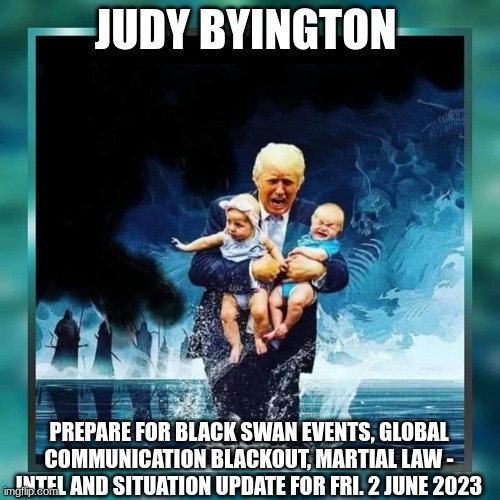 Before It's News®
is a community of individuals who report on what's going on around them, from all around the world.
Anyone can
join
.
Anyone can contribute.
Anyone can become informed about their world.
"United We Stand" Click Here To Create Your Personal Citizen Journalist Account Today, Be Sure To Invite Your Friends.