Norway Wants to Begin Deep Sea Mining in the Arctic: Here Is Why It's a Bad Idea
Wednesday, September 27, 2023 3:57
% of readers think this story is Fact. Add your two cents.

Human Wrongs Watch
By Maud Oyonarte & Oda Grønbekk | Greenpeace International*
— Despite being one of Earth's least known and least researched ecosystems, we do know the deep sea contains the greatest diversity of species on earth and is a vital carbon store. The oceans and the seabed are absolutely crucial for regulating the climate and important ecosystem processes.
A living sea is worth more than the minerals it contains.
The Norwegian Prime Minister and his Labour party colleagues are confronted by a giant purple octopus, measuring almost 14 metres from the tip of its head to the end of its tentacles, in the very centre of Oslo. The octopus, which was accompanied by Greenpeace Nordic activists with banners reading "Don't destroy my home" and "Stop Deep Sea Mining", is part of a protest against the Norwegian government's recent proposal to open up a huge area in the Arctic to deep sea mining.© Greenpeace / Will Rose
Yet, despite strong criticism from a number of countries, the environmental movement and hundreds of marine scientists warning of the risks of deep sea mining, the Norwegian government proposed in June 2023 opening up a large area in the Arctic for deep sea mining between Greenland and Norway.
The area they propose to open for mining is home to vulnerable whales, seabirds, fish and deep sea creatures that are still being discovered.
The Norwegian government claims this can be done with an "acceptable degree of environmental impact", but mining on the seabed cannot be done without harming the deep sea environment, according to warnings from, among others, the UN Environment Programme, the World's Economic Forum, the International Ocean Panel that Norway leads, the Norwegian Environment Agency (Miljødirektoratet) and the Norwegian Institute of Marine Research (Havforskningsinstituttet).
We are already in a climate and nature crisis: deep sea mining is totally unacceptable. Moreover, what happens in the Arctic never stays in the Arctic: this region is the air conditioner of the planet and we desperately need it.
Life in the deep sea and in coastal communities is vulnerable
A rich and unique animal life has evolved slowly in the deep sea, over millions of years. Scientists even believe this is where we can find clues to the origin of life on Earth.
This ecosystem is very vulnerable to disturbance, and scientists warn that mining would cause irreversible damage to the ocean and the species that live there. Hundreds of marine scientists have warned it risks huge damage and are showing increasing concern about the potential impacts on the oceans' capacity to act as carbon sinks if full-scale commercial mining would go ahead.
Deep sea Arctic sea creatures
In addition, mining can negatively affect coastal communities, particularly those dependent on fishing, and could have an impact on the natural process of storing carbon in the seabed.
Alarmed governments, led by Palau, Chile and France, havedemanded a moratorium, citing the potential ecological damage of deep sea mining.
Bulldozers on the seabed is a bad idea
On the Arctic seabed, deep sea mining would involve ripping up the thick, rocky crust of the seabed itself, called manganese crusts.
These crusts are up to 40 centimeters thick, and each centimeter of thickness is believed to have taken one million years to build up. In the Pacific Ocean, where deep sea mining is also being pushed (including by a Norwegian company), it would involve extracting polymetallic nodules (brown-black lumps containing several different minerals, usually the size of a potato, that are a vital part of the deep sea habitat).
These nodules are sucked up to a receiving vessel on the surface through a pipe several thousand meters long. Sewage and rock fragments are then discharged into the sea, resulting in huge underwater clouds of sediment, which in themselves risk suffocating wildlife.
The noise and light pollution from the machines could disturb and impact the wildlife in the sea, even in shallow water. Water conducts sound very well – the noise travels hundreds of kilometers through the water, and can be particularly harmful to marine mammals, such as whales and dolphins.
Deep sea minerals is not a solution
A successful just transition must not perpetuate the same extractivist model that has driven climate change. Minerals and metals for the green shift should be obtained from consumption reduction and better reuse of materials, not from the ocean depths, where brutal mining can cause irreparable damage to nature, like it already does on land.
At the same time as Norway wants to open up mining operations on the seabed, opposition to the industry is increasing internationally.
The EU has called on member states to refrain from mining on the seabed in their own sea areas. Sweden and Finland recently said no to mining on the seabed until there is more knowledge about the consequences.
Large international companies such as Google, BMW Group, Volvo and Samsung have said they would not use materials mined from the seafloor in their products and are calling for a moratorium.
In addition, the European Investment Bank (EIB) has excluded seabed mining from its portfolio for climate and environmental reasons.​​
What can we do to help stop deep sea mining in Norway?
We need to push the Norwegian government to give up its plan to start deep sea mining in the Arctic. To achieve this, Greenpeace International started by sending a direct message to the Norwegian Prime Minister while he was in New York, at a meeting where governments are signing the Global Ocean Treaty including Norway.
It didn't stop here, as Greenpeace Nordic activists confronted the Norwegian Prime Minister and his Labour party colleagues with a giant purple octopus, during the Labour party's National Board meeting in the very center of Oslo.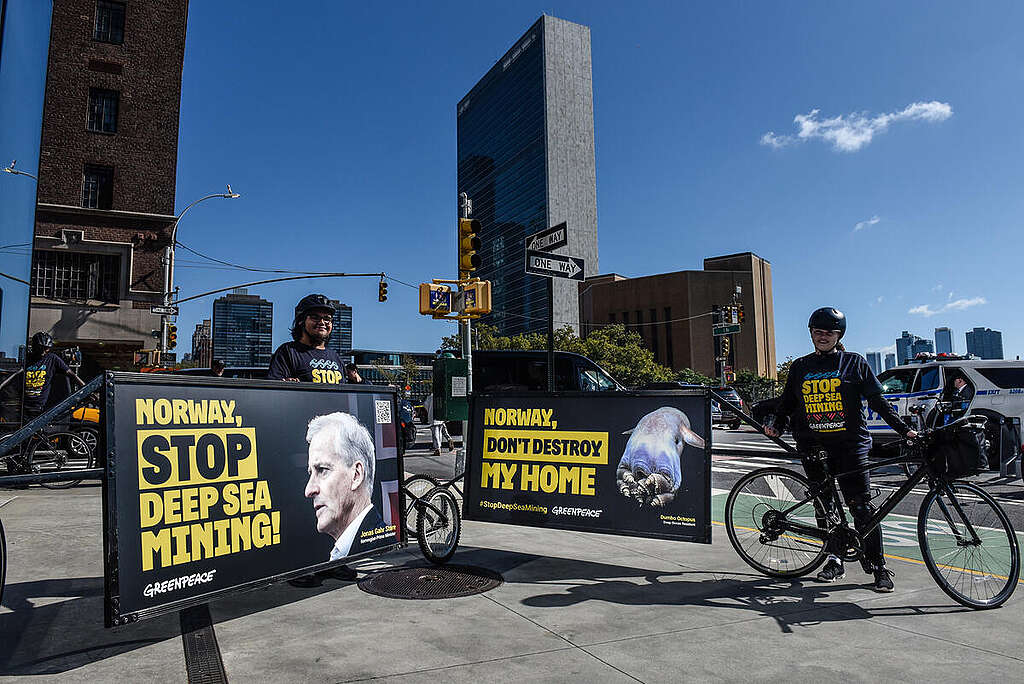 If Norway is serious about ocean protection, the government needs to forget about deep sea mining in the Arctic – or anywhere in the global oceans.
There are now 21 countries calling for a precautionary pause, a ban or a moratorium on deep sea mining. This is the growing trend, because they know how dangerous it could be to allow commercial deep sea mining to start. The oceans cannot withstand more destruction.
*SOURCE: Greenpeace International. Go to ORIGINAL: https://www.greenpeace.org/international/story/62650/stop-norway-deep-sea-mining-arctic/
Source:
https://human-wrongs-watch.net/2023/09/27/norway-wants-to-begin-deep-sea-mining-in-the-arctic-here-is-why-its-a-bad-idea/
Before It's News®
is a community of individuals who report on what's going on around them, from all around the world.
Anyone can
join
.
Anyone can contribute.
Anyone can become informed about their world.
"United We Stand" Click Here To Create Your Personal Citizen Journalist Account Today, Be Sure To Invite Your Friends.