Cat Cremation: Preserving Memories Of Your Beloved Pet
Sunday, June 4, 2023 5:51
% of readers think this story is Fact. Add your two cents.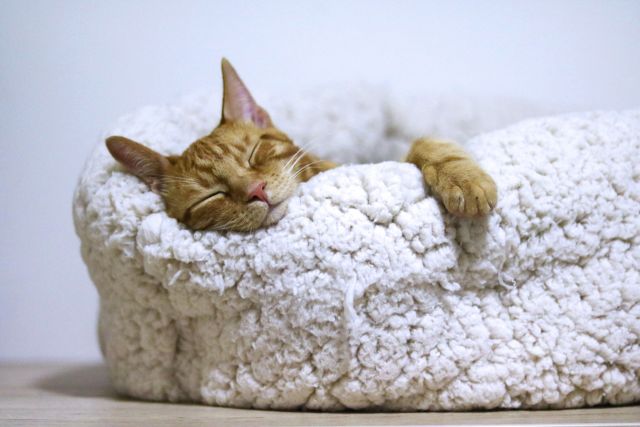 Losing a beloved pet is never easy. Your cat has been a loyal companion for many years, and the thought of saying goodbye is heart-wrenching. Although it may be tough to make the decision, cremation is a popular option for many pet owners. Not only does it allow you to keep your cat's ashes close to you, but it also provides a way to honor their memory.
The process of cat cremation involves the careful incineration of your cat's body, which is then reduced to ashes. This method is a respectful way to dispose of your pet's remains, and it also allows you to keep a part of them with you always. Choosing the right cremation services is important, as it ensures that your cat's remains are handled with care and respect. In this article, we will explore the process of cat cremation, how to choose the right cremation services, and ways to memorialize your cat's ashes.
The Process of Cat Cremation
You'll be taken through a step-by-step process that will help you understand what happens to your furry friend after they pass away. The first step in cat cremation is to bring your pet's body to a crematorium. Once there, the body will be placed in a cremation chamber, where it will be exposed to extremely high temperatures. This process will reduce your cat's body to bone fragments, which will then be crushed into a fine powder.
After the cremation process is complete, the remains will be placed in a cremation urn. Cremation urns come in various shapes, sizes, and materials, so you can choose the one that best reflects your cat's personality. Alternatively, there are other options for preserving your cat's remains, such as having them turned into a piece of jewelry or a keepsake. Whatever option you choose, know that your beloved pet will always be with you in some way.
Choosing the Right Cremation Services
Finding the right cremation services can be overwhelming, but it's important to choose a provider that aligns with your values and offers the right level of support. Begin by researching local pet cremation services and compare the costs and services they offer. Some providers may offer packages that include urns, while others may charge extra for this. Consider the type of urn you want for your cat and ensure that the provider has options that match your preferences.
Additionally, it's important to choose a cremation provider that offers the right level of support during this difficult time. Look for a provider that is compassionate and respectful, and that has a good reputation in the community. Read reviews from previous customers to get a sense of their experiences with the provider. By taking the time to research and choose the right cremation services, you can ensure that your beloved pet is treated with the care and respect they deserve, and that their memory is preserved in a way that honors their life.
Memorializing Your Cat's Ashes
After the cremation process, it can be meaningful to memorialize your feline friend's ashes in a way that reflects their unique personality and the love you shared. Creating memorials is a great way to honor your cat and keep their memory alive. You can choose from a variety of options such as customized urns, garden stones, or even paintings made with your cat's ashes. These personalized memorials are not only a beautiful way to remember your cat but also provide a comforting reminder of the special bond you shared.
Another option to consider is cremation jewelry. You can have a small amount of your cat's ashes placed into a pendant, ring, or bracelet, which you can wear and keep close to your heart. This type of jewelry is not only a sentimental keepsake but also a subtle way to carry your cat's memory with you wherever you go. No matter which option you choose, memorializing your cat's ashes is a touching way to honor their life and keep their memory alive.
Coping with the Loss of Your Feline Companion
Losing a furry friend is never easy, but pretending that their absence doesn't hurt won't make the pain disappear. It's important to allow yourself to grieve and process your emotions. Take the time to reflect on the memories you shared with your cat, and don't be afraid to express your feelings. Seek emotional support from friends, family, or a therapist if needed. Remember, everyone grieves differently, so it's okay to take as much time as you need to heal.
Coping with the loss of your feline companion can be a challenging and emotional journey, but it's important to focus on the positive memories you shared together. Consider creating a memory box filled with your cat's favorite toys, pictures, and other sentimental items. You can also honor your pet's memory by volunteering at a local animal shelter or making a donation to a pet charity in their name. Most importantly, be kind to yourself and know that it's okay to feel overwhelmed with emotions. With time and support, you can begin to heal and cherish the memories of your beloved cat.
Conclusion
In conclusion, you have made the difficult decision to cremate your beloved cat, but it was the right choice for you. The process of cat cremation is relatively simple and can provide closure for pet owners. By choosing the right cremation services, you can ensure that your cat is treated with dignity and respect throughout the process. And by memorializing your cat's ashes, you can keep their memory alive and close to your heart.
Losing a pet can be a devastating experience, but cremation can help preserve the memories of your feline companion. It may seem like a small gesture, but the act of cremation can bring comfort and closure to pet owners. So, take solace in knowing that your cat will always be with you in spirit, and cherish the memories you shared together. It's a reminder that the love we have for our pets is immeasurable and everlasting.
If you're considering cremation for your beloved feline, it's worthwhile to do some research first. CatCremationHub.com can provide a great deal of insight into this matter, so you can be well informed and educated about the process.
Before It's News®
is a community of individuals who report on what's going on around them, from all around the world.
Anyone can
join
.
Anyone can contribute.
Anyone can become informed about their world.
"United We Stand" Click Here To Create Your Personal Citizen Journalist Account Today, Be Sure To Invite Your Friends.