USA USA USA 7 From the Rooftops 9
Thursday, April 13, 2023 6:53
% of readers think this story is Fact. Add your two cents.

Fight the GOOD fight Leo
Matthew 10:26"Therefore you shall not be afraid of them, for there is nothing covered that will not be revealed, and hidden, that will not be known."
28th JANUARY 2011…..!!!!!
Feel free to SHARE ALL OUR ARTICLES >>>EOC Articles HERETRUTHCopyright 2021 ©
CLICK THE VIDEO BELOW TO WITNESS HIS ARRIVAL…..!!!!!
BIBLICAL HISTORIC NEWS. AND JUST IN THE NICK OF TIME…..!!!!!
TROC Reading Chapter 7 The Jerusalem UFO event
www.lordrayel.org <<"TRUTH". AND DON'T FORGET TO SHARE, SHARE, SHARE, SHARE, SHARE. For the "TRUTH" you have been searching for all your life.
Christ/Isa/HaMashiach has returned and is walking the earth today. And the script is not playing out as most if not ALL religions were expecting. His name was not Jesus 2000 years ago It was Yeshua. (Google it). Yeshua means salvation. It was an insult requested by the Pharisees that the Romans carried out for them." Because the Pharisees did not want the title of "The king of the Jews" to be put on the cross. Also, the letter J was not even in use until the 1600′s A.D.Yeshua died for and because of all mankind's sins. And salvation and redemption can only be achieved through Christ:

John

14:

6

: Yeshua said to him, "I AM THE LIVING GOD, The Way and The Truth and The Life; no man comes to my Father but by me alone."

In fact, the name Jesus is the profaned name referred to in

Ezekiel

39:

7

"And my holy name I will make known in the midst of my people Israel, and I will not let my holy name be profaned anymore. And the nations shall know that I am the LORD, the Holy One in Israel.

8

Behold, it is coming and it will be brought about, declares the Lord GOD. That is the day of which I have spoken.

"Make known in the midst of my people IS-

RA-EL

"
The whole world apart from the few elites has been deceived by Satan's deception
Revelation clearly states that Christ would return with an unknown name.
REVELATION 19:12-13. 12And his eyes were like flames of fire, and many diadems were upon his head and he had The Name written, which no one knew but he alone.13And he wore a garment soaked with blood, and his name is called The Word of God. Ra=Word El=God in Egyptian Hebrew(very important). Yeshua's same spirit has returned as Lord RayEl/Christ RayEl/King RayEl and he returned on the 28th of January 2011. In the 4 minute video above. You can actually witness Christ RayEl's holy spirit descending over the dome of the rock in Jerusalem, fulfilling the scripture of Acts 1:11: And they were saying to them, "Galilean men, why are you standing and gazing into the sky? This Yeshua, who was taken up from you into Heaven shall come in this way, as when you saw him going up into Heaven." And Matthew 24:27: For just as lightning goes out from The East and appears unto The West, so will the coming of The Son of Man be. . He has fulfilled many biblical prophecies since. Which you can read about if you click >>>HERE<<<. Also, all can be read in the most controversial "THE RETURN OF CHRIST" book by Angelus Domini. All of Christ's actual teaching, "YES" the true "CHRIST" teachings can be read here either for FREE* or from Amazon below. But you have only got to look around you to KNOW there is very little time left before the "GREAT RESET".
NOW ITS WAR "AND" PEACE…!!!
"IF" Matthew Lovell (The only way is ethics)
Matthew

10:34 Think not that I have come to bring peace in the earth; I have not come to bring peace, but a sword. 35I have come to divide a man against his father and a daughter against her mother and a daughter-in-law against her mother-in-law, 36And a man's enemies will be the members of his household.
Jane Casson The Blood sacrifice
The REAL truth on why ALL Christians think the way THEY do…!!!
Today is the 11 year anniversary of the return of Christ. Most people say, "What has he done for these 11 years." Well, the answer to that is "TAKE A GOOD LOOK AROUND YOU, AND SEE THE TURMOIL THE WORLD IS CURRENTLY IN." Then re-read the Matthew 10:34-36 Scripture above, and tell the (EOC=Ecumenical Order of Christ) that scripture is not being fulfilled. In FACT the scripture: Matthew 7:21It is not everyone that says to me, 'My Lord, my Lord", who enters the Kingdom of Heaven, but whoever does the will of my Father who is in Heaven. Applies to all. However, the Temple has ALREADY been constructed. AND is NOT of this earth see: John 18:36Yeshua said to him, "My Kingdom is not from this world; if my Kingdom were of this world, my servants would be fighting that I would not have been delivered up to the Judeans, but now my Kingdom is not from here." Although the Rabbi's have been warned, some of the people have been warned, the Knesset has been warned FOR 11 YEARS NOW. Jerusalem is The LDS/JW's would be much better off investing THEIR time and money into paying TRIBUTE to THEIR Lord and KING-Lord RayEl. Opportunity to donate below. … Also at Baja, Mexico. Miracles happen every day so one never knows.
So one more time for the cheap seats:
Why does Christ need the money???
The question I am asked the most is: Why does Christ need money?
People say that 2000 years ago he didn't need money. When in all reality, there are reports in the bible that he was a carpenter until he started his ministry when he turned 30. So yes, he did need money.
The truth is, that Satan has made modern-day society dependent on it for most. So that people are slaves to the system. Some people very, very highly regard money as their God. They are only motivated by greed and material things. And Satan's biggest tool is the TV and media advertising, which forces the weak to want more and more. There was a study in cinemas in the '50s in the USA where they would flash up on the screens for a fraction of a second: "Drink more coke, and eat more popcorn" and sales went up approx 75% in the foyers.
The Tavistock Institute in London has been responsible for the mind control of humans for some time now. Although the image they portray of themselves to the public is quite the opposite. So what I am trying to explain is that hu-mans, automatically assume that having lots of money will bring them joy and happiness. When this is simply not true. Haggai 2:8 states: Mine is the silver and mine is the gold, says LORD Yahweh of Hosts. This is true, Almighty God WILL have the Gold and silver before the script plays out. In fact, all silver and gold will be thrown into the streets by people as they will soon understand that they should have paid tribute to the Lord: See Ezekiel 7:19 They shall throw their silver into the streets and their gold. Their silver shall be despised and their gold cannot save them in the day of the anger of LORD Yahweh. Their souls will not be satisfied and they shall not fill their bellies. This suffering is the reward of their evils… But and it is a BIG BUT. Money soon will have no intrinsic value to anyone. So whilst it still has value to humans. One can show one's loyalty, honour, and respect to Christ by tithing. Tithing to the Lord is biblical. You can find it in several places in the old testament. In Leviticus, Numbers, and Deuteronomy. Yes, it goes back before Christ's existence. And "IF" you accept Christ RayEl as your Lord and King. It is only rightful that one tithe. The day will soon come when ALL will realize "we cannot eat money."… And also keep in mind Matthew 4:4 But he answered and said, "It is written: 'A man does not live by bread only, but by every word that proceeds from the mouth of God.' "
Food for thought…!!!
Tribute addresses
PayPal: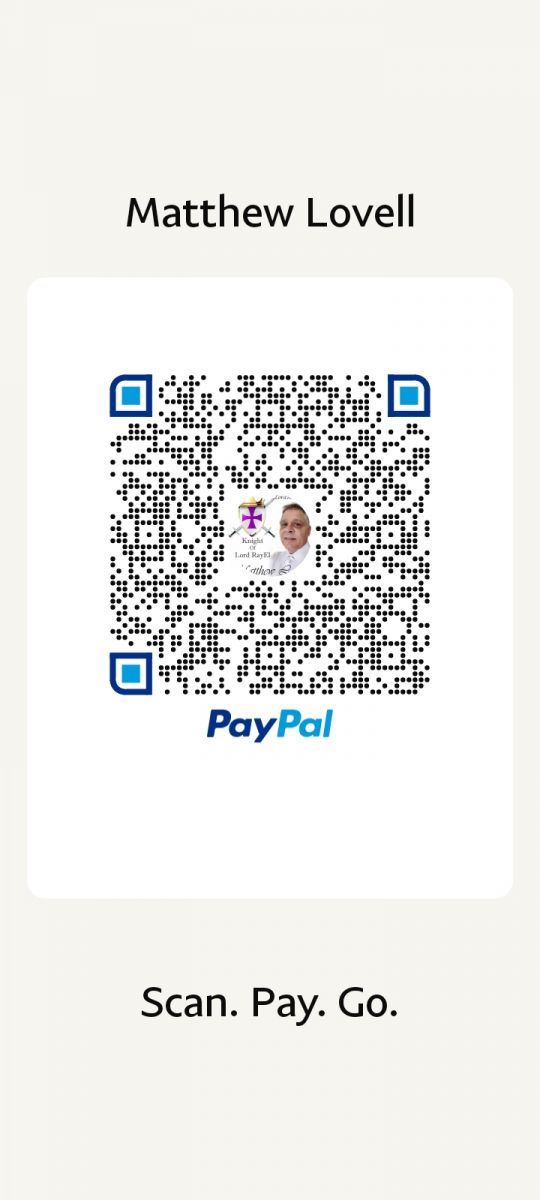 Revolut
@mattheyie1
Bitcoin QR code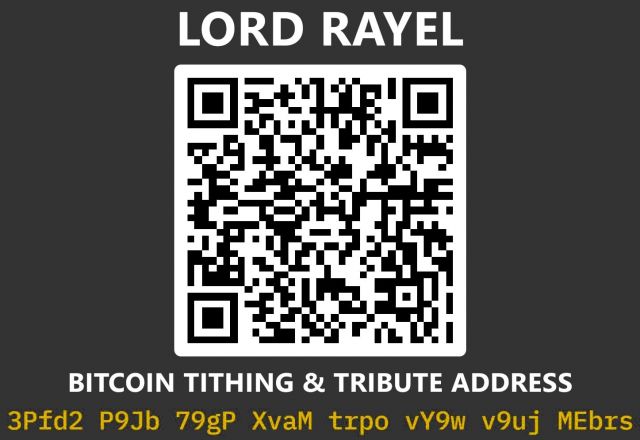 All Tithes go to the E.O.C
Warnings from Lord RayEl
Above/Below HEED THE WARNINGS… THIS IS SERIOUS…!!!
REPENT! THE KINGDOM IS NIGH…!!!
https://lordrayel.org << Christ RayEl's Official website
www.torah-codes.net << Official proof website
JOIN HIM OFFICIALLY HERE >>> Followers of the returned Christ.
JOIN HIM HERE>>> https://www.facebook.com/groups/ICoLR/
JOIN HIM HERE>>> https://vk.com/congregation_of_lord_rayel
TEACHINGS HERE>>> https://vk.com/club189830295
TEACHINGS HERE>>> https://www.facebook.com/groups/RayEliteTeachings
King RayEl has fulfilled many biblical prophecies since. Which you can read about if you click >>>HERE<<<
LINK TO PURCHASE BELOW
LINK TO PURCHASE THE RETURN OF CHRIST BOOK OR KINDLE
LINK TO PURCHASE ABOVE
*(PREMIUM Kindle or paperback + Amazon 5* reviews U.K)*
REPENTANCE IS A REQUIREMENT
RayEl can and WILL save the world.
TRUTHCopyright 2023 ©
Before It's News®
is a community of individuals who report on what's going on around them, from all around the world.
Anyone can
join
.
Anyone can contribute.
Anyone can become informed about their world.
"United We Stand" Click Here To Create Your Personal Citizen Journalist Account Today, Be Sure To Invite Your Friends.