It Appears There May Have Been Some Substance to Trump Having a Back Door into the Hammer
Tuesday, November 10, 2020 5:07
% of readers think this story is Fact. Add your two cents.

t appears there may have been some substance to Trump having a back door into THE HAMMER, which allowed him to watch the election get stolen in real time. Trump fired the most appropriate people today, with hopefully more firings soon. Barr opened up a major investigation into vote fraud (don't hold your breath on that) but there are many other efforts underway also that won't be as corrupt, and as a result, many states are flipping to either neutral and there was a rumor that for at least a short time they flipped Wisconsin to Trump. There's an enormous problem with this particular stolen election, and it can be summed up in two words:
COMMON CORE.
There are a few other words, like "ludicrous" "greedy" "sloppy" and "arrogant" that are also in play, but "common core" are the words that are going to nail them. You see -
If you are going to steal an election as boldly as this one was stolen, it has to be kept water tight. That's not what happened. The IDIOTS they had hired really thought the dumpster was the end, and they threw TONS of Trump votes into dumpsters, under rocks, you name it – because they had childish intellects and could not figure out how that would backfire. They could not understand that posting brag videos about tearing up Trump ballots, WHILE THEY TORE THEM ON CAMERA, might backfire. Additionally, Giuliani's speech was held in front of Total Landscaping, which had security cameras that nailed the DNC dragging Trump ballots into a nearby crematorium and burning them there; an unexpected bonus that was the result of arrogance, sloppiness, and poor planning.
Anyway, that is water under the bridge, but what is happening now is PANIC and almost all the swing states are now finding enough Trump votes to flip their states to Trump.
But the plot gets thicker: As far as I can tell, in exchange for flipping the states Trump has lawsuits in now, plus federal investigators, the left is attempting to flip Texas and Florida to Biden because there are no investigations there. I don't know how they plan to get away with that but it was somewhat apparent, through "spidey senses" that they are going to pull that crap to keep the litigation going until Nancy can take the helm. I don't think that will work though. Flipping those states would only trigger more investigations, and now that Trump is on a war path it looks like he's going to make major ground. Biden has already been dropped to 259 electoral votes (out of at most 8 or so that he should actually have) but it's a start, and if it sticks it will be enough.
Meanwhile, Biden got ZERO cash and NO KEYS to begin his transition into the white house. That's HUGE. Another thing that is quite flagrant right now is how Fox News thinks they can win this election for biden just by cutting off anyone who mentions vote fraud, including today and days gone by with Judge Jeanine. Fox is so clearly in the trash they don't need to do anything more to stay there forever, they are going down like Drudge.
Now, I have no proof of this, but here is what I think is going on: Trump had access to a PILE of classified systems that watched the election fraud in real time. He cannot mention that because those systems are classified, which means they'll never be spoken of EVER. they will always be kept gray. But the way the left is now scrambling in panic over fear of being busted is quite telling. And it's not the woman who's dog voted that did it, it is not any video of fraud that did it, it is nothing of that sort that did it because that can all be swept under the rug with Roswell. However, actually being held accountable while CNN ignores it does make them fearful, CNN ignoring it won't keep them out of trouble.
There is something I'd like to mention that I keep forgetting and have been forgetting to mention:
In his election night speech (that resulted in the death of a computer when I tried to download it to prevent it from being buried) Trump explicitly and I mean explicitly stated that the election would be stolen that night "by a bunch of ballots that suddenly show up at 4 AM." And what happened? We got video and testimony of that exact thing – a couple hours after he said it would happen – ballots being rolled in at 4AM, ballots that flipped the vote. QUESTION: Did Trump know that because those stealing the election got totally surveilled and punked??? If so, HEADS ARE GONNA ROLL. And you'll never hear about it, because the FOX is guarding the hen house.
UPDATE: TRUMP DID PUSH THE LAWSUITS AND TRUMP DID START FIRING PEOPLE, GAME ON!!!!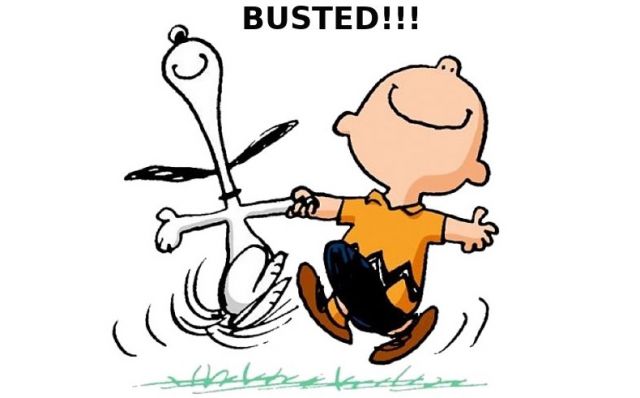 You'll get frustrated watching this one minute video, but watch it to the end, wait for the punch line! Time is running out for this video, Twitter is definitely not going to let this one live.
If they succeed in stealing this election -
GOOD NEWS: TRUMP HAS STARTED THE FIRINGS.
So far it is limited to national defense, with the firing of Mark Esper.
But there is more: Trump will now be holding rallies to fight the steal. This is BIG, and EXACTLY the right thing to do. Waiting for updates, ONE FIRING DOWN, 2 TO GO. This HAS TO be done if any battle to stop the steal is to be effective.
A woman had a service dog who was being trained at a local college and was therefore registered as a student. The dog's electronic ID tag had a number format that matched a social security number. The college had it's database searched by those who stole the election, they took EVERYONE at that college, registered them to vote, and voted for them, INCLUDING THE DOG. The woman then received an e-mail telling her that someone under her dog's name and age of 18 had voted and that it was a registered vote. She then checked her own legitimately cast vote, and it was not counted.
I obviously have this one saved and when it vanishes, I'll serve it from here.
I embedded this one, because it is just too preposterous:
If they succeed in stealing this election -
What is done on this site will shift from being conspiracy news to focusing on where Americans can go to avoid genocide. It will happen quick. If Kamala and Biden "suddenly deliver" on that wall that "Trump failed to put up", the only reason will be to lock Americans in so they are cornered and can be killed off. I am not kidding, it is THAT serious.
IF they succeed in stealing this election, it will prove that both sides of the government are so corrupt they endorse genocide. Communists ALWAYS commit genocide EVERY time they take over a society, with Russia and China being the best examples. Wake up call: America is on the edge of being the best example EVER. Their target? 220 million. And it will all happen with people in medical suits carting away "Coronavirus victims". They used coronavirus to steal this election and WILL use it as cover for the subsequent genocide. If Trump does not make it amongst all this obvious out in the open fraud, it will mean that a majority of the government does not care about the next election, because if you supported Trump, you won't be around to vote.
MARK MY WORD: If Trump does not file lawsuits TODAY, en masse, as stated, he has traitors in his immediate circle of association and it will be GAME OVER. Don't place bets on Giuliani being trustworthy, he's still lying about 911 and may have done the Hunter Biden leaks to make good and sure it is Kamala that gets inaugurated.
If Trump does not file lawsuits today, and gun owners do not respond by the end of November, you had better pack your bags if you are a registered Republican because they will definitely be coming for you and their stated objective, posted right here on this page, with them saying it live on video, is YOUR ELIMINATION to prevent you from ever voting again. You have been warned, you will HAVE TO flee the United States.
Here is the reality we are living in: After the most rigged election in history, the only people arrested were poll watchers who tried to stop it. LET THAT SINK IN.
PAYPAL IS LIKELY RUNNING A FUNDING DELETION SCAM AGAINST CONSERVATIVES
I posted the following on this front page, and magically all the captcha bullshit on Paypal vanished! IF YOU TRIED TO DONATE AND IT IS NOT SHOWING ABOVE, RECLAIM OR AT LEAST CHECK WHAT HAPPENED, THIS ONE WAS OBVIOUS.
Here is how it works: Suddenly yesterday, I started having to pass captcha security checks, a minimum of 2 at every login and up to 12. There's no reason for this other than to stall login long enough for someone else to ride your original log-in into your Paypal account, and "take care of business". When they finally allow you to pass the captcha checks it is because your balance will be zero.
And when I tried to bitch about this, there is no way, Paypal has it all contained where you can only issue a complaint about someone else, and never tell them there is anything wrong with them.
If you depend on Paypal and suddenly it's all captcha it means you are being robbed, with your first login attempt before captcha simply being a warning someone has to hit your account and take care of it before you get in. They'll stall you with as many captchas as it takes for them to finish. That is one way communists are going to destroy their opposition.
I FINALLY got a way to "secure Paypal," and Paypal responded by throwing up a multitude of captchas for every log in, to give someone time to empty the account. That's a FACT, and after posting this, the captchas vanished!
ANOTHER VIDEO THAT PROVES WHY THEY ARE DELETING ELECTION NIGHT COVERAGE SURFACED:
This one shows a 19,958 vote flip from Trump to Biden live on TV. Trump's dropped by 19.958 while Biden's increased 19,958 which proves software was managing election theft.
The software keeps total votes consistent so they match, while they switch votes from one to the other. This is exactly why they want all the election night coverage buried. This cinches it. GAME OVER.
The previous post about Kushner "encouraging Trump to concede" may have been an error, that part of it anyway, the rest still stands.
Mexican President Lopez Obrador refuses to acknowledge Biden as President.
I told you he was good!!!
Evening October 8: Is Trump a master of political Pokemon??? He says HE CAUGHT THEM ALL
A MESSAGE TO THE MORMONS: YOUR OWN PROPHET STATED CLEARLY THAT IT WOULD BE THE BRETHEREN OF THE CHURCH THAT SAVED THE CONSTITUTION WHILE IT WAS "HANGING BY A THREAD". TRUMP DID THE DIRTY WORK, YOU JUST NEED TO CLOSE IT UP. An EXTREMELY disproportionate number of Mormons work in intelligence, including the CIA and FBI – AND OTHER agencies that can make a difference, it might have to be YOU that saves the constitution. NOT DOING YOUR JOB AT THIS TIME, WHEN TRUMP NEEDS YOU TO SAVE THIS CONSTITUTION WHEN IT IS HANGING BY A THREAD WILL DEFINITELY BE YOUR HELL SENTENCE, DO YOUR JOB. BE THE HERO YOUR PROPHET SAID YOU'D BE:
DO YOUR GOD GIVEN JOB, EVEN IF IT MEANS VIOLATING YOUR CHAIN OF COMMAND AND TAKING OUT THE TRAITORS FROM WITHIN, GOD PUT YOU THERE FOR A REASON. THE FUTURE OF THIS COUNTRY IS VERY LIKELY UP TO YOU.
HEY MITT, I THINK YOU ARE SH*T. ESPECIALLY AFTER YOU WERE THE FIRST TO CONGRATULATE BIDEN AND TOLD THE WHOLE COUNTRY TO SUPPORT THAT FRAUD. WANNA GO TO HELL? YOU ARE ON YOUR WAY DOWN BUDDY, THE CHURCH SHOULD KICK THE DUST OFF IT'S SHOES AND SEND YOU PACKING. You cut that thread a little bit thinner. YOU HAD BETTER THINK TWICE.
We are indeed at a crossroads where the GOOD Mormons just might make the difference. I firmly believe that's why the totally corrupted hell spawn that became Mitt was the very first to congratulate Biden and told Americans to stand behind HELL FRAUD BIDEN, - to have influence on the GOOD Mormons who are strategically and disproportionately placed to save this. Don't fall for piece of shit Mitt. DO NOT FALL FOR MITT.
BLOATED TOAD: SPREAD THIS MESSAGE.
Best social media post of the day was by Donald Trump Junior:
We went from 4 years of Russia rigged the election, to elections can't be rigged really fast didn't we???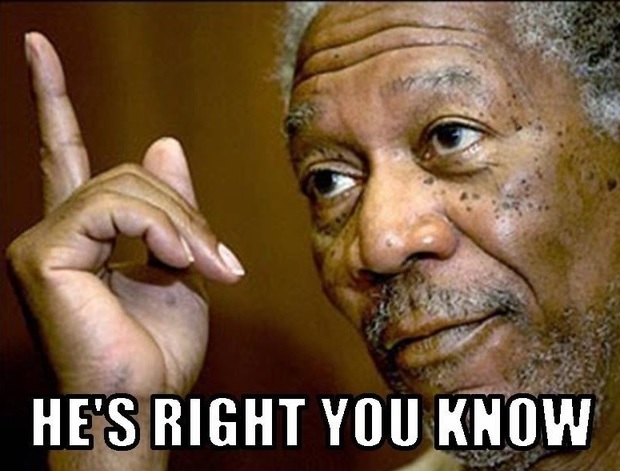 RUMOR:
After Trump made it PERFECTLY CLEAR he "caught them all" Georgia suddenly found 132,000 disqualified ballots that may hand Trump Georgia. And low and behold, Wisconsin suddenly started talking about "improper procedures" that may hand Trump Wisconsin too! And at about that time, Pennsylvania found another "software irregularity" that was very favorable for Trump.
FACT: The actual vote totals were probably somewhere around 25/75 in favor of Trump, and despite the rigging to hide that he was WAY AHEAD when they suddenly shut down the polls and it just is not going to go away. Consider who stole this: Total lowlifes that were often illiterate. LET COMMON CORE BE A VICTORY, it may well be that the common core curricula spawned such incompetence that it WRECKED THE STEAL.
You don't need 75 percent to prove a steal, this alone ought to do it: The numbers below were when they pulled the plug on the theft sofware which was overwhelmed and they then had to shut it all down to manually steal the election. It is highly probable the theft software had failsafes in place that stopped it from committing obvious fraud (because it was written for stealing foreign elections and it could not be completely obvious) and the common core crowd said TO HELL WITH THAT and manually stole it.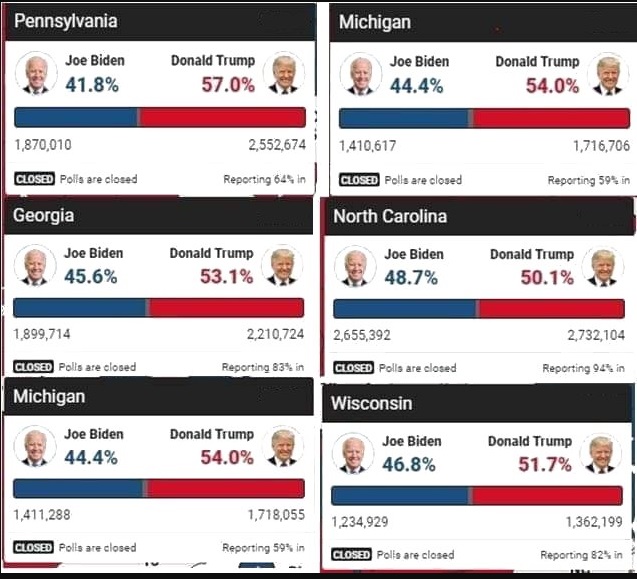 Before It's News®
is a community of individuals who report on what's going on around them, from all around the world.
Anyone can
join
.
Anyone can contribute.
Anyone can become informed about their world.
"United We Stand" Click Here To Create Your Personal Citizen Journalist Account Today, Be Sure To Invite Your Friends.