Pentecost Last Days Arrival
Friday, May 26, 2023 0:21
% of readers think this story is Fact. Add your two cents.

Pentecost Last Days Arrival Internet outages & satellite phones *intel Ten days removed from Christ's ascension, all the disciples gathered in Jerusalem. Without warning, something like a gusting wind rushes through the house. "Divided tongues as of fire" (Acts 2:3) appear and rest on each of them. Pentecost. God's Spirit had arrived in his fullness.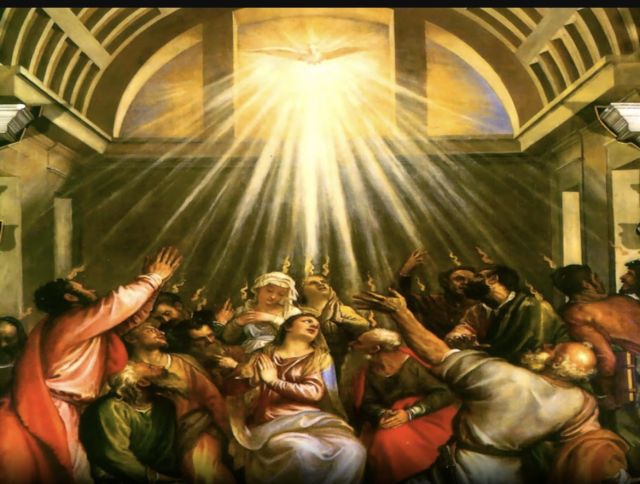 First of Last Days
This multinational collection, perplexed by these strange events, asks precisely the right question: What does this mean? Scoffers suggest the disciples may have broken into the wine cellar a bit early, but Peter—recently too afraid to even acknowledge Christ—lifts his voice to answer.
Peter takes the Scriptures his hearers already believe and shows how they point to Jesus as the "yes" to all God's promises. In the process, he gives us a marvelous glimpse into how the apostles—recipients of a post-resurrection lesson in biblical interpretation from Jesus himself (Luke 24:44; Acts 1:3)—understood the Old Testament as finding its ultimate meaning in Christ.
Peter starts with Joel 2:28–32, where the prophet looked forward to the last days when God would grant new-covenant blessings and pour out his Spirit on all his people. No longer will the Spirit only dwell on special, anointed leaders. He'll be with and within young and old, men and women, slave and free—every covenant community member.
The last days Joel anticipated have arrived, and the Spirit the prophet longed for has been given. The God who dwelt among in Eden, in the temple, and in Christ will now dwell within by his Spirit. The "wonders in the heavens above and signs on the earth below" (Acts 2:19, citing Joel 2:30) signal the arrival of the day of the Lord, God's intervention in history for judgment and salvation.
Intriguingly, these wonders and signs match many of the descriptions surrounding Jesus's death and resurrection (Matt. 27:45–54; 28:2). Why? Because the day of the Lord broke into history at the cross when God judged sin and worked salvation for his people. And now in these last days, every person who calls on Christ's name in faith will be blessed with the Spirit and reconciled to God.
7 Prophetic Promises to Expect in This Pentecost Season
1. Peace upon Israel. "Pray for the peace of Jerusalem: May they prosper who love you!" (Ps. 122:6).
Nearly every year around this Pentecost season, we see something significant take place in the Holy Land. This is not a coincidence but has to do with God's sovereign timeline of appointed feasts and seasons.
Even in this time of turmoil and crisis among Israel and the surrounding nations, expect peace to come upon Jerusalem! Expect a ceasefire and a demolishing of all enemy forces!
2. Promotions in the Spirit. "When the day of Pentecost had come, they were all together in one place. Suddenly a sound like a mighty rushing wind came from heaven, and it filled the whole house where they were sitting" (Acts 2:1-2).
After a period of 10 days from Christ's ascension and prophecy of promise, there was only 120 who remained in the upper room in Jerusalem out of the initial 500 who had seen and heard.
God is promoting you in the Spirit to receive what you've paid the price for. Those who have pressed through and pushed past the attacks will gain double favor and honor!
3. Positions of authority. Moses was called up to Mount Sinai to receive the Ten Commandments, the Law of God, and Peter stood up amongst the crowd and preached with authority before all.
In this Pentecost season, God is anointing certain individuals and ministries to rise up with a new seat of authority and power.
4. Prayers accelerated. "There appeared to them tongues as of fire, being distributed and resting on each of them, and they were all filled with the Holy Spirit and began to speak in other tongues, as the Spirit enabled them to speak" (Acts 2:3-4).
Pentecost is a time of awakening and renewal. The Holy Spirit baptized the Acts church to speak in heavenly languages.
Your prayers will be effectual and will accelerate God's kingdom purposes.
5. Power to dismantle demonic forces. "Then those who gladly received his word were baptized, and that day about three thousand souls were added to them" (Acts 2:41).
On the day of Pentecost, 3,000 souls were swept into God's kingdom from the blindness and the spirit of the age.
Pentecost is the promise of God's might and power that lives within each and every individual, to dismantle and disrupt all evil forces that surround you.
6. Purity of God's purposes. The baptism of the fire of the Holy Spirit stands for God's purity and holiness. God is purifying the church from having mere good religious services to becoming a glorious bride of power and beauty.
God is purifying His people from false alignments, connections and idolatrous religious forms and traditions.
7. Prosperity of God's people. Every biblical feast has to do with harvest. It is a time of celebration and feasting on God's abundance, goodness and provision.
This Pentecost season will bless and benefit the people of God with a long and overdue harvest of prosperity and jubilee joy!
Before It's News®
is a community of individuals who report on what's going on around them, from all around the world.
Anyone can
join
.
Anyone can contribute.
Anyone can become informed about their world.
"United We Stand" Click Here To Create Your Personal Citizen Journalist Account Today, Be Sure To Invite Your Friends.