Entrepreneur Jason Nissen: Don't Forget This Crucial Aspect of Effective Communication
Monday, June 5, 2023 20:22
% of readers think this story is Fact. Add your two cents.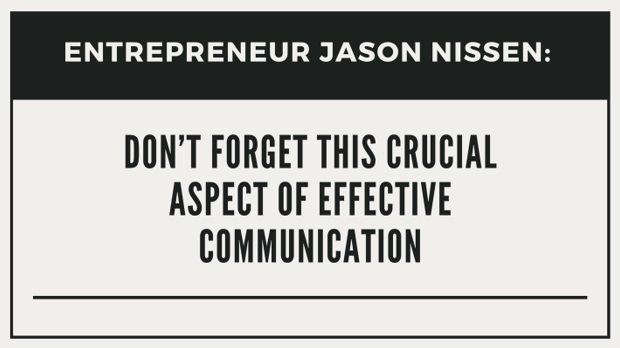 Entertainment and media entrepreneur Jason Nissen explains why body language is an often-forgotten but crucial aspect of communication in business
​​Imagine yourself in this scenario: you have just settled down in a meeting at work, and someone has begun to give a presentation. At the start they have your full attention, but you soon find your thoughts drifting elsewhere, and you have trouble remaining focused. Looking around the room, it is clear that the feeling is mutual. Someone is checking their email, another is starting off into space – they fidget, pick at their clothes, fiddle with their pens – these are all signs of an audience that has failed to be captivated.
The next time you find yourself in a similar situation, try to observe the speaker's actions and movements. Is their posture slouched, or are their hands in their pockets? Are their arms stiff at their sides, maybe clenched into fists? Have they hunched themselves forward, shoulders rounded and staring down at their paper rather than making eye contact with those around them?
In this scenario, both the audience and the speaker have illustrated the power body language can have in communication. The audience is losing focus due to the presenter's disinterest and insecurity, making it difficult to engage, but luckily a quick adjustment can quickly save the situation. With a solid understanding of nonverbal communication, the presenter could pick up on the cues their audience is giving them and adjust their movements and posture, regaining attention as a result.
According to Jason Nissen, an entrepreneur with over 25 years of experience building companies, an understanding of body language has been vital to his success as a business leader. Nissen has worked at an international level marketing and organizing events across a number of industries including the Super Bowl, Coachella and Hamilton on Broadway.
An executive with his finger on the pulse of the entertainment world, Nissen has become known as a leader within the industry who can build teams and drive results. Below, we explore further with him what body language is and how you can improve yours for more impactful communication.
What Is Body Language?
In order to take full advantage of body language, it is important to recognize that it entails much more than the way you move or hold yourself. It is all the nonverbal cues you display, including facial expressions, tone of voice and gestures.
Nissen says that the ability to read and project these cues is what helps us to understand and decode what we are saying to each other. When we are conscious of others' (and our own) body language, it enhances our understanding of peoples' reactions to what we say, and how we say it.
A seminal study conducted by body language expert Albert Mehrabian found that words account for just seven percent of communication, with tone of voice taking up 38 percent and body language 55 percent. This means that over 90 percent of the way we express ourselves is not in what we say, but how we say it.
How We Communicate Nonverbally
Nonverbal communication can be broken down into a number of different subtypes. These include:
Facial Expressions
The muscles in the human face have evolved over thousands of years to help us communicate our emotions to each other, and we have been left today with an extremely expressive tool able to convey countless emotions without saying a word. Jason Nissen points out that while some forms of nonverbal communication such as gestures can vary by region or culture, facial expressions are universal – A smile is a smile no matter where you are in the world.
Body Movement and Posture
Your posture, bearing, stance and the subtle movements you make when you are in motion carry significant weight in the way you are perceived. The way people move through the world carries a wealth of information for those who are attuned to it, says Nissen.
Gestures
Gestures are important cultural tools that have been developed to allow for better nonverbal communication. Pointing, waving or beckoning someone over to you are all ways you can communicate with someone without ever saying a word. Even the way you use your hands when speaking can indicate whether you are excited or agitated by the topic of conversation. Nissen notes though that in working at an international level he quickly realized that what a gesture means in one culture may differ greatly from what it means in another.
Eye Contact
An entire piece could be written about the power of eye contact, but suffice to say it is one the most subtle but effective ways you can communicate with someone. Not only does the way you look at someone convey feelings from affection to hostility, but it is also an important part of active listening. Nissen points out that not only does eye contact communicate to the person talking that you understand and are engaged in what they are saying, it also helps your comprehension and the ability to develop thoughtful responses.
Touch
Humans communicate a great deal through touch, and while like gestures the way and amount we touch is subject to the development of cultures and regions, it is still a significant aspect of communication. Nissen says that in business, there is a reason so many people put stock into the make of a handshake. From sweaty palms to a firm grasp, indicators of the character and feelings can be found in the touch.
Tone
Verbal communication is the use of words, so how you communicate – your tone – is nonverbal. Nissen jokingly recalls the often-heard phrase "it's not what you said, it's how you said it." In addition to listening to your words, people will read into your voice. People will often talk faster when they feel nervous, and it's not uncommon for a voice to get a higher pitch when lying. If you've ever tried to convey sarcasm over text, then you understand how important tone can be, says Nissen.
How to Get Better at Understanding Body Language
Do a quick search on the internet, and you will receive thousands of results with quick tips on projecting the image you want. However, Nissen says that while it's easy to simply try and stand up straighter or keep your hands out of your pockets, it is better to learn the deeper tools for understanding body language.
This involves first looking inward, learning to recognize and manage your own emotions. Factors such as being stressed or tired can place you in a reactionary state, not only causing you to put out confusing or off-putting nonverbal signals, but also making you more likely to misinterpret what others are trying to say as well.
By taking a moment to pull yourself out of a reactionary state, you can regain your emotional equilibrium and maintain better control of your nonverbal communication. Techniques such as meditation can help you build this skill, but even taking a few deep breaths is often enough to calm the mind and put you in a place more attuned to interpreting nonverbal cues.
Before It's News®
is a community of individuals who report on what's going on around them, from all around the world.
Anyone can
join
.
Anyone can contribute.
Anyone can become informed about their world.
"United We Stand" Click Here To Create Your Personal Citizen Journalist Account Today, Be Sure To Invite Your Friends.