Breaking (1/28/2023): Not Dead — Buffalo Bills Damar Hamlin Speaks Publicly for the First Time
Saturday, January 28, 2023 21:08
% of readers think this story is Fact. Add your two cents.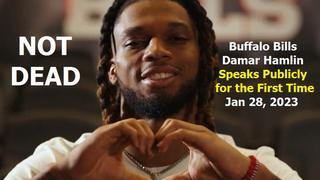 BREAKING (1/28/2023): NOT DEAD — Buffalo Bills Damar Hamlin Speaks Publicly for the First Time
Viewer Comments:

"I don't know what to even think anymore. Is this real or is he dead and long gone."

"This is EXTREMELY weird…is this a guy with one of those masks on pretending to be Damar?? Why didn't he show his face at his first debut? Why is there a death certificate for him online? I really don't know what's going on but just questions to ponder."

"He's either dead or this is another giant psyop. Staged event like WWE."

"The video jumps and jiggles…Strange… Is there a Death Certificate?"

"I hope you really are alive Damar. Don't help them cover up vaccine injuries though."

"Clone?"

"CGI and voice cutups"
But evil men and seducers shall wax worse and worse, deceiving, and being deceived. (2Tim 3:13)

NOT DEAD – BUFFALO BILLS DAMAR HAMLIN SPEAKS PUBLICLY FOR THE FIRST TIME (JAN 28, 2023)
Is this Damar a "deepfake"? How to spot a

d

eepfake

:
1. Unnatural eye movement. Eye movements that do not look natural — or a lack of eye movement, such as an absence of blinking — are huge red flags. It's challenging to replicate the act of blinking in a way that looks natural. It's also challenging to replicate a real person's eye movements. That's because someone's eyes usually follow the person they're talking to.
2. Unnatural facial expressions. When something doesn't look right about a face, it could signal facial morphing. This occurs when one image has been stitched over another.
3. Awkward facial-feature positioning. If someone's face is pointing one way and their nose is pointing another way, you should be skeptical about the video's authenticity.
4. A lack of emotion. You also can spot what is known as "facial morphing" or image stitches if someone's face doesn't seem to exhibit the emotion that should go along with what they're supposedly saying.
5. Awkward-looking body or posture. Another sign is if a person's body shape doesn't look natural, or there is awkward or inconsistent positioning of head and body. This may be one of the easier inconsistencies to spot, because deepfake technology usually focuses on facial features rather than the whole body.
6. Unnatural body movement or body shape. If someone looks distorted or off when they turn to the side or move their head, or their movements are jerky and disjointed from one frame to the next, you should suspect the video is fake.
7. Unnatural coloring. Abnormal skin tone, discoloration, weird lighting, and misplaced shadows are all signs that what you're seeing is likely fake.
8. Hair that doesn't look real. You won't see frizzy or flyaway hair. Why? Fake images won't be able to generate these individual characteristics.
9. Teeth that don't look real. Algorithms may not be able to generate individual teeth, so an absence of outlines of individual teeth could be a clue.
10. Blurring or misalignment. If the edges of images are blurry or visuals are misalign — for example, where someone's face and neck meet their body — you'll know that something is amiss.
11. Inconsistent noise or audio. Deepfake creators usually spend more time on the video images rather than the audio. The result can be poor lip-syncing, robotic- sounding voices, strange word pronunciation, digital background noise, or even the absence of audio.
12. Images that look unnatural when slowed down. If you watch a video on a screen that's larger than your smartphone or have video-editing software that can slow down a video's playback, you can zoom in and examine images more closely. Zooming in on lips, for example, will help you see if they're really talking or if it's bad lip-syncing.
13. Hashtag discrepancies. There's a cryptographic algorithm that helps video creators show that their videos are authentic. The algorithm is used to insert hashtags at certain places throughout a video. If the hashtags change, then you should suspect video manipulation.
14. Digital fingerprints. Blockchain technology can also create a digital fingerprint for videos. While not foolproof, this blockchain-based verification can help establish a video's authenticity. Here's how it works. When a video is created, the content is registered to a ledger that can't be changed. This technology can help prove the authenticity of a video.
15. Reverse image searches. A search for an original image, or a reverse image search with the help of a computer, can unearth similar videos online to help determine if an image, audio, or video has been altered in any way. While reverse video search technology is not publicly available yet, investing in a tool like this could be helpful.
[SOURCE]
Only One Way Out. Broad Way "Sinner's Prayers" Do Not Save. Download a Most-Helpful Guide to the Narrow Way, Written by a Man Who Walked it to the END (Just as Jesus Commanded All of Us): CLICK HERE
---
For More Information on the Narrow Way and Authentic Salvation, Follow these Two Blogs:

LightgateBlogger.com

and

WayfaringGal.com
---
Before It's News®
is a community of individuals who report on what's going on around them, from all around the world.
Anyone can
join
.
Anyone can contribute.
Anyone can become informed about their world.
"United We Stand" Click Here To Create Your Personal Citizen Journalist Account Today, Be Sure To Invite Your Friends.