Are You in Need of Sub-Zero Appliance Repair? Here's When You Should Call an Expert!
Wednesday, May 5, 2021 9:27
% of readers think this story is Fact. Add your two cents.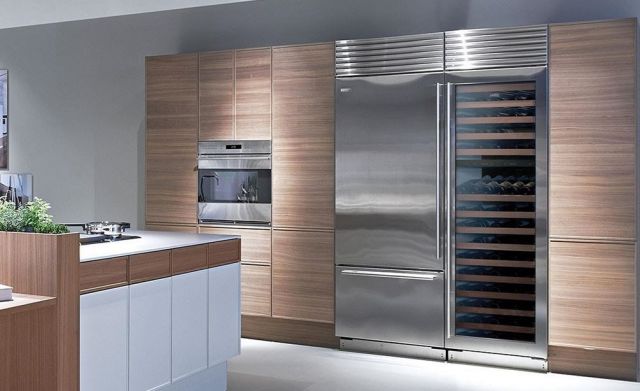 Are You in Need of Sub-Zero Appliance Repair? Here's When You Should Call an Expert!
With over 70 years in the refrigeration industry, Sub-Zero is a famous high-end luxury brand synonymous with guaranteed reliability and quality. The brand was among the first to produce freestanding freezers. Today, the brand boasts of a long line of home appliances, including refrigerators, wine coolers, and ice makers, among many others. These appliances are complex machines built to high engineering standards. As such, the appliances are capable of high-end performance and trouble-free longevity.
While this is the case, these machines are not immune to breaking down. Just like other brands, the appliance may break down when you least expect them. Finding the right repair company is not simple, especially when you are in a hurry. The process is even more challenging when you have a high-end appliance such as a Sub-Zero refrigerator. Remember, not any appliance repair specialist can do a Sub-Zero appliance repair. As such, you run the risk of being overcharged.
When Do You Need to Call a Sub-Zero Appliance Technician?
Sub-Zero appliances are hard to beat when it comes to refrigeration. The brand is high-tech, innovative, and comes in impeccable design. While this is the case, these appliances are still prone to mechanical breakdown. While you can fix some of the simple problems, the complex problems are best left to the professionals. Let us look at some of the common problems and warning signs present when using Sub-Zero appliances.
The Sub-Zero Refrigerator
For more than seven decades, Sub-Zero has been at the forefront of refrigerator innovation. The brand was the first one to come up with inbuilt and freestanding refrigerators. Innovative design and innovative technology are some of the hallmarks of the Sub-Zero refrigerators. Below are some of the common problems that you may encounter when using Sub Zero Refrigerators.
Common Problems
Water leaks are one of the problems that indicate that your refrigerator has some problems. The refrigerator may have water supply disruption or have an internal component failure that causes the water to leak. Calling a professional Sub-Zero technician can help you with the issue.
If you notice that some of the items in your freezers are going bad faster than usual, it means that the refrigerator is not working as it should. Reduced cooling power can result from various component failures such as condenser coils, thermostats, and evaporator fans, defrost timers, compressors, among other parts. An expert will help diagnose the problem and come up with an appropriate solution.
A refrigerator works in either low or high activities. The activity is not noticeable when the refrigerator is working as it should. However, if you notice that your model runs the high cycle more often, something is not working correctly. Most often, this results when you have overstuffed your refrigerator. On the other hand, the problem arises when the compressor malfunctions or the condenser failure. An overworking refrigerator uses more energy, which translates to higher energy bills. For this reason, you should get an expert to do your Sub-Zero refrigerator repair.
Sub-Zero Ice Maker
Sub Zero ice makers come in elegant, high-performance units. They offer a consistent supply of ice for your beverages. They are handy in various uses, especially when you have guests, are holding a party, and having a good time with friends and family. Here are some of the common problems that require technician assistance.
An ice maker that does not produce ice is useless. Various issues make your machine unable to produce ice. For a start, the shutoff switch/arm or water supply system may be defective. On the other hand, the problem may arise from the condenser that is tucked inside the unit. Calling a technician will allow you to get a quick fix.
Dirty/Smelly Ice Production
Dirty or smelly ice is the last thing you would want in your whiskey glass. While this occurs rarely, it does happen in some Sub-Zero ice makers. The problem usually occurs when the ice tray develops molds. You can solve the problem quickly by cleaning the tray thoroughly. However, if the problem persists, the filter or supply lines may have a problem. If this is the case, an expert in this field can help rectify the problem.
The Sub-Zero Wine Cooler
If you love wine, then you cannot do without a wine cooler. The appliance will enable you to store your delicate vintage wine at the perfect temperatures to maintain its palatability and bouquet. Below are some of the warning signs that indicate that your Sub Zero wine cooler has some problems.
Wine Cooler Problems
Malfunctioning Condenser Fan and Coils
Malfunctioning condenser coils and fan leads to loss of cooling power. Reduced power may make the wine lose its natural taste. The condenser and coils generate the cold air that keeps your wine chilled. These components may fail because of dirt accumulation or mechanical failure. A qualified technician will help clean the dirt or replace the worn-out parts.
The door gasket on the wine cooler seals in the cold air, allowing it to retain the perfect temperature. If the door gasket is not working as it should, then the machine will work extra hard to replace the air that escapes. An overworking wine cooler uses more energy, increasing the energy bills. The parts also perform heavy-duty work, increasing the likelihood of malfunctioning. An expert will help you straighten things out.
What to Look for in a Sub-Zero Repair Service Company?
Many appliance repair companies are out there, making it hard for you to narrow down your choice. Choosing the wrong company may mean getting unprofessional service, which might worsen the appliance problem. You will also end up paying for a service that does not fix the problem. Below are some of the tips to help you get a reliable Sub-Zero repair service company.
When it comes to repairing a high-end appliance, the technicians need the relevant knowledge and tools. For starters, look for a well-established company. Next, ensure that the technicians are knowledgeable about your models. Most companies list the models that they service and repair. Be sure to find your model on the list of the products.
Ensure that you ask for a license number before getting into a contract with the company. If the company is hesitant to give the license number, it cannot operate in your area. License is essential; remember, you cannot report a company of any incompetence or loss of property if you invited them into your home, knowing that they have no license.
A repair service company should not offer professional service. Regardless of the model you have, the repair service company should not sound as if they are doing you a favor. Customer care needs to be helpful and courteous.
Easy access to information has made it easy for us to dig information just about anything. Doing a simple google search will give you references, reviews, and general information about potential appliance repair companies. Read their website and service aggregators such as Home Advisor, Angie's List, and Thumbtack to get the relevant information. These websites will give you an idea of what others experienced working with the company.
You should also ensure that the repair company is ready to cover if they cause more damage during the repairs. Sub-Zero appliances are not cheap; therefore, be sure that you are covered against unexpected accidents. Additionally, the company should provide a warranty on the service. It can be disappointing if the appliance fails after only a few times of use. Always go for a service provider that offers a warranty for at least six months.
It cannot be delightful if you have to wait for days without a service provider's response. The company should send you a technician the same day or the next day for evaluation. It would help if you also went for a company that offers competitive pricing.
Conclusion
Getting a Sub-Zero appliance for your home or business will provide you reliable service for years. With decades of experience in this field, you can expect nothing short of the best. However, these machines will break down occasionally. Similar to other high-end appliances, you need an experienced repair technician to handle your Sub-Zero appliances. These professionals will restore your appliance to optimal working conditions, bringing back the much-needed convenience. Moreover, repair service fees are just a fraction of the cost of buying a new appliance.
Before It's News®
is a community of individuals who report on what's going on around them, from all around the world.
Anyone can
join
.
Anyone can contribute.
Anyone can become informed about their world.
"United We Stand" Click Here To Create Your Personal Citizen Journalist Account Today, Be Sure To Invite Your Friends.